From the military cemetery near Fort George Wright and Spokane Falls Community College, begin this hike by walking east on the Centennial Trail. The trail quickly leaves the road noise behind and enters the forest, allowing visitors to forget that they're merely a few miles from downtown. The Spokane River is far below, and SFCC's campus is above, but this section of trail feels remote rather than urban.
Continue to within sight of the T.J. Meenach Bridge, then take a hard left on Riverside State Park's trail 100 and hike west-bound down river. This singletrack trail runs parallel to the Centennial Trail and just above the river. Pass the stone foundation of an old building, then cross an old road and continue along the shore of the Spokane River.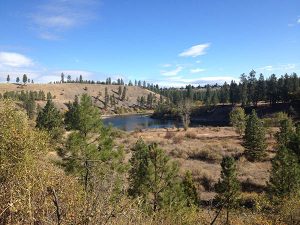 Follow the shoreline downstream and begin the ascent to a bluff overlooking the river near the island. This section of the trail was improved through an REI service project in June 2015. Previously a hiker- and equestrian-only route, the trail was redesignated multi-use and open to mountain bikes following the volunteer efforts to widen and improve the tread. At the top of the climb, visitors have the option to lengthen the hike by continuing downstream to Bowl and Pitcher and beyond. To return to the trailhead, turn left and rejoin Centennial Trail, where a short uphill climb returns hikers to the parking lot where the hike began.
The roundtrip distance is about 4 miles and is open for hiking and mountain biking (leashes required for dogs).
Getting There: From the intersection of W. Government Way and Fort George Wright Drive near SFCC, continue northwest on Government Way to the Centennial Trail parking lot at the military cemetery. Discover Pass required.
Give Back to Our Trails! October 16 & 17, join Washington Trails Association volunteers at Liberty Lake Regional Park to lend a hand with the ongoing trail improvements in this popular park. Sign up at Wta.org/volunteer/east.