If you ever wondered what it would be like to take your whole family skiing, meet Stan and Kristina Busby who taught all of their 12 children – yes, 12 – to ski. "The challenge for us," says Stan, "was to make it not about accomplishments, but about just having fun for the day. With seven daughters and five sons, ranging in age from 3 to 24 years old, this will be the first ski season in 23 years where Kristina hasn't been pregnant or had a child in diapers.
Stan, 50, and Kristina, 47, live on 41 acres in the Pend Oreille Valley 30-minutes from 49° North. Nine children still live at home – three teenagers, 14-16; three kids in the 7-10 age span; and the two youngest, age 5 and 3. Two older children are married, and the Busbys have three grandchildren who are also learning to ski.
None of the Busby children took ski-school group lessons. Dad was their ski instructor, and worked for a time as an instructor for 49's ski school. "We are a pro 'Edgie-Wedgie' and 'racer-chaser' family," he says, referring to the brand name of the tubing device used by many to connect a young beginner's ski tips together to help maintain the "snowplow" wedge position and the child harness-reigns a parent holds to prevent a child from skiing uncontrollably down a ski run.
"As far as getting kids started young, if you're starting your kids at 3 or 4 years old, those are key years – they can be solid skiers by the time they're seven," Stan says. "Kids learn best by watching and doing. Their technique improves when they get old enough to ask questions about how they can do better."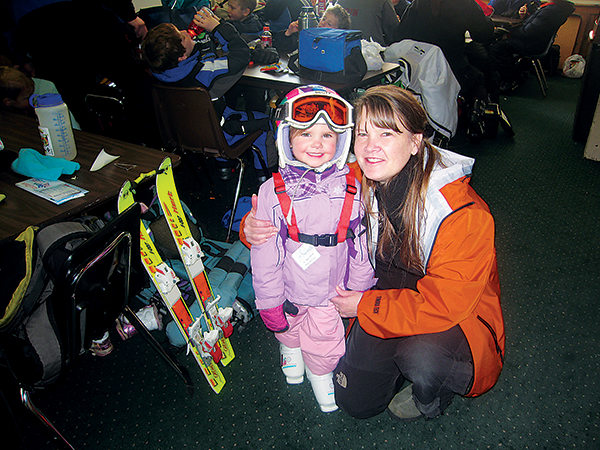 At least once a week, the Busby family alpine skis at 49 Degrees North. "We homeschool our children, so that makes a big difference – part of their learning time is being outdoors on the mountain," says Kristina. The older children also backcountry ski with their dad, who has 26 years of experience as a backcountry ski and mountain guide for Climbers with Christ, a group of local guides who guide no-cost trips.
Prepping for every new ski season begins when the family gathers all their gear on a designated autumn day to figure out which kid gets hand-me-downs and who needs something new. "You don't have to spend a grand to take a family of four out skiing – for everything, gear and chairlifts," he says. The Busbys say they shop anywhere they can for cheap, high-quality gear. "I find tons of gear at thrift stores. We end up getting most of their stuff that way," says Kristina. They also recommend local ski swaps and shopping during the off-season.
"We have a saying in our house, 'Ebay and pray,'" Stan says, laughing. "Parents need to remember that kids don't have to have brand-new gear every year." Though they sometimes buy new, they prioritize frugality and taking good care of gear to make it last longer – which has made it financially feasible for their entire family to become skiers.
As long-time patrons of 49 Degrees North, they're part of a group of dedicated volunteers who, during the summer, help with manual labor jobs and trail maintenance in exchange for season passes. There are other ways to get free or discounted lift tickets at regional ski mountains – kids age 6 and under are always free, 49 Degrees North offers free skiing during spring break, and night skiing is discounted.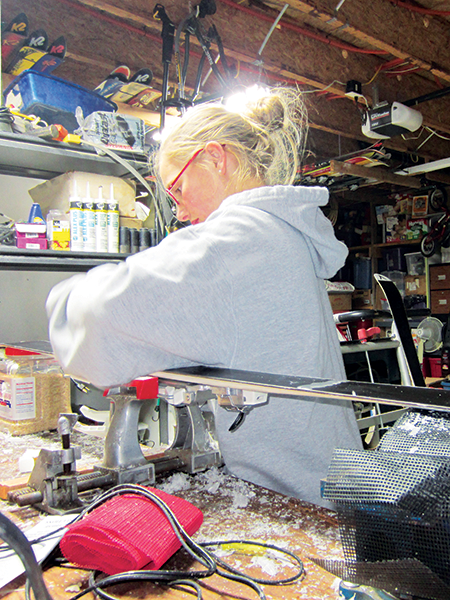 Prioritizing an outdoor-oriented lifestyle has made their children mentally tough and more resilient. "Being outdoors in an uncontrolled environment forces us to build character and be resourceful," says Stan. "Even 'Frozen Finger Days' – you dread them at the time, but the memories stick out." Tasks like waxing their own skis and earning their own money to upgrade personal gear beyond the family budget have also helped the Busby children develop a stronger work ethic.
Skiing is also a foundational conduit to amazing alpine milestones. "It has opened the door to a lot of other outdoor opportunities – six of our kids have summited Mt. Rainier, and have skied down both Mt. Adams and Mt. Hood," says Kristina. Just this past summer, three of the Busby kids – ages 12, 14, and 16 – climbed Mt. Rainier, committing themselves to months of training and organizing their gear. "We don't make our kids do anything – they are in competition with each other," says Stan.
Being a ski family also helps the Busby children to "focus on each other" instead of being connected to electronics and separated in different rooms at home, says Kristina. Moreover, it has made them more kind, helpful, and selfless individuals. "That's not how it initially starts out, but over the years our children have learned that," adds Stan. "When you go as a family, that's what has to happen." //
Save Money—Lease Kids Gear