Up for a good story? How about six? On Nov. 16, 2017 from 7-9 p.m. at The Lincoln Center (1316 N. Lincoln, Spokane), Friends of the Bluff will present the first-ever BLUFF Talks. Seven of Spokane's smartest, most inspiring people with different backgrounds and overlapping passions will share insights and stories that connect back to the South Hill's neighborhood open space: the High Drive Bluff Park. But here's the catch: they each get the mic for only 10 minutes or less.
"Friends of the Bluff believes that personal connection is the key to involvement. What better way to connect than through real stories that raise awareness and give us a reason to care?" explains Friends of the Bluff board member Marit Fischer. "At BLUFF Talks there will be good stories, good company, and good beer, all for a good cause."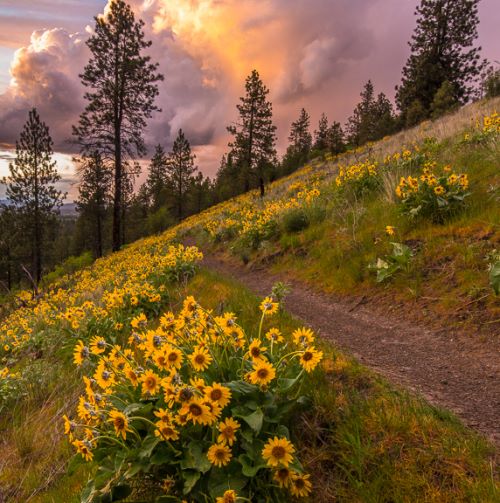 BLUFF Talks Presenters:
The Friends of the Bluff Guy: Pat Keegan, President of Friends of the Bluff
What we're up to at Friends of the Bluff and why it matters to you.
The Trail Builder: Nate Hutchens, Vice-President of Evergreen East Mountain Bike Alliance
Life is better on single track and the Bluff has 22 miles of it. How Evergreen East strives for trail nirvana in Eastern Washington.
The Parks Guy: Leroy Eadie, Spokane Parks and Recreation Director
What does Spokane have in the works for the Bluff and its other open-space parks?
The Fire Specialist:  Guy Gifford, Department of Natural Resources Firewise Coordinator
Wildfire on the Bluff: the threat and what we're doing about it.
The Naturalist: Jack Nisbet, historian, author, and teacher
The (really) early days of Hangman Creek: a quick look at its travelers and fisheries.
The Runners: Gunhild Swanson and Chris Morlan, mother/son duo of accomplished runners. She's a 72-year-old ultra-runner. He's a Brooks-sponsored ambassador and the coach of the Spokane Distance Project.
The Bluff trails: a training ground for one fast family's running passion.
Event Details
Thursday, November 16, 2017, 7-9 p.m. at the Lincoln Center Ballroom (1316 N. Lincoln, Spokane). This is an all-ages event. $10 suggested donation. Cash bar. All proceeds support Friends of the Bluff.
About Friends of the Bluff

Friends of the Bluff is a collaboration of hikers, runners, mountain bikers, dog walkers, bird watchers, and nature lovers who volunteer together to maintain Spokane's High Drive Bluff Park, a 500-acre forest park on the western edge of the South Hill. The group organizes naturalist events, spearheads trail maintenance, thins brush to suppress fires, plants trees, treats invasive weeds, and keeps our Bluff clean. The nonprofit organization's members and volunteers are open space advocates and protectors. Learn more about them here: www.friendsofthebluff.org