Come autumn, western larch is the star of the show for Inland Northwest hikes. And while larch gets most of the attention, the tree's beauty is best enjoyed en masse as thousands simultaneously alight a hillside among their alpine kin. Below, five hikes in western Montana reveal alpine larches at their best.
Northwest Peak
At 7,706 feet, Northwest Peak is the centerpiece of the 19,000-acre Northwest Peak Scenic Area in the far northwest corner of Montana. Its summit is easily accessible via a long drive and short hike—save for the last quarter mile of talus, the 4.4-mile, round-trip trek to the summit makes for one of the easiest alpine summit hikes in western Montana. From the high-elevation trailhead, shoulder aside huckleberry shrubs and angle across granite-stacked meadows to reach a pleasant larch parkland just below the summit. Peer down to the pair of Hawkins Lakes to the northeast, which are sheltered under a twisted canopy of alpine larch. From the white clapboard walls of the old fire lookout (which is slowly being renovated), hikers are likely to have the summit view all to themselves, and there's never a line for the outhouse—one of Montana's highest-elevation privies—either.
Getting There: From Yaak, drive west on the Yaak River Road (state highway 508) for 2 miles, just past mile marker 27, to Pete Creek Road (forest road 338). Follow this sometimes-paved, sometimes-gravel road, turning left onto West Fork Road at 13 miles and right onto Winkum Creek Road shortly after, to stay on FR 338. The trailhead (elevation 6,130 feet) is 19 miles from Yaak River Road. A pullout on the right shoulder accommodates two vehicles.
Sky Lakes—Cabinet Divide
The Cabinet Divide trail traverses the crest of the Cabinet Mountains Wilderness in fits and starts, but the northernmost section, between Sky Lakes and Cedar Lakes, deserves attention from lovers of the alpine larch. A steep trail, frequently coarse underfoot, repays hikers with aptly-named Sky Lakes, which occupy a lofty, hanging valley hidden in the shadow of Sugarloaf Mountain. These are some of the highest, trail-accessible lakes in the Cabinet Mountains Wilderness. The 11-mile round-trip hike to Sky Lakes makes for a good base camp for a 27-mile, open-loop shuttle with Cedar Lakes. From the junction 1.3 miles before Lower Sky Lake, ascend the forested flank over Sugarloaf Mountain, past a remarkable, unnamed tarn set in a steep talus field in its east shoulder. Gain the Cabinet Divide and head north, passing Minor and Parmenter Lakes well below. Linger under expansive stands of alpine larch—perhaps the largest population outside the Bitterroot Crest. Continue northward around Dome Mountain, descending the expansive cirque of Upper Cedar Lake for a second night's camp. From here, it's 5 easy, cedar-shaded miles to the Cedar Creek trailhead.
Getting There: Sky Lakes trailhead—From downtown Libby, drive southeast on U.S. Highway 2 for 1.8 miles, then turn right (west) onto Shaughnessy Hill Road. Drive 0.8 mile to a three-way intersection and bear left, continuing 0.5 mile to Granite Creek Road (FR 618). Turn right and 0.8 mile, then bear right onto Flower Creek Road (FR 128). Continue 5 miles to the trailhead (elev. 3740 feet). Cedar Lakes trailhead—From downtown Libby, drive west on U.S. 2 for 7 miles. Just after crossing Cedar Creek, turn left (south) onto Cedar Creek Road. Drive 2.5 miles to the road's end and large trailhead parking lot (elevation 2,920 feet).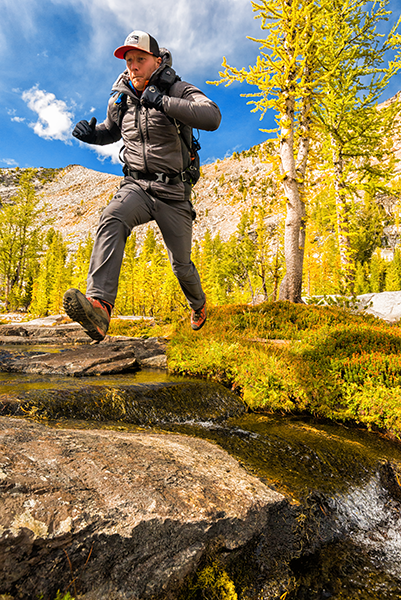 Nasukoin Mountain
Derived from the Kootenai word for "chief," Nasukoin Mountain stands tall as the highest peak in the Whitefish Range, ruling over some half dozen, subalpine tarns and pure stands of alpine larch. The 10-mile hike to its summit gains and loses elevation capriciously as it first ascends Lake Mountain, with glacier lilies and beargrass, before descending to follow a long ridgeline of larch-lined parkland. From here it's nearly nonstop larch as the trail contours around a nameless knob before making one final, switchback-free grind to Nasukoin's summit, where derelict bedframes mark an old fire lookout site. The open larch parkland permits views of moose and bruins in the meadows below. Camp at Link Lake, accessed via a quarter-mile spur trail a mile from the trailhead, or at the uppermost Chain Lake, which occupies a shaded cirque below Lake Mountain's summit, where summer seldom stays long.
Getting There: From Whitefish, head west on U.S. 93 for 17 miles to Olney Crossover Road, which takes off to the right, directly across from the signed turnoff to the community of Olney. Proceed 9.1 miles, then continue left on FR 115. Follow this good gravel road for 10.2 miles to FR 589 (if you reach Red Meadow Lake, you've gone about a mile too far). Turn left and proceed 1.7 miles to the road's end and trailhead (6,030 feet). The trailhead is also accessible from the Outer North Fork Road via Red Meadow Road.
Sheafman Creek Lakes
This nearly 14-mile hike climbs shaded streamside forests to parklands of alpine larch and the progressively more beautiful trio of lakes set in a broad hanging valley on the Bitterroot Divide. A few large-diameter alpine larches tower over Garrard Lake as it guards the base of an expansive talus field on the southeast buttress of Castle Crag. A half-mile beyond, beneath a sheer, scrubbed face of granite, Knaack Lake's narrow, larch-fronted shoreline makes a fine turnaround point. But determined day hikers can—and should—continue to Aichele Lake, which requires a half-mile of off-trail scrambling. Here, the thick, twisted limbs of alpine larch frame a view of Sheafman Creek in its entirety and the granite gendarmes that separate it from Mill Creek to the south. From here, only a steep talus slope defends the granite battlements of Castle Crag; it's a non-technical climb for those camping at one of the lakes.
Getting There: From the Woodside Exchange on Highway 93, 4 miles north of Hamilton (mile marker 52), head left (west) on Dutch Hill Road (signed for Ferndale). Drive 2.5 miles, and at a T-intersection turn right (north) onto Bowman Road. Continue 1.2 miles and turn left (west) onto West Cow Creek Road (FR 438). Pass several residences and climb this narrow, frequently-rutted, high-elevation road to the trailhead pullout in 5 miles (elevation 5,450 feet). A wide spot on the shoulder accommodates half a dozen vehicles. Note: the upper 4 miles of FR 438 are closed October 15 – June 15 to protect winter elk habitat.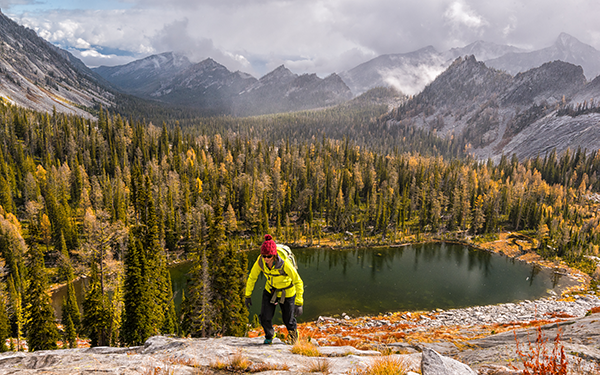 Chaffin Creek Lakes
Follow a gently ascending, stream-gradient trail along Chaffin Creek to a chain of subalpine lakes nestled high in the Selway-Bitterroot Wilderness. It's 11 miles round trip to Hart Lake, and 12 to Tamarack Lake. Provided one doesn't hold too strictly to the fact that "tamarack" refers only to eastern larch, Tamarack Lake's appellation is apt: golden-hued alpine larch tenaciously color the exfoliated granite of the sheer cirque headwall above the lake's shoreline, and the concrete dam at its foot does little to mar the beauty of this subalpine lake. Even more appealing are the quartet of tiny tarns in the hanging valley above Tamarack. This seldom-visited larch Shangri-La (as the locals affectionately call it) shelters a spectacular grove of old-growth alpine larch. Strings of park-like tarns— the uppermost of which sits at more than 8,600 feet—are the highest lakes in the Bitterroots, and perhaps the most spectacular. Plan a weekend here; reaching Shangri-La—and enjoying the rewards—requires at least half a day from a base at Tamarack.
Getting There: From Darby, drive south on Highway 93 for 4 miles to the West Fork Road (state Highway 473). Turn right, and in 100 yards turn right again on Trapper-Chaffin Road (FR 374). Drive 3 miles and bear right onto Chaffin Creek Road, continuing another mile to the trailhead (elevation 4810 feet). The parking area, just off a switchback in the road, accommodates half a dozen vehicles. //
Aaron Theisen is a Spokane-based writer and photographer. He wrote about hikes in the Mission Mountains in July.