The Spokane area is ringed by enough destination ski resorts (not to mention the dozens of cool, out-of-the-way mom and pop ski hills) to keep local skiers and snowboarders busy exploring new places for years. SilverStar Ski Resort, a few hours north of the border near Vernon, British Columbia, is one of those amazing destinations that is somehow off the radar of many Spokane area skiers and riders, despite the fact that it's B.C.'s third largest ski resort. SilverStar is an award-winning ski-in, ski-out resort with a beautiful and highly colorful mid-mountain village that's been called the "Best Small Resort in North America" and "Best Family Resort in Canada." And more importantly, it happens to stay cold and snow a lot there in the Monashee Mountains. The resort's famous champagne powder is all natural and highly reliable, with an average of 275 inches of flakes piling up each year on 128 designated trails spread out over 3,065 skiable acres.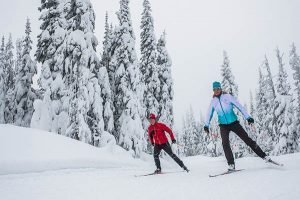 My buddy Phil and I were fortunate to ski two days at SilverStar in early December last year, where we enjoyed excellent early-season coverage and boot-deep powder each morning while things were just getting going back home. We were even more fortunate to be toured around the mountain by SilverStar's then Winter Sports Manager Guy Paulsen, who also happens to be a member of the Canadian Ski Instructors Association Hall of Fame and a badass tele skier who is equally comfortable and accomplished on alpine gear and Nordic skis. We cruised the front side of the mountain, hopping around the several open lifts (there are a total of 12 lifts when the mountain is 100% open) and largely empty ski runs, which we were told was only a taste of what SilverStar has to offer. Unfortunately, the steep and deep mostly black and double black Putnam Creek zone on the backside of the mountain, a place that definitely needs to be on your bucket list, was scheduled to open a few days after we had to leave. But that just gave us one more reason to start scheming for a return trip in 2017. Paulsen led us around with a passion for and awareness of the mountain that was remarkable and contagious. He made sure we sampled favorite runs and took the time to ask us what we thought about the layout of runs and the flow of the mountain.
Our home away from home for the trip was at Snowbird Lodge, a high-end, apartment-style lodging option with a private hot tub that made chilling after a long day on early-season ski legs an epic relaxation experience. We happily sampled the many on-mountain eating and drinking options at night much like we systematically skied our way around the mountain by day. The Red Antler turned out to be a repeat favorite for lunch, dinner and drinks, with its laid-back atmosphere and Canadiana pub fare.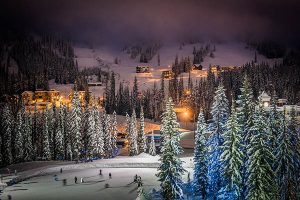 Morning number two started with another boot-deep powder day on the alpine trails before switching gears and gear for a late-morning Nordic ski tour of SilverStar's truly world-class cross-country trail system that is the largest of its kind in Canada. The Nordic network consists of 55k of trails at the resort that connects to another 50k of groomed trails within the Sovereign Lake Nordic Centre. Back at the village, we contemplated taking rental fat bikes out for a spin but had the drive home ahead of us. With so many winter sport activities available in such quality and quantity right there out of the village, SilverStar is a paradise for active people who love winter and all of the different ways to get out and enjoy the cold, beautiful, snowy-white world. SilverStar is also on the way to and from other regional destination resorts, including Revelstoke, Big White and Sun Peaks, which makes an epic B.C. road trip tough to pass up when you start connecting the dots on a map. Visit Skisilverstar.com to plan your own SilverStar adventure. //