Downhill skiers in the Spokane area have five resorts that offer about 9,000 skiable acres along with thousands more in the backcountry. But even with this abundance of great skiing, our local resorts aren't what most skiers would consider world class. So, what's a skier hoping for world class to do? One answer is to make the day-long drive to Whistler Blackcomb.
Along with more than 8,200 skiable acres, Whistler Blackcomb offers all the vertical a skier could want. Topped by Blackcomb's 5,280 feet, both mountains have more than 5,000 feet of vertical and peaks more than 7,100 feet. Skiing all day at 4,500 feet above sea level all but guarantees good snow. Thanks to a 15-inch dump the night of our arrival, the first day was spent cruising powder in Blackcomb's Lakeside Bowl. Steep and deep.
When it comes to groomed runs, Whistler's hosting of the 2010 Olympics means anyone can ski runs such as the Dave Murray Downhill course, along with dozens of intermediate and beginner runs. Those who like bumps will find plenty on black diamonds such as Gear Jammer.
With all of Whistler Blackcomb's gondolas, high-speed triples, quads, and six-packs, the single line was often the faster choice. Because my son would rather ski with his buddies, I ride single a lot, which let me get more of the international experience. On day three, I rode the lift with a former Olympian who was a member of the resort's Ski with an Olympian program. I felt a little bad about chatting with him for free as his client sat silently beside us. The Olympian suggested Blackcomb Glacier, a short hike from the top of Showcase T-bar.
While it had snowed little since the dump two nights before, Blackcomb Glacier had just opened that day and its expansive terrain, while already having seen a good many runs, had the next best thing to backcountry freshies. I spent the rest of the day skiing the glacier's powder, despite it taking three lifts and a short hike each time.
At the writing of this story, the exchange rate was US$1 to CA$1.30. Given this advantage, you may want to check heli-skiing off your bucket list. For a little more than the price of skiing with an Olympian, heli-skiing opens up nearly a half-million acres of skiable terrain. If that isn't world class, I don't know what is.
Lodging: For this trip, we used Home Exchange, where we swapped our ski condo for a three-bedroom, two-bath, fully stocked condo a short walk from the village. Across the street was a stop for the free shuttle to the lifts. Vacation Rental by Owner and Airbnb are also excellent sources.
Happy Hour: We found ourselves at the Dubh Linn Gate Irish Pub if only because it was less than a minute from both gondolas. It's considered among the top spots in the village for regional craft brews, nearly a dozen from British Columbia alone.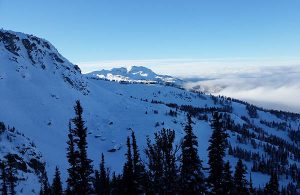 Whistler Blackcomb by the numbers
Vertical drop: (W) 5,020 feet; (B) 5,280 feet
Lift serviced area: (W) 4,757 acres; (B) 3,414 acres
Marked runs: 200+
Number of lifts: (W) 19; (B) 17; plus PEAK 2 PEAK gondola
Longest run: 7 miles
Average snowfall: 458 inches
Base elevation: 2,140 feet
Summit elevation: (W) 7,160; (B) 7,494
Miles from Spokane: 489 miles, 8 hours by car. //
When not teaching English courses at Spokane Falls Community College, Bradley is likely to be riding a bike (no matter the weather — that's why someone invented studded bike tires) or snow skiing (in bounds or out, once in a while on skinny skis). Bradley wrote about Leavenworth summer activities in our June issue.