Winter sports are becoming more accessible to all, thanks to Spokane Parks & Recreation's Therapeutic Recreation Services and its volunteer instructors, who have been providing ski lessons for more than 20 years at Mt. Spokane for people of all ages who have physical or developmental disabilities. This winter, the program will run January 7 through March 4, 2017, with varied start dates for the different sessions.
For those with physical disabilities, adaptive alpine ski lessons provide assistance and adaptive gear, when needed, to "teach people who may not be able to do the conventional stand-up skiing," says Program Coordinator Alice Busch. "If we have someone who's hearing-impaired, we pair the skier with an instructor who knows sign language. A blind skier needs a ski guide. For people who have balance issues, we have different pieces of equipment so they can stand up. For people who can't stand or prefer not to, we have equipment to help them ski in a seated position."
Participants enter the program with varied degrees of experience, Busch says, from experienced students, who are now learning how to ski or snowboard with an amputation, to children learning for the first time.
"For amputee skiers, we'll teach them how to ski standing up, sitting down, or laying back using the limbs they have," Busch says. "We had a guy in his mid-80s – a skier his whole life, and he lost a limb. We taught him how to use a three-track ski, which means you have three points on the ground – one ski and two outriggers on the snow with ski tips on the end. Then he wasn't standing very well, so we put him in a sit-ski, called a bi-ski, which means there are two skis under the bucket seat."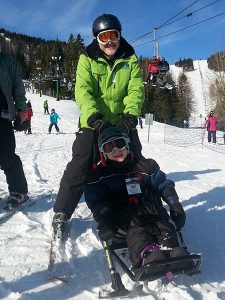 Busch continues, "We're advancing them as far as they can go. We teach other people in their life how to use the equipment, and we give them resources to help them buy their own equipment. This program is ideally helping people to ski or snowboard on their own. We have some brilliant instructors who come up with great ideas to adapt equipment for a student based on specific disabilities," she says.
For those with developmental disabilities, even children as young as 4 years old, Spokane Parks' Therapeutic Recreation Services provides both alpine and cross-country ski lessons. Although it aims to enable skiers to compete in Special Olympics, competition is not required, according to Busch. Nordic skiers are referred to as "Blue Waxers" and alpine students are called "Powderhounds." She says, "The instructor-to-student ratio goal is one-to-one, and never more than three skiers per instructor, as long as the students are independent, experienced skiers and know the mountain."
Mt. Spokane's supportive, friendly culture has helped the therapeutic program thrive. "We have an amazing partnership with Mt. Spokane and we adore ski patrol. They are so important to our program," says Busch.
Spokane mom Amy Beert, whose daughter began therapeutic ski lessons at age 7, says, "The program allowed us to go up to the mountain and have fun as a family. My daughter was able to learn to ski independently and feel successful doing it. It's a fun, safe environment."
Every year Busch needs more volunteers – friendly people who are excited to help others. To be an adaptive instructor, one needs intermediate skiing or snowboarding skills. "Adaptive teaching is a little harder on your body. Volunteers are matched with adaptive students according to an instructor's skills and experience," she says. "For our other programs, if you're a beginner, you're only going to get better." Volunteers must be able to participate in instructor training, which includes one day of dry land training in early December and a weekend of on-snow training: January 7 and 8, 2017, for Powderhounds and Blue Waxers, and January 13 through 15 for the adaptive program.
For more information about Spokane Parks & Recreation's Therapeutic Recreation Services, visit www.my.spokanecity.org/recreation/therapeutic or contact Alice Busch at (509) 625-6245 or abusch@spokanecity.org. //