Season pass? Check. New GORE-TEX jacket? Check. Winter tires for the Subie? Check. This year's hottest ski gear? If you're not feeling too confident about that last one, check out these gear picks from some of our region's leading shops.
ARC'TERYX Procline Ski Mountaineering Boot: $750 ($1,000 Carbon)
New for the 2016 winter season, Arc'teryx expands its footwear collection with a new category including the Procline Boot, the company's first ski alpinism boot that boasts multiple game-changing, patented performance features. Combining agility, support, and power for peak alpine performance, the Procline Carbon Support ski boots close the gap between traditional alpine climbing boots and plastic touring boots. "There has been a lot of hype around the boot and we're excited for its arrival in mid-October," says Mark Beattie, sales associate at Mountain Gear. "Word from the early on-snow tests was that it skied very well and was a very warm boot."
The Procline's features include a new cuff design that allows for both fore/aft and side-to-side motion when in touring mode. The aim is to provide a more comfortable, flexible, and natural fit. "The boot offers lateral articulation at the ankle so you can achieve better crampon contact," adds Beattie.
Smith I/O ChromAPop Goggles: $180-$210
In Smith's words, "Quite simply, ChromaPop lenses are the most advanced polarized lenses in the world. By blocking color wave intersections as they pass through the lens, ChromaPop is able to eliminate color confusion, so your brain is recognizing truer color, faster. ChromaPop optimizes color and increases clarity, enabling you to see the outside world with an unparalleled level of vibrancy."
For winter 2016/17, Smith has adapted its ChromaPop lens technology into 11 of its current goggle styles including its most advanced style, the I/O series. "The I/Os all come with two sets of lenses, which is such a great fit for our region as some days are bright, sunny days and others are low-light, overcast days," says Rachel Link, co-owner of Alpine Haus. "That's a great value for the consumer, not to mention they also are rad-looking goggles that really do perform well," she adds. If you're serious about shredding in all conditions, from whiteout to bluebird, having multiple lenses at your disposal is crucial. The frameless design not only looks snazzy (or steezy, if you prefer), but it also eliminates any of the hassle you may have experienced in trying to change out the lens from an ordinary (purely retentive) goggle frame.
Rossignol Soul 7 All-Mountain Alpine Skis: $750
The Rossignol 7-Series has made some waves in the ski industry these past few years. In fact, Rossignol claims it's made the top-selling skis in North America and Europe for the past three seasons. From dawn patrol tours to afternoon laps on-piste in the resort, the Rossignol Soul 7 Skis are the most versatile in the 7-Series and simply do it all well. An excellent option as a touring ski at only 1,900 grams, the Soul 7 is a powder-biased all-mountain ski that shines in soft and variable conditions.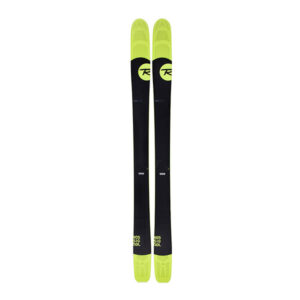 "There has been an industry trend where people are downsizing to more manageable waist sizes in the all-mountain category," says Cameron Forsythe, owner of Traverse Ski and Bike. "The Soul 7 fits that bill perfectly at 106 mm, making it a really versatile ski that's light and fun, anywhere on the mountain." Whether you like to smear big turns in wide-open terrain or utilize the sidecut to make more aggressive short turns in tight terrain, from couloir to apron, and powder to piste, the Soul 7 has you covered. "While we don't carry the newest version of this ski, we currently have a full-size run of 2015 Sole 7 demos that we're offering with bindings," says Forsythe. "They have been by far our best-selling item." //