The race company Negative Split has some exciting updates in store for the 2019 race year. They'll kick things off early next month with the Negative Split half marathon, 10k, and 5k race in Spokane on Sunday, April 7. It's just the beginning of positive changes that you can count on seeing in the local races they coordinate this year.
Negative Split has a reputation of creating positive experiences—from their namesake half marathon to the Glow in the Park race for military personnel, they encourage runners to start strong and finish stronger.
This year, Negative Split is partnering with the North Idaho Centennial Trail Foundation to produce the Coeur d'Alene Marathon on May 26. They plan to bring a new marathon and half marathon course to the event, and will add a 10k option.
Negative Split will launch the Run 2 Rock event in September, which will combine yoga, half marathon and 10k distances, and a music festival in the newly renovated Riverfront Park. They're also energizing a "Run the PNW" campaign to showcase our area as a running destination. Look forward to their release of a Run the PNW merchandise line.
In the spirit of finishing stronger than they started, Negative Split is improving races they've coordinated in the past. They've merged the Hunger Run with the Sunday, April 7, Negative Split race, so proceeds will help local organizations provide food to the community. Races will have new photo areas and motivational stations, as well as heat press stations at all of their finish lines for runners to commemorate their merch.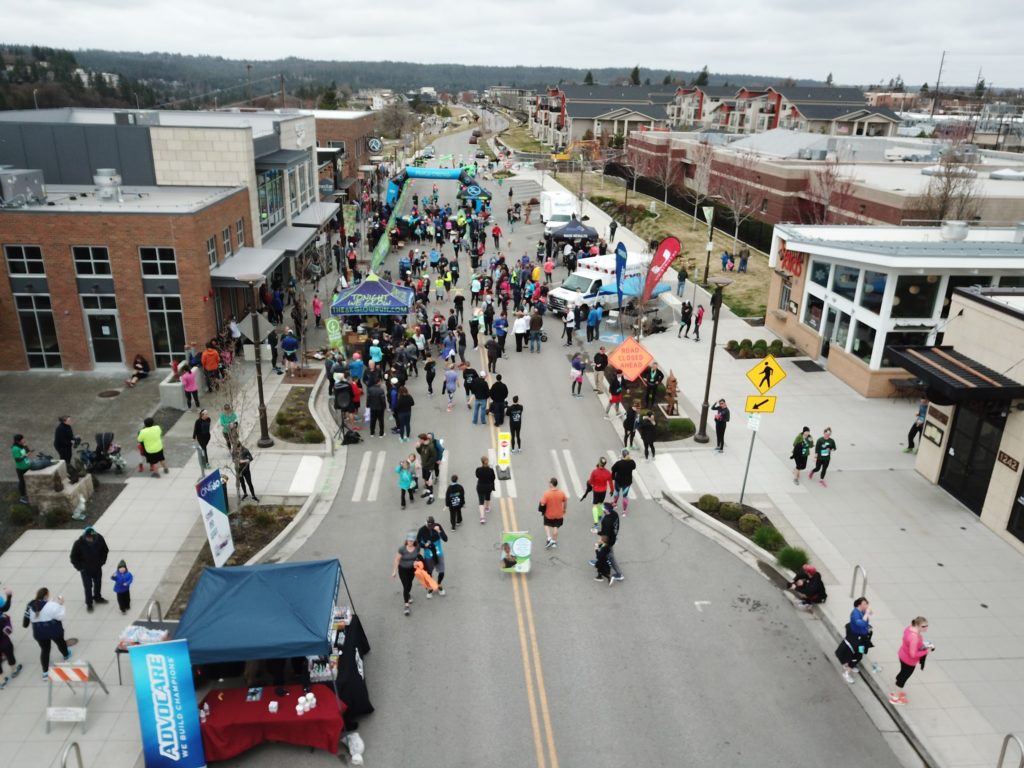 "We always love seeing the stories of our runners and the ups and downs of their training," says Negative Split Director Ryan Hite. "We love how running impacts people's lives and will be sharing stories along the way through 2019 again."
Negative Split will provide custom-designed, conjoining medals for all of their spring races, so finisher's medals from the Negative Split, Windermere Marathon, and CDA Marathon events will connect. They've also purchased 10 new inflatable emojis to place at their 2019 race events. (We're hoping for a poop emoji around mile 11.)
Negative Split's signature race, the Negative Split half marathon and 10k and 5k held in Kendall Yards in Spokane, Wash., will bring back its positive spirit on April 7. Local and out of town runners alike will experience some of Spokane's classic scenic routes, running over the Spokane River and—for the Half Marathon course—around High Bridge Park, Riverfront Park, and Mission Park.
With a motivational mile and inspiration wall, the Negative Split half marathon will be a memorable running experience. There will also be free race photos and timing. As mentioned, it's the first in the three race series with connecting finisher's medals, so start strong with this race then finish stronger by completing all three! Register for a Negative Split race here.
(Sponsored Content)
For more detailed info on the Negative Split Half Marathon, you may be interested in a past OTO article on the Negative Split race.
[Feature Photo by Jon Jonckers]