Celebrate National Trails Day on June 2 with a trail run or afternoon of kid-friendly outdoor activities at Dishman Hills! The inaugural 5k trail run, called the Tom Rogers Memorial "Run for the Hills," begins at 9:00 a.m. In this case, the hills you're running for are the Dishman Hills, referred to as the Wild Heart of Spokane. Along with a day of fun, you can learn how to protect and expand this natural recreation area. There will be FREE outdoor activities, exhibitors, and nature walks from 10:00 a.m.-1:00 p.m. Read more below!
Tom Rogers Memorial Run for the Hills
This 5-mile trail run will wind through rocky ravines and ridges on the Dishman Hills trails system. Runners will experience wide, flat track and narrow, rocky single track along the course. The trails are anchored on a unique landscape, carved from ice age floods, which includes bedrock over 1.5 billion years old. All proceeds from this race go to support the Dishman Hills Conversancy (DHC) on their mission to preserve the area through conservation, education, and stewardship.
The run honors Tom Rogers, a man who started what would become the Dishman Hills Conservancy by sharing the complex flora, fauna, and beauty of the Hills through group hikes and keeping records. He knew it was a crucial place to preserve so we'd still have space to wander as our city grew. The Dishman Hills Conservancy is now in its 52nd year of working to preserve the natural wildlife corridor, which has grown from 535 acres to 2800 acres.
You can register for the race here. May 24 is the last day to register with a guaranteed race t-shirt, but you can sign up as late as May 31. There's an 8:00 a.m. check-in at Camp Caro Lodge on the morning of June 2. Trail running experience is useful for this race.
National Trails Day Free Activities
Celebrate National Trails Day with the whole family! REI will have their interactive campground up on the hill offering s'mores, a trail-mix making station, and knot-tying lessons. There will also be a free yoga session for kids.
Free, easy, hour-long Nature Walks start at 10 a.m., 11 a.m., and 12 p.m. During these walks, DHC will share info on the geology, forestry, and flower identification of the area.
As you enjoy the Dishman Hills, you'll also be able to learn a bit about it: the DHC is currently working to connect the Dishman Hills Conservation lands (2800 acres) into a broad conservation and recreation corridor stretching from Appleway/Sprague to the Palouse. This means more beautiful outdoor recreation opportunity for us all! Ask about volunteer opportunities for trail stewardship and building.
Sponsors and Exhibitors at the event will include REI, DHC, Spokane Mountaineers, Washington Trails Association, West Valley Outdoor Learning Center, The Lands Council, Roast House Coffee, Evergreen Mountain Bike Alliance, Spokane County Parks, Friends of the Bluff, and Zip 2 Water.
It's the place to learn about how to get out on local trails or sign up for a service project! See you out there!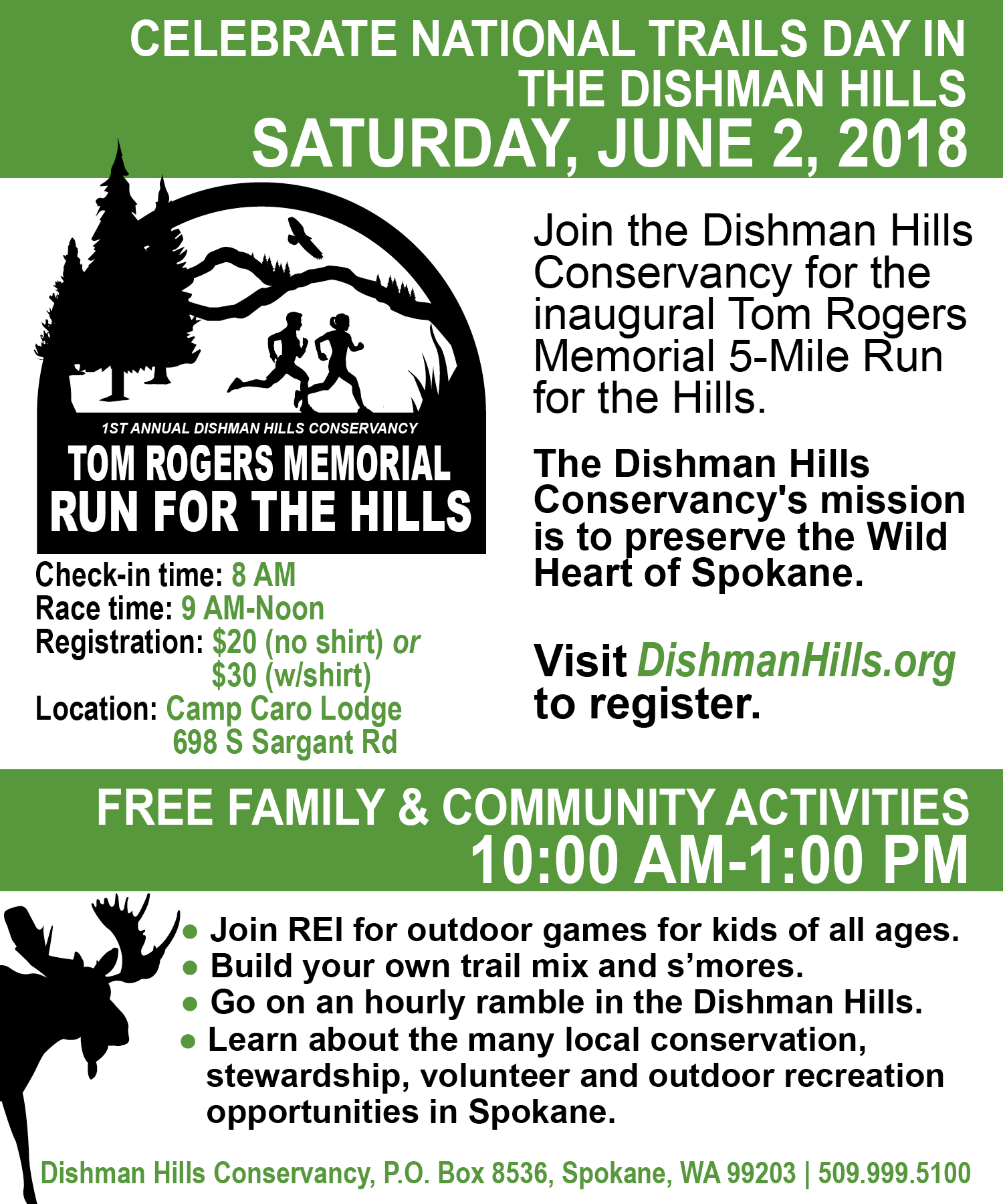 [Feature Photo by Aaron Theisen]
Lisa Laughlin is a contributor and digital editor for Out There Outdoors.