Whitewater enthusiasts revere the rivers of north-central Idaho – the Salmon River, its 425 miles of undammed water the longest free-flowing river in the contiguous 48 states; the Selway and its siblings in the Clearwater country east of Lewiston, which drain a wild area large enough to be its own state; the tumultuous Snake River and its more-than-mile-high canyons.
A short boating season and strictly limited access on several of these rivers mean that boaters speak of successful bids for lottery spots like fish stories. But with a pair of boots, adventurers can enjoy these same rivers with no reservations.
River hikes bring unique pleasures. The low elevations in otherwise-arid country mean early hiking seasons; hikers in Hells Canyon, for example, might be clad in shorts and spotting wildflowers in March when snow still blocks the high country for months to come. River trails also make for family-friendly first hiking destinations, with the potential for rock-skipping on sandy beaches an enticement to coax tired feet onward.
Best of all, unlike hikes with a fixed destination, river trails lend themselves to treks tailored to the abilities of a group, so they're great spring conditioning outings or road-trip leg-stretchers. Go with the flow on these five classic river hikes – no permits required.
Rapid River Trail
The Wild and Scenic Rapid River in central Idaho forms a gateway to Idaho's Seven Devils, which lord over Hells Canyon. Popular with residents of Riggins and McCall, the trail paralleling the river hosts hikers nearly year-round, although springtime highlights its wildflower charms. Beginning near the Rapid River Fish Hatchery – the small waterway provides breeding grounds for chinook salmon – trek through a narrow chasm with an intimate view of the pools and riffles of the river. Watch for deer on the high slopes and hawks overhead. Typical of the variety of habitats encountered on river trails, hikers will find gnarled mountain mahogany reminiscent of the Great Basin one moment, and round a corner to pacific yew the next. Woodland flowers – bleeding heart, phlox, glacier-lily – abound, and early spring sees entire slopes awash in the white blooms of serviceberry. The junction with the West Fork Rapid River Trail at 4.5 miles makes a good turnaround point. Ambitious trekkers can continue on for early-season, high-country probing in the Seven Devils.
Camping/lodging: The broad sandy beach at Shorts Bar on the Salmon River just upstream from Riggins offers easy tent camping near town. Travelers can also find several motels in Riggins.
Driving directions: From Riggins, Idaho, drive 4.3 miles south on Highway 95 to Rapid River Road. Turn right and drive 2.4 miles, past Rapid River Fish Hatchery, to the trailhead.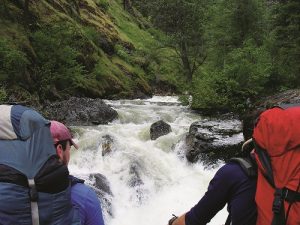 Wind River Trail
Even by the scant standards of the other hikes featured here, the Wind River trail upstream from Riggins receives little traffic, overshadowed as it is by the world-class whitewater rafting on the Salmon River nearby (the take-out point for the life-list Main Salmon River float is just upstream from the trailhead).
But hikers who leave the boaters far below will be treated to outstanding vistas of wild country little changed from when Lewis and Clark deemed it nigh-impassable. From the Salmon River, cross the Wind River Pack Bridge and immediately enter the 206,000-acre Gospel Hump Wilderness. The trail leaves the Salmon River behind and follows Wind River north through a pleasant canyon. After a level mile, climb to a balsamroot-bedecked hillside for fine views and a decent turnaround point for a quick leg-stretcher. For a better vantage point, descend to a second footbridge and then climb 600 feet up a sun-baked slope for a postcard view across the Salmon River canyon to the Frank Church River of No Return Wilderness, which, along with the Gospel Hump and Selway-Bitterroot, form the largest wilderness complex in the lower 48 states.
Camping: The Forest Service operates a fee campground at Spring Bar, 8 miles downstream from the trailhead. But campers who can live without picnic tables can pitch a tent on several stretches of beach with pit toilets nearby.
Driving directions: From Riggins, Idaho, drive east on Salmon River Road. Follow the paved road (it eventually turns into a well-graded gravel road) 18.4 miles to a T-junction, just beyond French Creek. Stay left along the river and follow the road an additional five miles to the Wind River Pack Bridge and signed trailhead.
Snake River Trail
By some measures, Hells Canyon claims the greatest chasm in North America. By any measure, the Snake River National Recreational Trail along the river rates as a must-do Inland Northwest day-hike. From Pittsburg Landing – a popular staging area for long-distance treks into the Hells Canyon Wilderness – the trail winds approximately 26 miles on the Idaho side of the Wild and Scenic Snake on tread that alternates between surprisingly green grassland and vertigo-inducing rock ledges. Serviceberry, sumac and the twisted trunks of hackberry hide an array of wildlife: prepare to be startled by chukar partridges exploding from cover. Canyon wrens and rabbits inhabit the lush, narrow creek draws. Early spring brings surprising color from phlox, paintbrush, brodeia and others; early June bears prickly pear cactus blooms. Hikers should be on the watch for poison ivy year-round. Hike in the morning for comfort; once the sun rises above the canyon walls, shade is scarce. Historic Kirkwood Ranch – which boasts a small museum in addition to historic ranch houses and an orchard – makes for a popular day-hike destination of 12 miles round-trip.
Camping: Upper Pittsburg Landing features free trailhead campsites, but Lower Pittsburg Landing boasts a better campground complete with sheltered cooking areas, picnic tables, and a fee.
Driving directions: From Grangeville, Idaho, drive south on Highway 95. At 1.2 miles south of Whitebird Junction, turn right (west) toward Hammer Creek Recreation Area. Cross the Salmon River and turn left toward Pittsburg Landing on Deer Creek Road (#493). Drive 17 miles over Pittsburg Saddle and down to the Pittsburg Landing area. At the paved junction, turn left toward Upper Landing and drive 1.7 miles to the road's end and trailhead.
Selway River Trail
Part of the original Wild and Scenic Rivers Act, the Selway River in north-central Idaho remains one of the most pristine waterways in the lower 48; to keep it that way, the Forest Service allows only one permitted boat launch a day. Hikers don't need to cross their fingers for a chance to explore this passageway into the heart of the 1.3-million-acre Selway-Bitterroot Wilderness, although herpetophobes should beware: the Selway's rattlesnakes are legendary and legion. The 56-mile Selway River Trail parallels sand beaches and sculpted boulders along its length, with the steep, fir-cloaked canyon occasionally narrowing enough to necessitate a climb away from the shore. The Selway swelters in mid-summer, but spring is pleasant. Six miles in, Cupboard Creek rapids rates as a good turnaround spot for a long dayhike, although groups with young hikers may choose to stop at any of the beaches before then.
Camping: Race Creek Campground at the Selway River Trail terminus makes a fine staging point for hiking trips.
Driving directions: From Lewiston, drive 114 miles east on Highway 12 to Lowell. At Lowell, continue east across the Clearwater River onto Forest Road (FR) 223 (Selway River Road). Proceed 18 miles (past Selway Falls) to the trailhead at Race Creek Campground and road's end.
Wenaha River Trail
The Wild and Scenic Wenaha winds its way across the heart of the Wenaha-Tucannon Wilderness, which encompasses almost 200,000 acres of rugged ridges, flower-filled meadows and deep river canyons in the Blue Mountains of southeast Washington and northeast Oregon. The Wenaha River trail meanders 22 miles along the river, alternating between ponderosa and black cottonwood flats and narrow causeways blasted out of the rock high above the water. In addition to being a blue-ribbon trout stream, the Wenaha is a wildlife-watchers delight: scan the steep slopes for black bears, elk and bighorn sheep, but keep an eye on the trail, too; rattlesnakes are rife here. Fragrant coyote mint and other hardy rock-garden plants enliven the trail in the spring, although poison ivy is also plentiful. Numerous side trails climb the 2,000-foot canyon to the broad tablelands above and beckon backpackers, but day-hikers can aim for the wilderness boundary at 4.5 miles or Crooked Creek at 6.5 miles.
Camping: Fields Spring State Park, just across the border in Washington, is one of the state's finest parcels, with plentiful tent sites and a shower facility. Save time for the short hike to Puffer Butte, which boasts an unbeatable view over the canyon country below.
Driving directions: At the north end of tiny Troy, Ore., drive west on Bartlett Road, following signs toward Pomeroy. Drive 0.3 mile to the trailhead at the road's first switchback. //
Rattlesnakes & Poison Ivy
Rattlesnakes: Keep an eye out for snakes along the trail or near creeks and shady areas on hot days. Use a walking stick or trekking poles to poke around rocks and tall grass and help let any resting rattlers know you're coming. Tune your ears to listen for the unmistakable, high-pitched rattle. Rattlesnakes rarely bite unless provoked and bites are rarely fatal if treated properly.
Leaves of three, let it be: Poison ivy grows along many of the Inland Northwest's more arid river canyons. Look for the signature three shiny leaves on bushy plants along trails and creeks (sometimes with small white berries bunched up near the stems). Avoid brushing up against poison ivy, as the oil from the plant is known for causing a rash on most people who touch it.