You trained hard over the past couple of months, and you're sporting the latest Bloomsday finisher shirt. It's early in the running season, so what's next? The mud runs and color runs are extremely popular these days. If you're not signed up by now, it may be too late. Not to worry. Our area hosts plenty of opportunities to showcase your fleet feet.
State Park Series 5-mile and Half Marathon races – May through September. Maniacally run through nature on trails. Race once a month at six different state parks in Washington and Idaho. You don't have to be faster than a bear – just faster than at least one other person. Trailmaniacs.com/state-park-series–sps-.html.
Hear Me Run 5k – June 7. This chip-timed run benefits HOPE School, Spokane's only listening and spoken language preschool for the deaf and hard of hearing. The course follows both sides of the Spokane River from Riverfront Park to the Gonzaga campus. It's only 5k and it's for the kids. Hearmerunspokane.com.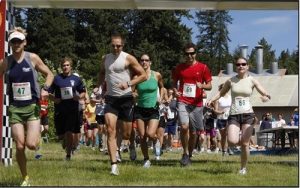 Riverside 24-hour Relay – June 7. At last, a relay race with no vans. Form a team of 1 to 12 members and take your turn on the 6-mile loop. Set up camp and enjoy the live music and DJs when you're not running. There's also a special 4-hour School Duel for six-member elementary, middle, and high school teams on a 3-mile course. R24relay.com.
Herron Half Marathon and 10k – June 8. This challenging and fun course consists of three loops each with 400 to 600 feet of elevation gain near Kalispell, Montana. But each loop crests before the halfway point, so you're going downhill most of the time. Last year there were 115 runners. It's not a crowded race, but it will be in a couple years at the rate they're growing, so beat the crowd! Runflathead.com/herron-half-10k.
Bavarian Battle 10-Mile, 8k and Kids Trail Runs – June 22. The races begin and end at the Leavenworth Ski Facility, and the course is said to be hilly and challenging. Fortunately, they go easy on the kids who only have a 1k to 2k route.
Runwenatchee.com/event/bavarian-battle-trail-runs.
(Pssst, if you're looking for a full weekend of running fun, there's a gnarly Bavarian Battle Adventure Race the day before: Skileavenworth.com/events/BavarianBattle).
Mt. Misery Relay Race – July 5. Some might think running a 57-mile relay race on a route flanked by mountains named Misery and Doom is reason to question a person's sanity. Others might think, "Let's form a team!" The course through the Umatilla National Forest covers some incredibly scenic country in the canyons and mountains south of Lewiston, Idaho near the Grande Ronde River. Team members swap out any time they want to. Seaportstriders.com/entry/misery.
Negative Split Half Marathon and 5k – July 6. This is the second year for this great out-and-back race along the Spokane River. Start in Riverfront Park and follow the Centennial Trail eastward on a fairly flat course. Turn around and join the party when you get back to the park. Last year's finisher medal also functioned as a bottle opener. Now that is some forward thinking. Nsplit.com.
Let's Climb A Mountain 34.3 Mile Solo and Relay – July 12. If you've ever had the urge to run a marathon and then immediately follow that by running 8 miles up Mount Spokane, then this race was tailor made for you. Normal people form a relay team. Letsclimbamountain.com.
Schweitzer Mountain Trail Run 10 or 3.5 miles – July 19. This race features a mix of double and single track, some rugged and some fun. It's on a mountain so what did you expect? Smtrailrun.com.
Bare Buns Fun Run 5k – July 27. It's the 30th anniversary of this run through nature au natural (if you choose) with a large group of nonjudgmental, non-photo-shopped people. Caution: Forming an office team might result in some awkward moments. Kaniksufamily.com/?page_id=4.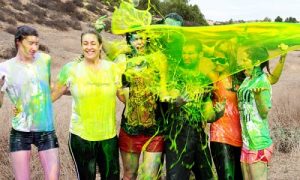 The Slime Run 5k – August 23. Instead of mud and obstacles, it's slime zones and obstacles. Bring some towels and maybe a change of clothes. This new race is being held at the Spokane County Raceway. One prize for the biggest group, which the Flying Irish should easily win. Theslimerun.com/locations/spokane.
The Riggins Salmon Run Half Marathon, 10k, 5k – September 13. This year the beautiful canyon town of Riggins, Idaho on the Salmon River is hosting this first annual event that includes multiple running distances and a kid's fun run. The race ends at Riggins City Park with live music, food and beverages. Rigginsidaho.com/events/11-riggins-salmon-run-a-foot-race-along-the-beautiful-salmon-river/event_details#.U0_jcleP6Dc.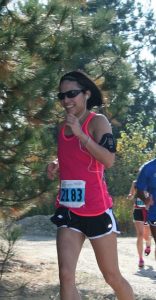 Scenic Half Marathon, 10k, 5k – September 21. There's a distance for every runner at this Sandpoint race. All routes are out and back from the Sandpoint City Beach. Get a free victory stand photo showing proof of your accomplishment. Sandpointchamber.org/TheScenicHalf.
Spokane Marathon, Marathon Relay, Half-Marathon, and 10k – October 12. You've had all year to prepare, and you still don't want to do a whole marathon? I don't blame you. Split it up four ways and do the relay or choose one of the other distances.  Spokanemarathon.us.
Regardless of the race or distance you choose, the main point of all this is to have fun. Smile and keep you pace steady. //