By Powder Matt
The flakes are already flying up north in Canada. And your skis are calling, saying, "Hey you—this winter can we please do a B.C. adventure? I miss soft and fluffy snow on my bases." Besides, you need to clear your head out, with everything that has built up over the past months (or years).
Let the powdery snow work its magic to refresh the mind, let your soul run wild, and harness all that's good. Let it all come back. Point 'em north and explore all the hidden gems we have to offer.
But first, let's go through what crossing that border looks like these days, followed by a few key places to shred this winter along British Columbia's Powder Highway.
Don't Let Paperwork Get in the Way of Powder Dreams
It's a sweet drive north to Canada from Spokane and North Idaho as farm fields give way to forested hills before you reach one of the many border crossings.
In this evolving COVID era, reaching one of the Kootenay's quiver of powder pleasers along the Powder Highway (Whitewater, Red, Fernie, Kimberley, and Kicking Horse) requires you to show proof of vaccination and get a COVID PCR test showing negative results within 72 hours of your planned arrival into Canada.
Before you head out, visit ArriveCAN online to enter your proof of vaccination with approved vaccines (Moderna, Johnson, Pfizer and AstraZeneca).
Stop Staring at Webcams—Let's Do This
There are many ways to experience a Kootenay escape this winter. Here are a few favorite options.
1. Family Escape
To make it easy, the key is slopeside stays. Kimberley's Trickle Creek Lodge comes complete with a pool and condo-style accommodations, including a kitchen to whip up delights. Right out front is the learning area, separate from regular skier traffic—voila, the kids are taken care of at Kimberley Alpine Resort.
Throw in those epic kids' trails through the woods for the little rascals, which they'll dare you to follow them into, and the kids will be over the moon. Don't worry, there are endless gladed trails for tree skiing and real killer fall-line runs for the 'rents' to get their fix here.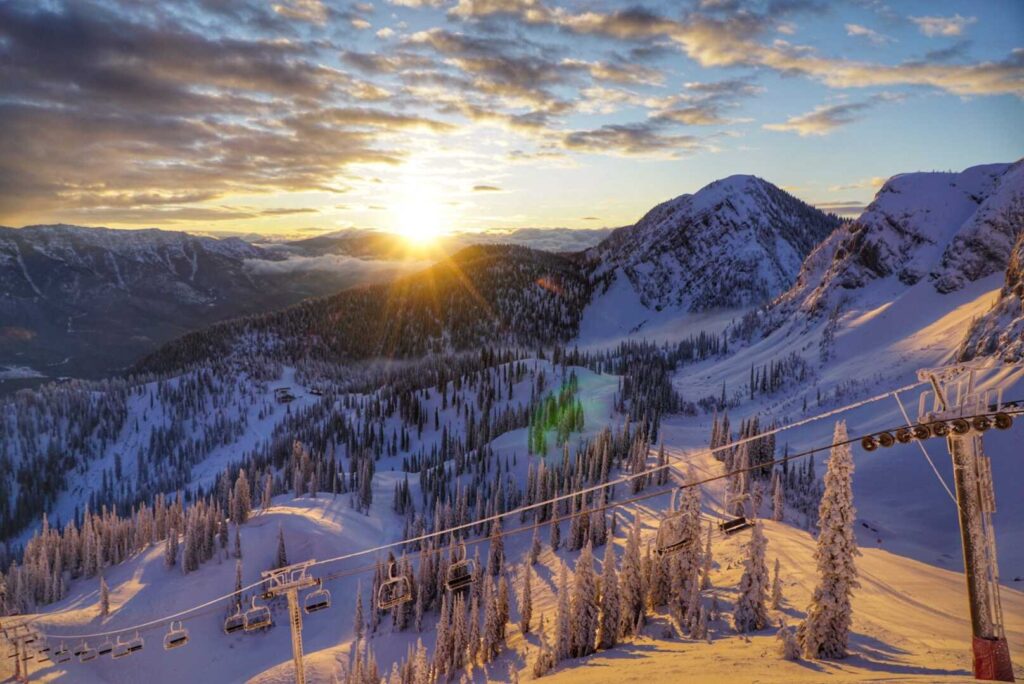 2. Snow Dreams
Living in a snow globe is so sweet. To experience it first-hand, head to Fernie, B.C., with its cool authentic mountain town that has it all, from craft shops, to epic eats and some of the best artisan coffee in existence. Let's focus on Fernie Alpine Resort though, as it boasts the most alpine bowls, biggest vertical, and deepest snow in the Canadian Rockies—of course, that's why you're here, isn't it?
3. Steeps, Chutes, & Champagne
It's still a secret, so keep it to yourself. Kicking Horse Mountain Resort is the real deal. We're serious. Honestly, until you try this place, you won't know what you're missing. So don't go another year without experiencing the most chute skiing in North America (over 80 chutes!).
Just think how many people talk about Jackson Hole's similar terrain when it only has a handful of chutes, and nothing to match the caliber and variety that this Horse has.
But it's not all gnarly terrain. There are tons of groomers and intermediate trails too. Kicking Horse is also home to the 5th biggest vertical in North America and Canada's highest restaurant to boot, perfect for that cheers, eh!
Some Don't Miss & Additional Details
Be sure to check each ski resort for their COVID safety update section before you go, so you are aware of any required protocols. Currently at ski resorts across British Columbia, all will require proof of vaccination to enter restaurants, and some have that mandate for all indoor facilities.
Be prepared with a mask for lift lines and gondola rides too. But double check the latest before your departure, because as of this writing, many are still working out final details and protocols.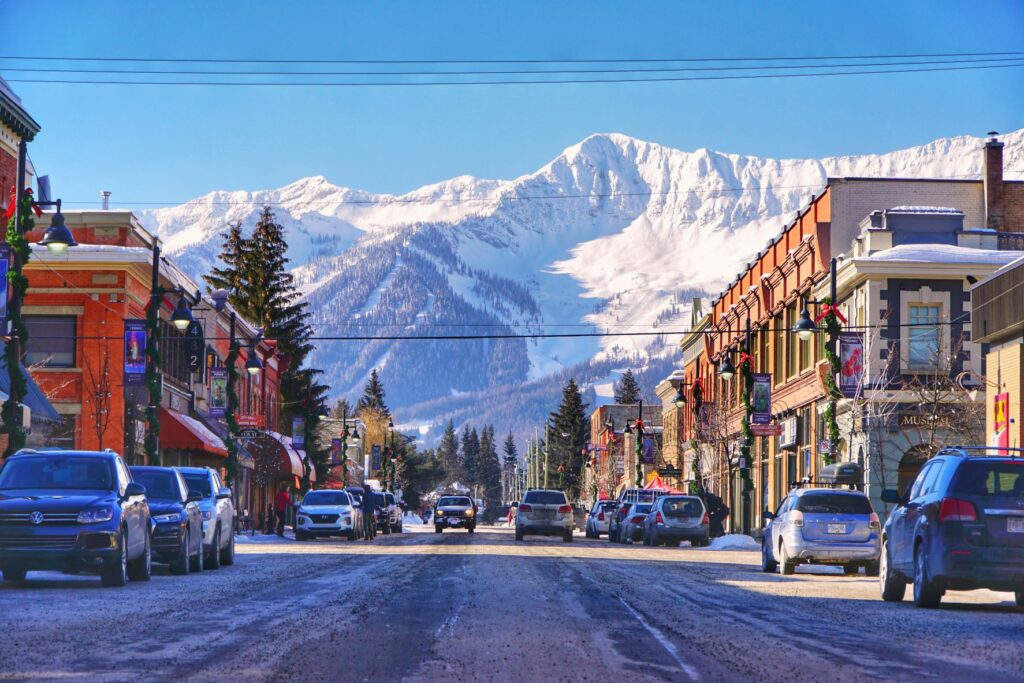 A Few Sweet Kootenay-Local Secrets
Enjoy ski-in and ski-out. Only 50 feet from the lift at Fernie Alpine Resort, stay at Lizard Creek Lodge with its newly-renovated main lodge. You won't mind the sweet slopeside pool and hot tub either.
Get in your Pod. A new pod hotel experience is now open at Raging Elk Adventure Lodging. Save money, ski more, and enjoy this fun environment in downtown, Fernie, B.C.
Purcell Heli Skiing. Same incredible terrain, awesome guides, and now new ownership are part of the CMH family. They are one of the few daily adventure heli skiing options, so book a date for heli skiing after you have skied a couple days at Kicking Horse Mountain Resort. That's what we call a perfect powder combo.
Powder Matt is a professional ski bum and writer from Kimberley, BC, who lived in his car for 63 days one winter so he could ski every day. He wrote about skiing the Kootenays during the COVID border closure in the March-April 2021 issue of Out There.
This story was originally published in the Out There Snow special section in the November-December 2021 print issue.
Find more stories about skiing in British Columbia its Powder Highway in the OTO archives.