The Powder Highway of southeast British Columbia boasts the world's most concentrated collection of skiable experiences: eight ski resorts and dozens of heli- and cat-skiing operations and luxury backcountry lodges linked by 677 kilometers of pavement. The names of the region's resorts—Whitewater, RED Mountain, Revelstoke, Kicking Horse, Fernie—stoke road-trip plans in skiers' minds; it's the landscape ski trip dreams are made of. And it's easy for Inland Northwest skiers to take a spin on the Powder Highway with a weekend at its southernmost resorts, RED Mountain and Whitewater.
RED Mountain Resort
Less than three hours north of Spokane, RED Mountain is the closest of the Powder Highway resorts. It's the birthplace of Canadian skiing, and stays close to its roots. No high-speed chairlifts or heated sidewalks here. It's the skiing that matters most, and, acre-for-acre, RED boasts perhaps the best, most expansive ski terrain in the region.
A trio of chiseled peaks—Red, Granite and Grey—comprise the terrain at RED Mountain. At approximately 4,200 acres, the resort is the size of Jackson Hole—at about half the cost, and with none of the locals-only airs.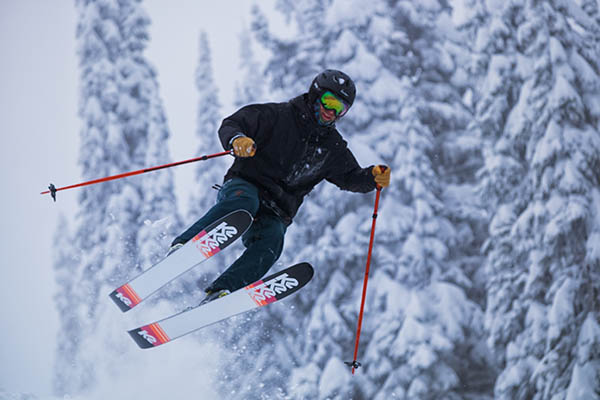 In fact, RED welcomes powder pilgrims from the States (and elsewhere) with open arms. Here, locals willingly share their stashes; share a chairlift ride with a Rosslander for an insider's guide to the resort. (A common suggestion: the steeps on the backside of Grey, which the resort added to its tenure just a couple seasons ago.) For those looking to blend in with the locals—or at least catch a great meal and a reliable slate of live music—Rafters Lounge is a good place to start.
For all its mountain-town accolades, Rossland is a quiet community. Grab a bite at the venerable Flying Steamshovel or the new Fuel Gastropub and then retire early for another big day on the mountain. With new on-mountain lodging opening at RED this season (the boutique hotel The Josie and a stylin' hostel with dorm and private rooms called Nowhere Special), staying up on the mountain is also a great options.
Whitewater Ski Resort
An hour from Rossland, bohemian Nelson is the cultural capital of the Kootenays. Scrabbling up a steep hillside on the fjord-like shores of Kootenay Lake, Nelson possesses an open-air mysticism, a mix of hardcore mountain-living and hippie, that's represented in events from Renaissance faires to rave-music festivals. You won't find coffee chains in downtown, but there's no shortage of kombucha. And, like Rossland, the average person you encounter on Baker Street downtown probably skis better than you ever will.
Part of the reason is the city's proximity to Whitewater Ski Resort.
Collecting 40 feet of light, dry powder every season and capped by Ymir Peak—a name aptly reflecting the peak's fierce, primeval face—Whitewater offers steep, snowghost-framed terrain and expansive backcountry access. Thanks to its protected location, Whitewater tends to benefit from consistent snow; it's easy to plan ahead.
Despite its big-mountain bona fides, Whitewater welcomes families and first-timers. That's the WH2O way: whether guests are dropping in to the perfectly spaced glades or sitting down to the award-winning cuisine of Coal Oil Johnny's Pub, they do so surrounded by the laid-back cool of the Kootenays. //