Red Mountain in Rossland, BC has always had a cult-like following of diehard Spokane area skiers who happily drive the extra miles to worship at its prolific powder dumps. At around 2.5 hours north of Spokane, Red is definitely in the semi-reasonable daytrip range from Spokane. Of course staying a night or three up in Rossland is a much better idea. To make overnight stays even more appealing, Tourism Rossland has recently added a re-purposed 1980's era bus called the Free Ride Ski Bus that makes hourly loops through town picking up skiers for the ride up to the mountain (for free). For those faithful who have long known Red's secrets (deep powder, plentiful expert terrain, and expansive tree skiing – all without the crowds), the drive-time has always been worth it. These days, it's even more worth it.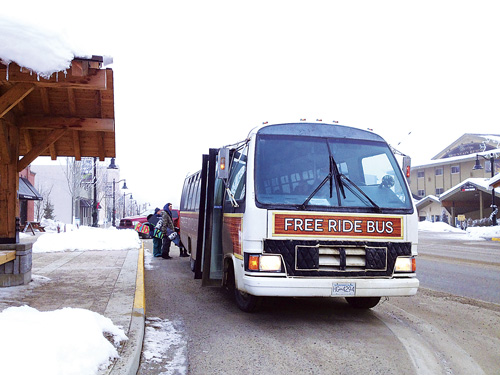 With a major expansion of intermediate and advanced terrain and a new lift on Grey Mountain this season, Red has suddenly launched into the pages of prominent ski and outdoor magazines and even the New York Times! The secret is definitely out. Red and Rossland are a special, tucked-away anomaly of a ski hill and ski and bike town combo that doesn't have to try too hard to be more than the extraordinary place it already is. But the new runs, new lift, sidecountry cat skiing and other improvements have really cranked up the mountain town cred a notch. We are so lucky to live so close.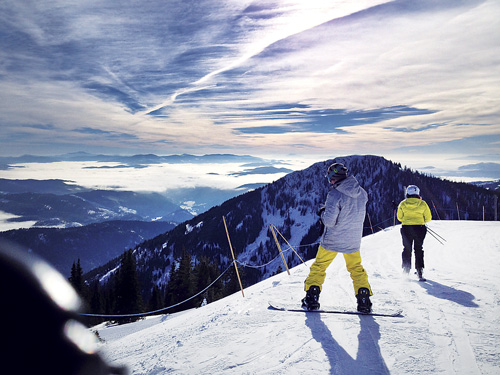 Earlier this winter, in the middle of one of our bluebird sky, high-pressure system snow draughts, we made one of our first ski day trips of the year up to Red to check out all the changes first hand. Although it isn't something that would have ever occurred to me as an option (even if I'd know they existed), Red set us up with a resort "snow host" to tour us around the mountain for the day. What exactly is a snow host? As we learned, it's a free service provided by the resort to help get more people familiar with the mountain. Believe me, I was skeptical to say the least, but I highly recommend giving a snow host a try if you haven't skied Red in a while or want to experience a little local terrain knowledge.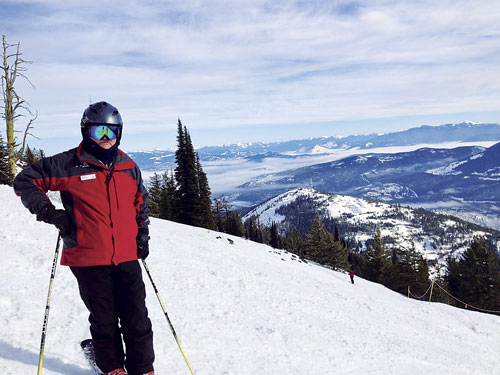 Without a snow host, and no powder to obsess over, our day would have likely been spent wandering around the mountain, half-lost half of the time, entranced with skiing the same long, sunny groomer over and over the rest of the time, with plenty of leg resting breaks. But we wanted to get a good sense for the new Grey Mountain terrain, and our snow host Gord Madge knew it and delivered.
After a round of friendly introductions, we followed our guide from the lodge through the swarm of kids surrounding a guy dishing out free hot chocolate from a backpack and made our way to the Silverlode Chair for our first ride of the day. On the ride up, we determined that Gord is a super friendly local who definitely has his priorities right: winters split between skiing Red and jaunts to Mexico and summers spent in the Kootenays where he runs a B&B on the Columbia River with his wife. We also determined that this man really loves to ski. We had already kept him waiting at least an hour past first chair, and it was clear the moment he shot off the Motherlode lift at the top of the mountain that he was eager to help us make up for lost time.
Gord, who has been skiing Red since well before I was born, proceeded to take us on a non-stop,  lift hopping tour we never would have accomplished on our own. From newly cut runs like Long May You Run and Gold Digger off the flanks of Grey Mountain, to long-time classics such as Rino's Run and Back Trail, he pointed out names of runs, secret passages around cliff bands, hidden routes through the woods and steep off-piste lines. He shared local lore and a few mountain secrets (although I know he saved plenty). His enthusiasm for cranking out more turns, even on a day when all but the most inscrutable, north facing powder stashes had been tracked up for weeks, was contagious.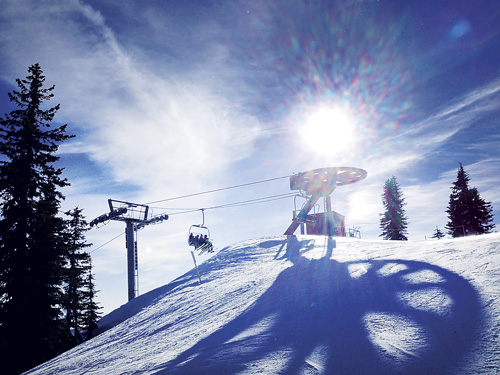 We never quite knew where Gord would take us next, but a few things were guaranteed after each run: we'd have smiles on our faces, our legs would be burning, and Gord would be waiting for us halfway down the mountain where he'd likely been hanging out for several minutes, already eager for the next run. At one point, after catching up with him, we paused for several minutes to give our legs a break and gape out at the sea of fog (the Kootenay Sea they call it), with distant peaks piercing the crystal blue sky, like we'd already done a half dozen times that day. I'm sure he was staring at us in quiet disbelief while we took another round of photos. His voice brought us back to the ski hill: "You guys really like nature, eh?" We laughed and agreed that yes, we like the outdoors a lot, but really, most of our sight-seeing stops served a sneaky secondary purpose we were sheepish to admit: we needed another rest!
Our last run of the day (a half hour or so before last chair) came too soon, but we were tired and ready for some refreshments at Rafters. I could sense Gord eyeing his watch and noting to himself that there was still time for one last run. "You should go for one more," we urged him. Of course, always the attending, amiable host, he wouldn't think of ditching us.
A jolly, muscle weary cheers was in order. We finished the day off with a few Okanagan ciders and an avalanche sized pile of nachos at Rafters with Gord and some other friends from Spokane who we randomly ran into at the bar. When they saw me scribbling away some notes on a napkin for a story the day had inspired, the response was predictable: "Shhhh, don't tell everyone how good it is up here!"
OTM Picks
Lodging: For this trip, we stayed at the Casa Alpina. I've stayed there a few times, and the clean, quiet, basic rooms are perfect for a ski trip and come with a mini-fridge and microwave to help you save a little cash with in-room cooking. There's also a hot tub, and it's within walking distance of downtown Rossland (and on the Rossland Free Ski Bus route).
Happy Hour: I hate to say it, but I'd rather hang out at Rafters Lounge at Red than just about any Spokane pub any day. And I love Spokane and its many wonderful watering holes. High energy patrons, friendly staff, simple and comfortable tables and bar seating in a non-pretentious atmosphere, and everything you could ask from a ski hill bar food and drink menu – Rafters has it covered, and then some.
Red by the Numbers
Vertical drop: 2,919 feet
Total size: 4,200 acres
Lift serviced: 2,682 acres
Marked runs: 110
Number of lifts: 7
Longest run: 4.3 miles
Average snowfall: 300 inches
Base elevation: 3,887 feet
Summit elevation: 6,807 feet
Miles from Spokane: 128