Pend Oreille County is a wild and beautiful corner of Washington with some of the most diverse wildlife of anywhere in the Northwest. Iconic critters like grizzly bears, wolverine, moose, wolves, and although rare, even caribou roam the scenic, rugged mountains less than two hours north of Spokane. But come this time of year, the spotlight is all on the hundreds of tundra swans that make the Pend Oreille River Valley their migration pit-stop. Each year, the swans migrate thousands of miles between their wintering grounds south of here (places like the Great Salt Lake, California, and the Pacific Coast) to their summer digs in the North American tundra, as far north as the Yukon River. And the spectacle they create – with their large, glowing white bodies; wide, gleaming wings; and haunting honking (think French horn) when they approach or take off from a landing site can be dazzling.
When exactly the swans make their appearance, or most abundant display on the Pend Oreille River and area lakes, is up to Mother Nature, notes Susan Harris with the Pend Oreille River Tourism Alliance in Newport, one of the festival organizers. But that prime tundra swan viewing window is typically in the month of March, she says, which is why the festival, which includes an organized tour to swan hotspot Calispel Lake (aka Swan Lake), is set for March 22 this year. "The scouts start showing up first in January," Harris says. "And pretty soon the others follow, and it can get pretty noisy there with a few hundred swans and hundreds of geese and ducks."
In past years, the festival has attracted over 100 attendees for the event, which includes a bus ride out to a viewing location on the privately owned Calispel Lake, a sack lunch, and a nature presentation back where the tour begins at the Kalispel Tribal Wellness Center in Usk.
The lake is somewhat of a swan magnet. "The shallow lake dries up each summer," Harris says. "The swans spend much of their time with their necks down in the water feeding on the dead grass from the previous summer." Calispel Lake and Pend Oreille River are important resting and feeding stops for swans on their way to breeding grounds far north.
Harris notes that it's a family friendly event with a $5 discount for kids 12 and under (the cost for adults is $10). Following the tour and lunch, the afternoon presentation at the Center will focus on the conservation and wildlife benefits of the 1964 Wilderness Act in honor of its 50th Anniversary and a screening of the film "Forever Wild: Celebrating America's Wilderness." For kids who may not appreciate sitting through the film, there are other options. The Camas Wellness Center has three pools including a wading pool that can be used by guests for a day-use fee. Buffalo can also be viewed nearby grazing around the Center's grounds and are fun to watch.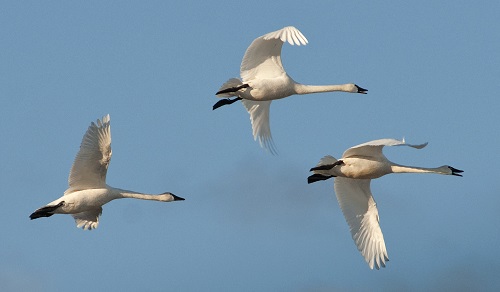 When You Go:
Bring binoculars, a camera, weather appropriate clothes, a birding guide if you have one (over 200 species of birds reportedly call Pend Oreille County home for at least part of the year), a hat, and plenty of water.
Meet at the Camas Wellness Center at 1981 N. LeClerc Road in Usk, WA in time for the 10 a.m. bus departure to Calispel Lake (it's a little under an hour and a half drive from Spokane with a rest stop). The tour will return to the Center for lunch by noon, followed by the presentation.
Visit porta-us.com/birding for downloads of the agenda, maps, lodging, a list of things to bring, and birding links. Space is limited so register via PayPal by Friday, March 14 to guarantee your spot. The event is $10 for adults and $5 for children 12 and under and is co-hosted by the Natural Resources Department of the Kalispel Tribe of Indians and the Pend Oreille River Tourism Alliance (PORTA). //
Tundra Swan Facts
The average weight of a male swan is 16 pounds
There are two populations of tundra swans in North America: eastern and western.
Tundra swans are smaller than trumpeter swans, although it can be difficult to tell them apart in the field.
Swan numbers in the western population were estimated at almost 90,000 birds in 2000 and are increasing an average of 6 percent per year
Tundra swans feed on aquatic plants found in shallow water.