By Suzanne Tabert
Pumpkins and squash on the table add a festive and nourishing touch to autumn meals.
Ingredients:
6-8 pound pumpkin or squash of choice
1 cup quinoa or wild rice
2 cups chicken or beef bone broth or veggie broth
2 stalks diced celery
1 large diced carrot
1/2 cup chopped mushrooms
1/2 cup chopped onion
3-6 minced garlic cloves
1 cup chopped kale
3 tablespoons butter or coconut oil
2 tablespoons extra virgin olive oil
1 cup chopped nuts of choice
1/2 cup cranberries
1/2 cup chopped dates
1 tablespoon each of fresh thyme and rosemary
Salt and pepper to taste
1 cup cooked, ground sausage (optional)
Directions:
Preheat the oven to 400 degrees.
Line a cookie sheet with parchment paper or use a Dutch oven.
Cut the top off the pumpkin or squash and scoop out the seeds and stringy bits. Set seeds aside to clean and roast. Place the pumpkin/squash on the cookie sheet or Dutch oven.
In a saucepan, add tricolor quinoa, wild rice, or a mix of the two, and then add the stock. Bring to a boil, then lower the heat to low and simmer with a lid on until tender (10-25 minutes).
In a medium pan, melt butter/coconut oil and add the olive oil.
Sauté the veggies until soft.
Combine the ingredients and spoon into the pumpkin or squash.
Bake 1.5 to 2 hours or until soft when pierced with a knife.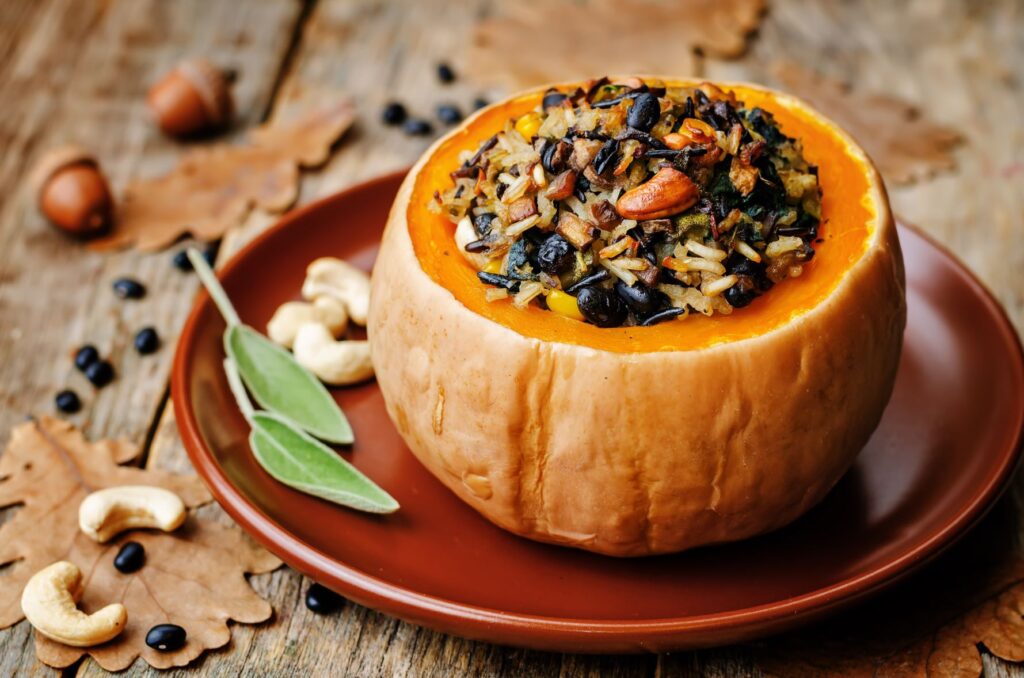 Suzanne Tabert is the author of "Wild and Beautiful, Naturally!: An Herbal Encyclopedia for Healthy Skin For a more beautiful you!" and the founder of Cedar Mountain Herb School.
Originally published in the Provisions section of the November-December 2021 print issue.
Find more Provisions recipes and food & drink articles in the OTO column archives.