Originally published in the April 2018 print issue of Out There Outdoors magazine.
I've always sought out unique things to do throughout my life. There are an infinite number of experiences available to us, and I've pursued my fair share of them. I'm now at a point in my life where I can dedicate more time to new experiences, so I'm going away for a while.
For many years my wife Kathy and I have talked about riding our bikes across the country. I recently retired from my job, and I proposed to Kathy that instead of riding across the country, we ride around the country for a year or so and visit the 48 states. She thought that was crazy, but she also liked the idea. We agreed we should do this while we physically can so now is the time. We're not spring chickens, but our activity levels belie our ages. So in May, Kathy and I will load up our panniers and hit the road.
It's what I would call a loosely well-planned adventure. We'll meander across the northern states and end up in Maine in September of this year. From there we go down the East Coast and arrive in Florida in December. We'll spend the winter of 2019 crossing the southern part of the country until we get to San Diego. Then, during the spring and early summer, we'll cross the middle of the country and end up in Chicago. (Oh, the humidity!) From Chicago we'll take the train to Klamath Falls, Ore., where we cross off the last of the 48 contiguous states while riding up to the Olympic Peninsula. The final leg will include crossing our home state—at least, that's the plan as of this writing.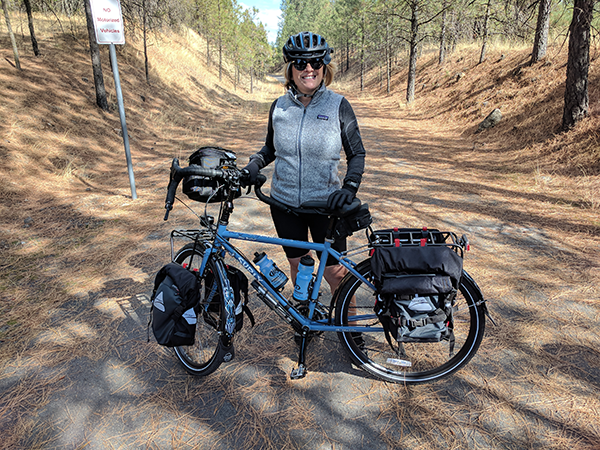 While this may sound romantic and cool, we have no illusions about how difficult this will be. In addition, being together 24/7 isn't something we're used to, so there may be a time or two when we'll need to ride 100 yards apart. But then we'll do what we've done for over 37 years and talk it out. We know there will be hardships, but we will also be there for each other. Realistically, physically-easy days will be few and far between if we're planning to average 50 miles a day; however, the challenges presented by the unknowns add excitement, and they also present the chance to make memories as we overcome them.
Kathy and I understand our plans are subject to change depending on life events, weather, etc.—hence the loosely well-planned nature of this adventure. We don't want to have to be anywhere on time. And we'll take it a day at a time and adjust as needed. One change has already come up: one of our sons is getting married in November. Yes, we will be there—I'm officiating—and we'll figure it out when the time comes.
To learn more about Hank and Kathy Greer's journey, you can read their dispatches from their 2019 bike tour at www.greer.fm.
Hank Greer is an avid cyclist. He's written a number of Every Day Cyclist columns for OTO. In the September 2017 issue, he shared about his Oregon outback bike adventure.
Originally published as "Riding Around, Not Across, the Country" in the in the April 2018 issue.
[Feature photo: Hank Greer is striving for visibility during his bike tour. // by Kathy & Hank Greer]