This is the second story for the new People in the Wild column, which aims to observe average humans in their natural habitats in order to explore and celebrate all the different reasons and ways we share a common love and stewardship of the outdoors.
There is a sensationalism that we've begun to demand in regard to outdoorsing. It isn't just that we're looking for those who have climbed the highest, run the farthest, survived the extremist. We're demanding a story that makes them worthy of this level of soul suffering journey or our interest: shitty childhood, trauma, grief, drug recovery, some salacious deservedness.
Fish may or may not have any or all of the above. The only thing one senses in his presence is that he's at home outside. Shelter, whether on land or sea, is fine and all that, but mostly for sleeping.
If ever there was a rule book for how to do life, Fish probably burned it to make a campfire. Or used it for toilet paper. He is dispensing financial advice as we move up the trail. Pay off your house as fast as you can, don't let them banks keep your money, that's your money. A mile alongside Fish is arguably loaded with more wisdom than any meeting I've ever had with a financial advisor. And that's just the money talk.
Fish is in his 60s but only his silver hair and variety of adventures give him away. There's no poetic story about a life-altering hunting trip or some deep connection he had with his father in the outdoors. His dad was a trucker, passed away when Fish was a teenager. I don't ask what they called him then. "We were out in the Pokono Mountains when there wasn't nobody there," he says of being a normal kid growing up in rural Pennsylvania. He went outside a lot. He liked it. He thought maybe someday he'd be a forest ranger.
When Fish got out of high school, he went to work for the mill like everyone else in small-town Pennsylvania. They had good wages and poor outcomes and Fish was a bit too curious about life to last long. So he joined the Coast Guard, then decided to head into the wilderness for a month before he became an indentured civil servant. Maybe this is what put the mountains into his blood, or maybe it's in all of ours and we just don't know until we're there.
When Fish had leave, he hiked. When he finished his time, he stuffed a metal-framed Kelty pack (it weighs over seven pounds) and hit the Pacific Crest Trail for a thousand or so miles. It was 1980. The "trail" was more marked than it was cut. He lamented the manzanita, still crisp in his memory. That pack and its collection of patches hangs next to his Osprey now. He's not beholden to some kind of old-school misery and a flannel sleeping bag with a metal zipper.
His transition to water versus land was not a direct result or resentment of that adventure. Rather, someone asked him to help sail a boat somewhere and so he hopped aboard and learned how to sail. Then he sailed for another decade plus, bouncing around islands, falling in love with his bride, Red, on the high seas. Or maybe a port town bar, but any of it sounds romantic when the word "Caribbean" is thrown in.
"She was a cougar before it was a thing," he says as he shows me her collection of art. She lets Fish talk. Her long, silver hair is as shiny as her eyes are keen. She still paints and produces an incredible amount of art. Most of it sold, but there are a few pieces she just cannot let go. They decorate the walls of their octagonal cabin. Their art show travels are what brought them to the Northwest along with Fish's love of mountains.
Far off the beaten track, they own a swath of land that is nestled into the canyons of the Cabinet Mountains. They had been on the search for some years.
"I told them, 'Don't even bother showing me anything that's been logged,'" he says. The giant, 100-year-old cedars and firs sway in the early spring wind above our heads. They feel like towering guardians watching silently over the valley.
Long ago, the land had been a camp in the early 1900s. Then it had been owned by a Native woman who moved her teepee around each season until she found the perfect place to build. The couple upgraded the bare-bones cabin by chinking the logs and insulating the floor. Strange artifacts from the land's history still surface in the soil every spring. They decorate the exterior of the various structures on the property: wood shops, green houses, outhouses, and the one with the corrugated metal roofing as walls to keep the bears out.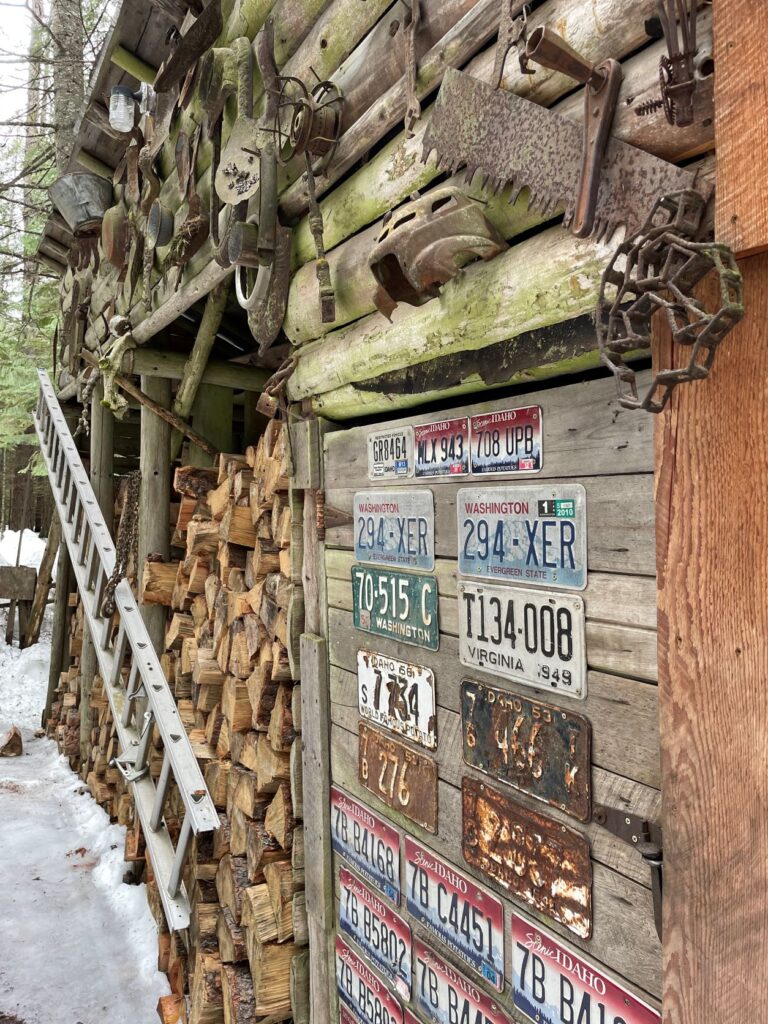 "What you have here is as close to the beauty of the Trinity Alps as you can find," says Fish. Then he describes creeping up the backside of Mount Jefferson, breaking through the trees into a panorama of this perfect peak above the high desert. One gets the impression he could accurately describe every peak he's seen as if they were lost loves he still daydreams about. "Mount Saint Helens, though," he says, almost with a sigh, "that was the perfect shaped mountain. Until it blew."
Long gone are the days of carrying a 75-pound pack with 15 days of food stuffed into it. He still goes out on multiday trips, just with lighter gear. And when he showed up at the trailhead in his lifted Jeep, he hopped out like he's decades younger than he is and right in his element.
The truth is, and Fish seems to embody this, it is in our nature to be in nature. We are creatures of this earth and its elements. These cities and suburbs are rather like zoos of humanity. To be in the forest, to sail the waters, to tend the land, steward trails, build homes with bare hands, explore—these things are in our blood.
Anyone who has made a campfire or crawled into a tent knows the feeling. It's like coming home.
Originally published as "A Man Called Fish" in the May-June 2022 issue.
Ammi Midstokke lives with her family in North Idaho, where she observes outdoorsy people in their natural habitat.
Read Ammi's first People in the Wild story.