Don't Let the Shorter Days Chase You Off the Trails
The equinox has come and gone, and soon Daylight Savings Time will come along and pour salt in our wounds. In case you haven't already noticed, minutes of sunlight are disappearing each week. Luckily for us, it's the 21st century and gone are the days of traveling at night by candlelight. Today's market is flooded with options of high-powered, insanely bright LED lights for a fraction of the cost of what they were just a few years ago. You can now illuminate an entire forest with a rechargeable lithium ion battery powered spotlight the size of a golf ball.
With this new technology comes new options for adventure. Suddenly trails you've ridden dozens of times take on a life of their own. Night riding on your mountain bike has never been more fun. Before you go bombing down your favorite singletrack trail in the dark, there are a few things to consider. First off, it's a good idea to slow down by at least a third of your normal speed. Even a familiar trail can feel unpredictable with this new perspective, not to mention the hundreds of shadows that are constantly changing shape and size, hiding obstacles, and creating some that aren't even there. Change your mind about the ride; it's about the adventure, not the high speeds.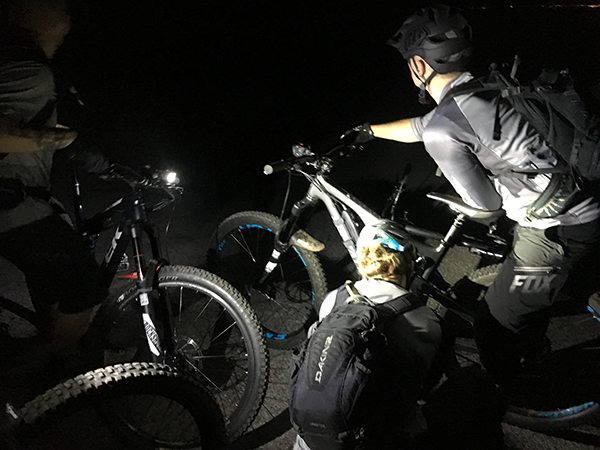 Another consideration is light placement. It's best to have one on your handlebars and one on your helmet if possible. This gives you a steady focused beam out front coming from your bars, and a higher beam from your helmet, cutting down on shadows and allowing light to be focused where you're looking. That said, if you only have one light, it's best to mount it to your helmet. If you come across a tight turn, for instance, you'll want to be able to look where you're turning.
Of course, the usual concerns arise with doing anything in the forest at night. Safety takes on an even higher priority and common sense is a must. The unexpected "deer in headlights" standing in the middle of the trail, the night wanderer or vagrant whose hangout is suddenly filled with lights, or the increased chance of getting turned around and temporarily lost or disoriented makes night riding with a buddy highly recommended.  Aside from the simple fact that the thrill of cruising through the darkness is best when the experience is shared, it just makes sense from a safety standpoint.  If you can round up a larger group and the trails aren't too dusty, opt for taking the back of the pack.  The view of the train of lights undulating through the contours of the upcoming trail is like no other!
Don't let the sun going down get you down. The trails are in prime condition. Adventure knows no boundaries other than the ones you create!  // (Erik K. and Derrick Knowles)
Where to Ride at Night
Inland Northwest mountain bikers have been riding area trails after dark for years, but some of those trails are not technically open to nighttime use. It's up to riders to make sure they know if a trail is open or closed after-dark, but here's a general guide to where you can and can't legally ride at night.
National Forest trails that are open to bikes, like Caribou Ridge and the Canfield system near Coeur d'Alene, are good to go.
Unpaved roads just about anywhere, including on the outskirts of Spokane, make great night riding without the added challenge of negotiating singletrack, although you'll need to keep an eye out for cars.
Spokane City park lands are closed from 11 p.m. to 5 a.m., which means you've got the green light to ride trails that are on City of Spokane park land in these areas: High Drive Bluff, Palisades/Indian Canyon, People's Park/High Bridge/Great Gorge area, and Beacon Hill/Camp Sekani.
Trails on Spokane County park land are open until 10 p.m. unless otherwise posted and include popular singletrack at Iller Creek, Antoine Peak, and Saltese Uplands.
What may come as a surprise to many longtime night riders is that Riverside State Park and Mount Spokane State Park trails are only open until dusk, which means if you want to ride there and follow the rules, enjoy the trails until it's getting dark and then move along. // (DK)
Night Light Advice
There are a ton of affordable light options out there for night riders these days, and while some people swear by cheap, Chinese-made lights you can get online, others report issues with reliability and quality. If you're looking to get into a night-riding set-up, your best bet is to stop by your favorite bike shop where you can talk to another rider who can walk you through the different options, answer questions, and help you if there's a problem with whatever you end up taking home. North Division Bicycle owner Brenda Mangine recommends a light system that is at least 1,000 lumens. NDB carries eight options of Serfas and Night Rider lights ranging from $35 to $300, with a mix of helmet and handlebar mounting choices. "Most of us go nuts and ride with 1,800 to 3,000-plus lumen lights," she says. "It's kind of nice to light the whole woods up when it's pitch-black out." // (DK)