By Dave Copelan
Wallace, Idaho 
Largely forgotten for over a century, the story of what may be America's greatest ever cycling adventure could finally be getting its due, courtesy of a proposed National Buffalo Soldiers Trail. 
Back in 1897, U.S. Buffalo Soldiers, a group of all African American soldiers, were ordered to pedal 1,900 miles from Ft. Missoula to St. Louis in full uniform, through the very worst terrain and weather on 35 lb one-speed bikes. The riders packed tents, tools, rifles, and ammo with them while settling for hard tack for meals. 
Why? Back then America's military was looking at ways to move troops faster than marching, cheaper than horses, and nimbler than trains. Both men and gear proved up to the task, averaging nearly 50 miles a day in their 41-day transcontinental trek, earning them the nickname "the Iron Riders." 
That largely forgotten triumph has become acutely relevant today. The pandemic is coaxing millions outside and onto bicycles. Meanwhile interest in America's historic race relations has also increased. 
In response the National Park Service, Buffalo Soldier organizations, and area tourism and outdoor recreation interests are now in the preliminary stages of getting the Iron Riders' epic trek recognized as part of a National Buffalo Soldiers Trail.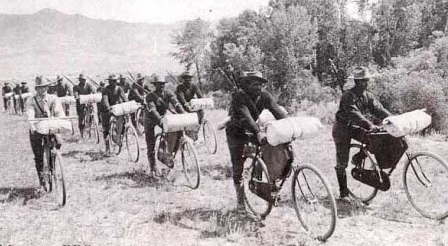 "The Park Service talked to us about a possible National Buffalo Soldiers Trail in June," says Wallace Idaho Chamber of Commerce spokesperson Rick Shaffer, who is also the president of the non-profit Friends of the Coeur d'Alene Trails. "Since then we've been working with them and other partners to get the wheels rolling on the project," he adds. 
The connections to Wallace are considerable. The town is a decades' long proponent of rail trail tourism and also has strong connections with Buffalo Soldiers. Units were stationed there to quell 1890s labor unrest as well as to save the town from America's largest ever wildland fire in 1910. 
Last year, Wallace invited Iron Rider re-enactors to cycle the Route of the Hiawatha and the Trail of the Coeur d'Alenes along with special meet-and-greet events in the city. That relationship has flowered into several joint projects, including this proposed National Buffalo Soldiers Trail.   
Where will this cooperation lead? Maybe to a coast-to-coast 4,000-mile rail trail. The Rails to Trails Conservancy announced last year that its proposed Great American Rail Trail, stretching from Puget Sound to Washington D.C., was just over halfway complete. The biggest uncompleted stretches are in Montana, Wyoming, and Nebraska—nearly the same path pedaled by Buffalo Soldiers in 1897. 
"We're hopeful the Iron Riders' feats will inspire policy makers to complete the Great American Rail Trail," says Shaffer. "Since Wallace would be right on that coast to coast trail, we would welcome the chance to tell the Buffalo Soldiers' story to folks pedaling through."