Mt. Spokane Ski Patrol Ski Swap returns to the Spokane Fair & Expo Center on October 28-30, 2022, after a two-year absence because of the pandemic.
"We opted not to hold swap the last two seasons due to Covid health concerns. As first-responders ourselves, we are responsible for community safety," says Mt. Spokane Ski Patrol (MSSP) Director Kristin Whitaker. "We are very much looking forward to hosting swap again this year."
More than 22,000 items will be ready for sale by the time doors open for shopping—which is why it's the biggest winter retail event in the entire Pacific Northwest. Swap's energy and good vibes essentially makes it a kick-off event for the Inland Northwest's mountain winter sports season.
New for this year's event will be a bigger presence by Mt. Spokane Ski & Snowboard Park—a non-profit organization totally separate from the 501(3)c entity of Mt. Spokane Ski Patrol—including a beer garden and area to buy season-passes, according to Whitaker.
Nordic, backcountry, alpine touring (AT), and snowshoe gear is also at swap. "The selection of backcountry and AT alpine gear has grown, and we plan to have them in their own section this year," says Whitaker. Because of high demand, she recommends shopping early on Saturday morning for best selection—same for buying children's gear.
Admission is $5/person (free for children age 12 and younger) and includes both Saturday and Sunday. Whitaker encourages shoppers to return on Sunday for 25% off red-tag items.
Ski Swap History
Mt. Spokane Ski Patrol was founded in 1938, making it one of the oldest member groups of National Ski Patrol. More impressive, it's one of the largest all-volunteer patrols in the U.S. (if not THE largest)—and the largest patrol in the Inland Northwest, with nearly 170 patrollers. Most patrols comprise both paid and volunteer patrollers.
In 1964—in the days of leather ski boots and skinny, straight skis made of wood or metal—MSSP Director Marlen Guell learned from a friend in Colorado where patrols were hosting "ski swap" events to raise money.
Swap is a brilliant yet simple idea: host a single-location shopping event where local ski shops bring gear and the public can bring in their used gear to sell and buy new, essentially "swapping" out old gear.
Swap founders who organized the very first Mt. Spokane Ski Patrol Ski Swap include Guell and fellow patrollers Jack and Edna Fruit, Dutch Andres, and Lee and Jackie Bratcher. They wanted to "help the [Spokane] community…to save money and keep skiing," in addition to making swap a fundraiser, says Gloria Fletcher, a long-time volunteer for MSSP, swap committee member, and de factor historian for MSSP.
Money raised, then as well as now, goes towards purchasing medical and first aid supplies as well as rescue and transport equipment. (MSSP never charges for aid services.)
With Guell as swap director, the first MSSP Ski Swap took place in a back room of the Armory building in downtown Spokane. "Not many people came," says Fletcher, but the event raised $200 for patrol, only because participating ski shops were asked to donate to patrol.
For the second swap, in 1965, the committee used an empty car dealership downtown—cleaning and painting walls to get it ready, painting a big ski mural. With more public attention, more shoppers came.
During the next two years, swap took place at Spokane's downtown Civic Center and then at a hotel in Coeur d'Alene, Idaho. By then, "advertising was better, and it was pretty crowded with equipment," Fletcher says. "So, in 1968, the Swap Committee decided they had to move to the Spokane County Fairgrounds"—where it has taken place ever since.
As the event grew, so did its notoriety—so much so that many years ago, MSSP had the name "Ski Swap" and its event logo officially trademarked. Now, swap encompasses four large bays within the Spokane Fair & Expo Center.
Legacy of Service
The two patrol couples who helped found Ski Swap, Jack and Edna Fruit and Lee and Jackie Bratcher, attended every one, and continued volunteering as alumni patrollers, until 2020—when the pandemic cancelled swap. Their smiles and go-getter energy inspired younger generations of patrollers, year after year.
Lee and Jackie's last swap was in 2019. By then in their 80s, they both died in 2021. "Losing Lee and Jackie was hard," says Whitaker. On January 15, 2022, a "Final Sweep" memorial took place on the mountain.
MSSP published a tribute on its Instagram and Facebook social media pages, with a photo: "This cherished couple donated their time, talent—even vacation days—to the betterment of Mt. Spokane Ski Patrol. They were pivotal in the development and operations of the Mt. Spokane Ski Patrol Ski Swap, working every day at every Ski Swap since its inception. Not only were they instrumental in building the ski patrol building—but their selflessness and dedication was core to building the culture and sense of community carried on by today's Mt. Spokane Ski Patrol. Together, always together, they left an impression in our hearts and on our slopes."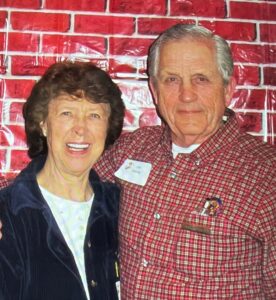 That cold January night, current and alumni patrollers—all wearing their patrol jackets—along with Bratcher family members gathered near the top of Mt. Spokane's Parkway Express (chair 3). Both Lee and Jackie's red patrol jackets were ceremonially placed in a rescue toboggan and a "last call" on the radio was given.
Then, with lights turned off, a serpentine line of skiers, each one holding high a lighted red flare, quietly and solemnly made their way from the top of Parkway Express (chair 3) down Northwest Passage and Ego Flats to the patrol lodge. It's a beautiful Mt. Spokane Ski Patrol tradition, amazing to witness.
The dedicated service of the Bratchers, Fruits, and hundreds of other Mt. Spokane ski patrollers has maintained "the legacy of ski swap as a community event," Whitaker says. Everyone on patrol is proud of swap's "longevity as a staple in the Spokane community [to provide] affordable access to gear to get more people up to the mountain."
This year for Jack and Edna Fruit, both in their 90s, attending the 56th Ski Swap will be challenging. Health issues prevent Jack from coming, but Fletcher plans to ensure Edna gets a chauffeured ride.
"Since Mt. Spokane Ski Patrol hasn't had a Swap for two years, because of Covid," Fletcher says, "we think this will be an amazing one."
Gear at This Year's Ski Swap
About 20 ski shops from across Washington, Idaho, Montana, and Oregon bring merchandise. Shop owners know Inland Northwest skiers and snowboarders are as passionate about great deals as they are about their sports.
Priority is given to local shops, according to Gloria Fletcher, MSSP swap committee member. But trucks full of gear will be arriving from businesses as far away as Boise and McCall, Idaho; Seattle and Portland areas; and even Great Falls, Montana.
About 80% of swap merchandise is provided by ski shops—"everything from brand-new current season gear to last season's gear, still new and unwrapped," says Whitaker. The rest is brought in by the public for consignment sale, which is a big draw for many shoppers, especially families. Though people can sell (and buy) items through online marketplaces, MSSP Ski Swap is more fun and less hassle.
Public check-in for sale items is Friday, Oct. 28, 3-8 p.m., at the north side entrance of Spokane Fair & Expo Center. Everything must be clean and in good condition. On Sunday, after swap ends, people can pick-up their checks and any unsold equipment.
Find complete details for the 2022 Mt. Spokane Ski Patrol Ski Swap at skipatrolskiswap.com, and look for event updates on the swap's Facebook and Instagram pages.