By Vince Hempsall
I'm on a "SLAYcation" road trip around the West Kootenay region of British Columbia visiting the newest mountain bike trails and breweries.
Along with photographer Peter Moynes, the Sprinter van we're driving is state-of-the-art, complete with a solar-powered beer fridge and in-board air compressor for our bike tires. With it, we're driving back in time. Not just the age before COVID, but a pre-iPhone time when people actually spoke in person.
Our roadtrip starts on the East Shore, which, as we discover immediately after disembarking the ferry, is like driving back to 2005, because we can't see anyone on their smartphone.
"The East Shore" is a local term that refers to the area on the east shoreline of Kootenay Lake encompassing Riondel, Crawford Bay, Gray Creek and a few other tiny communities. It can be accessed via Highway 3A from Creston or the Kootenay ferry, the longest free scenic ferry in the world.
At its eastern terminal is the quaint Ladybug Coffee stand, which serves the heartiest breakfast sandwich in the province, and it's here we realize we can ditch the Trailforks app and just chat up the locals for beta on where to ride, kind of like we all used to do at the turn of the century.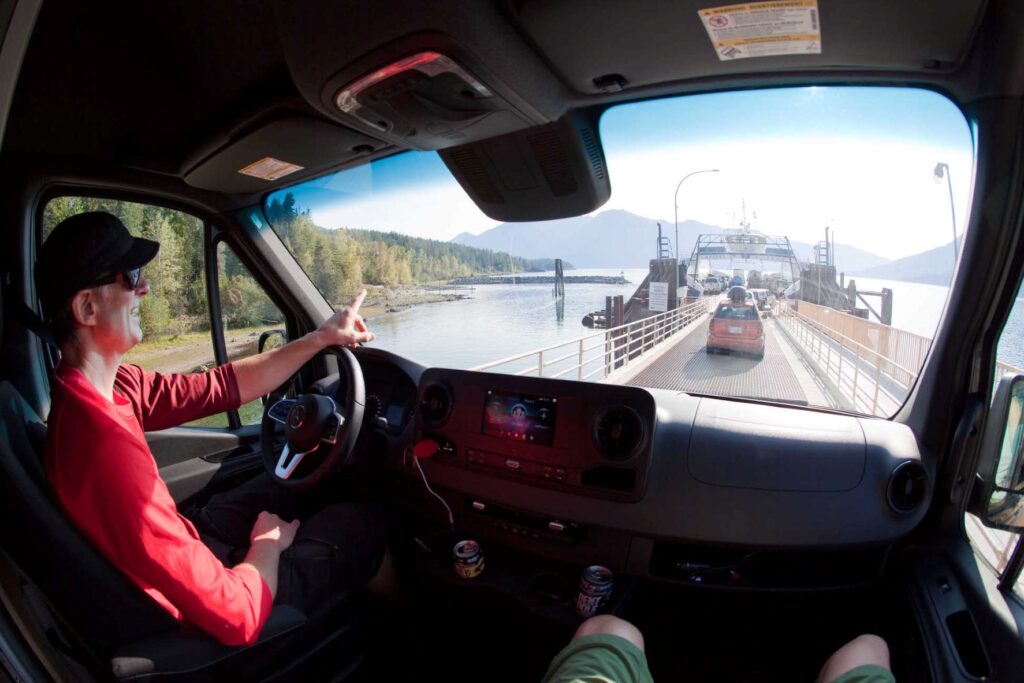 East Shore of Kootenay Lake
The East Shore is a place where social media and texting holds little sway as proven by our immediate connection with a random dude named Evan who we meet at the Ladybug. He asks us what we're up to, and we say we're looking for good mountain biking trails. He replies, "Oh, you definitely have to talk with Farley then. He's responsible for a lot of the new trails here. I was just hanging out with him yesterday. Here's his phone number."
We call Farley and he tells us he's a director of the East Shore Trail and Bike Association (ESTBA), knows all the sanctioned trails intimately, and lists his favorites. He then recommends we speak to Luke, who owns the broom company in Crawford Bay.
Another face-to-face visit, this time with Luke, garners us a list of trails to hit up as well as a recommendation to call Sandy Oates, the president of ESTBA, for more. "Here's his number," says Luke.
We decide to hit a sanctioned network on the peninsula between Crawford Bay and Pilot Bay. It includes the beautiful Height of Land trail that offers a unique experience: viewing the Kokanee Glacier from the warmth of a Ponderosa pine forest. Whenever we stopped to take in the stellar views, I was overwhelmed by the cozy smell of the trees, reminiscent of hot-buttered movie theatre popcorn.
ESTBA oversees over 30 kilometers of trails around these parts and we highly recommend visiting—not just for the riding, but for the experience of meeting locals who'd rather spend time talking to you than staring at their phones.
No trip to the East Shore would be complete without a stop at the Gray Creek Store, our favorite purveyor of everything from wood stoves and cutlery to candy bars and fishing tackle. Talk about taking a step back in time. We wish there were more places like this in the world.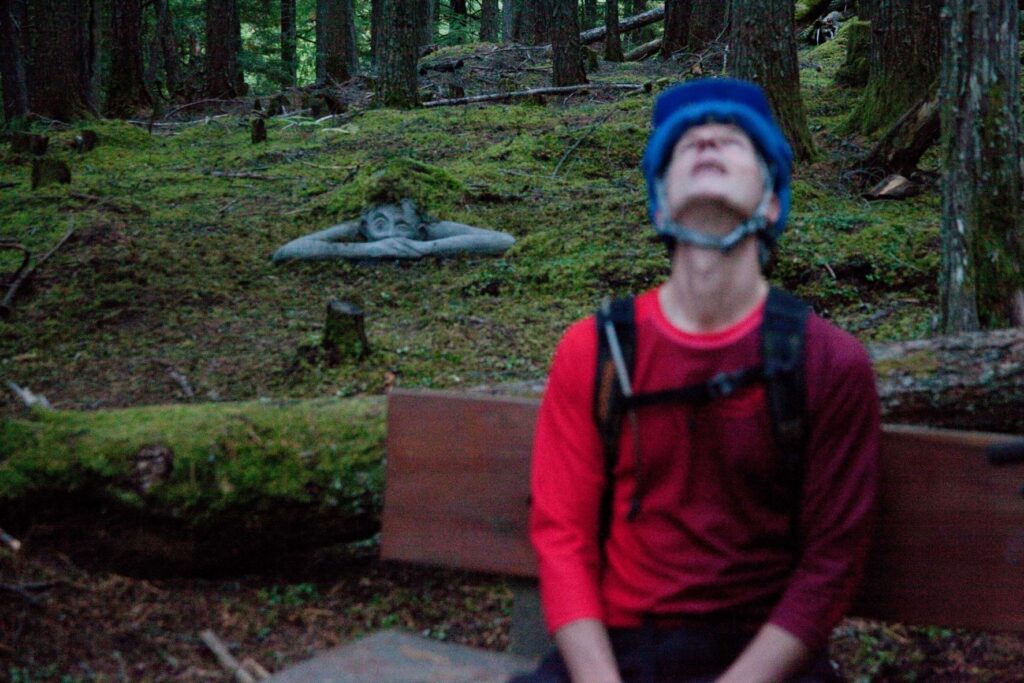 Kaslo and Ainsworth
The trip to the East Shore built up our appetites, so after returning across the ferry we immediately hit Ainsworth Hot Springs Resort for a bite. The hot springs have historical significance to the Ktunaxa people, who refer to them as "nupika wu'u" or "Spirit Water."
Ainsworth is, indeed, an amazing place to rejuvenate your spirits, especially since undergoing many renovations after being sold to the Lower Kootenay Band of Creston in 2015.
All we had time for was a restoration of our energy with food and beer, but we enjoyed the redesigned restaurant, which offers beauty views of the surrounding mountains and Kootenay Lake.
We were in a race against the light, so booked it north where we'd heard of a new art installation tucked amongst the trees of the Kaslo River Trail. We parked at the northern trailhead, crossed the covered bridge, and it wasn't long before we spotted the statues peeking out behind moss-covered boulders.
Designed by the Koots Artist Collective, a group of three artists from the community of Argenta, these life-sized figures are popping up all around North Kootenay Lake. The largest concentration of them are alongside this three-kilometer loop trail in Kaslo, which is appropriate, as the woods here are the perfect environs for pixies, fairies, and other whimsical creatures. The kids will love this one.
When it was too dark, Peter and I drove the five minutes into downtown Kaslo, doffed the bike gear, and hit the Angry Hen Brewery for a flight. Brewmaster Shirley Warne established this craft brew pub in 2017 and she was there holding court with a number of other locals when we arrived. We enjoyed plenty of tasty brews with such names as Kluckin Kölsch, Tough Old Bird, and Roostertail (my favorite) before Peter insisted we stagger around the sidewalks snapping photos.
Eventually we walked up Front Street to the Kaslo Hotel where we enjoyed more beer and at some point went to our room, which I'm told by Peter was very stylish, comfortable, and had a beautiful view of Kootenay Lake. I liked the pillows.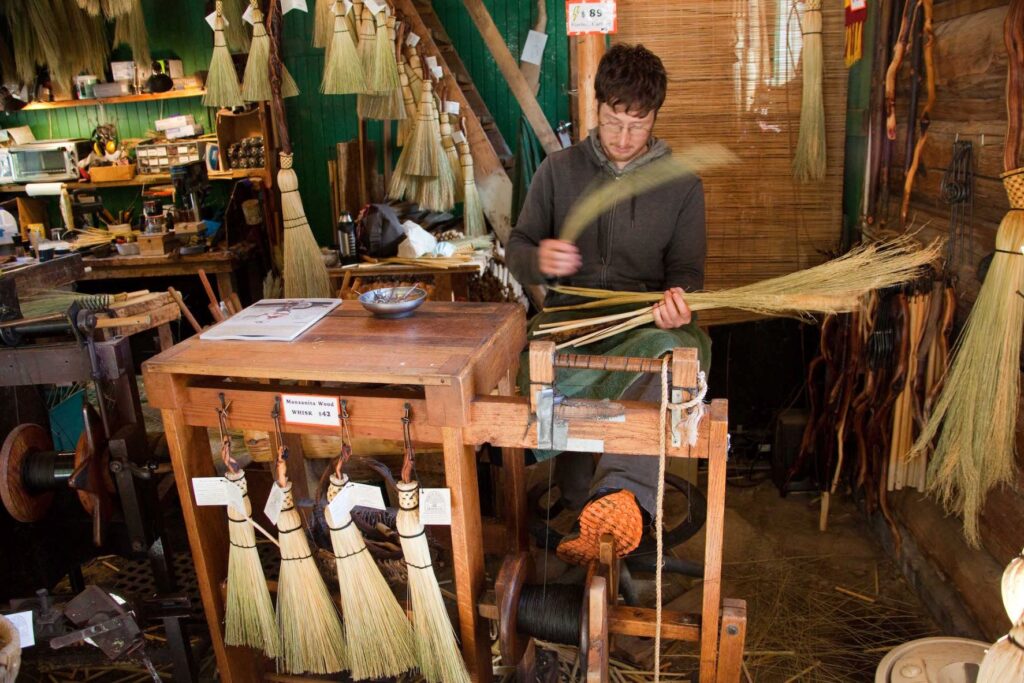 Nelson
The following day was spent recovering in our hometown of Nelson. Normally we'd be excited about visiting the various breweries here on assignment, but, given the superfluous swilling in Kaslo the night before, we can only share with you our list of the best breweries and trails here based on decades of drinking and riding.
The craft brew establishments include Nelson Brewing Company, Backroads, and Torchlight. Visit them all. Like Kaslo, Nelson is small enough that the breweries are within walking distance of one another. But I recommend drinking more responsibly than we did to avoid a hangover.
For family-friendly riding, check out Fairly High Trail off Giveout Creek Road. For perfectly buff downhill, visit the Morning Mountain trails. As for old-school fun, hit the Mountain Station network. Info for all these can be found through the Nelson Cycling Club.
Originally published as "Bikes, Beer, and One Big Lake in Canada" in the July-August 2022 print issue.

Vince Hempsall lives in Nelson, BC, where he spends his time rock climbing, backcountry skiing, and mountain biking (when not working). He is the editor of "Kootenay Mountain Culture Magazine."