By Jim Johnson
I've lots of pleasant memories of time spent at the lake. Unpleasant memories? Not as many, but enough to make a list. Most of these lake-related experiences were the outcome of questionable or perhaps poor judgment, and I don't recommend anyone following in the footsteps of my folly.
While a college student, a friend and I went to my family's lake place and had to wait longer than expected for a third friend to show up for water skiing. I suggested we continue anyway, minus the third person that allows for the legally-required spotter whose job it is to hoist an orange flag whenever the skier is down in the water.
Long Lake (aka Lake Spokane) really is a long and spacious body of water that left plenty of room, especially several decades ago, to ski away from other boaters, I reasoned.
I'd always considered uniformed officers and flashing blue lights the domain of land until that day. Seeing them behind us on the water was a surreal and sobering experience for sure. Skiing without an observer must have been a rare violation back then.
When I went to court a few weeks later hoping for a fine reduction, I had to explain to the puzzled judge what the ticket was all about.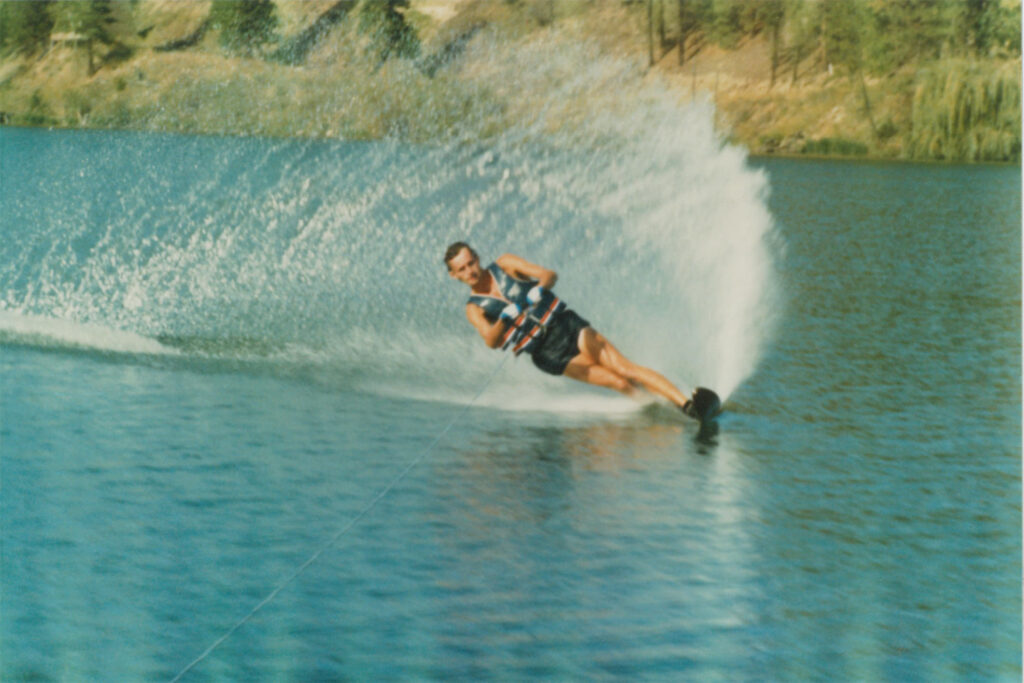 On another occasion, a very experienced fisherman friend invited me to opening day at Amber Lake in eastern Washington's channeled scablands. I had no cause not to trust him when he explained that with a limit of seven fish, our boat of three anglers could bring in 21 in total. Sounded law-abiding to me.
The third member of our group had a very poor day fishing. When we returned to shore with our 21 fish, we were met by a game warden who'd been watching us with binoculars.
Who had a poor rest of the day was quickly reversed. Being clearly in the wrong yet not an intentional poacher, I didn't bother going to court and mailed the full fine amount.
Once, while slalom skiing on the lake-like reservoir waters of the Snake River, I fell, rolling across the surface after my ski came off.
By freak chance, my foot struck the rogue ski, breaking my fifth metatarsal. I was in a cast for several weeks. Certainly an item for the unpleasant list, but the potential for much worse occurred one beautiful day at Loon Lake.
Alone on a floating dock, I determined it might be fun to dive under it and swim from one side to the other. Once again my foot played a lead role in a lake-based misadventure when it somehow got caught in some chicken wire on the underside of the dock and I got caught underwater.
Inspecting how best to extricate my foot may have been the most rational reaction, but instead I panicked, kicking and thrashing. A knee-jerk, impulsive response is not how I usually operate, but in this case it was. My foot, thankfully, came loose before my lungs gave out and I swam free.
Is jumping from a boat at full throttle by thrill-seeking high school students poor decision-making? Definitely. Even when we did it years ago.
Lifelong friends Mike and Dave Dixon and I deduced that when jumping from a boat you have full control over how you enter, unlike falling when water skiing. Our reasoning resulted in this activity making both the questionable lake activity and pleasant memories list, depending on the day.
Best/worst technique—the cannonball. Mike once suffered the biggest loss on one of his jumps not from the boat but from the end of the dock—taking flight from the dock with his wallet on him. The murky water made finding it impossible that day.
My father eventually sold the family lake place, and one day he called, asking if I'd stop by the house of the couple who bought it. I lived a few blocks away and walked over. They handed me a worn wallet that had spent 20 years at the lake bottom.
My unpleasant list remained the same, but Mike's was reduced by one.
James P. Johnson was born, raised, and is a longtime resident of the Inland Northwest. His newest book, "Spokane and Coeur d'Alene Freshwater Shark Attacks," came out March 2022.
Find more Way Out There column stories in the OTO archives.