Ask most anyone at Mt. Spokane Ski & Snowboard Park and they know Seth and Gloria Fletcher, who have been regulars at the mountain since the 1960s. Seth, age 79, and Gloria, 68, both learned how to ski at Mt. Spokane during their 20s. "I was in the JCPenney Ski School," says Seth. "There used to be a rope-tow at Mt. Spokane where the tubing hill is now."
Married now for 35 years, their blended generational ski family includes four adult children and seven grandchildren, ages 12-21. All became skiers at a very young age and still ski—though the lone grandson now snowboards.
Once Mt. Spokane's ski season opens, Seth and Gloria, now retired, are at the mountain every week, Wednesday through Sunday, until closing day.
The Fletchers first taught their kids how to ski, and also enrolled them in lessons. Same for their grandbabies. "Grammy and Poppy taught them how to ski," says Seth, "and their parents helped out, too."
For the Fletchers, winter break is a big deal. While only two grandchildren, and their parents, live in Spokane, the rest of the clan travels here for Christmas time.
"So we ski non-stop," Gloria says. All stay overnight at their two Snowblaze condo units, located on the mountain close to the ski park. "We had to buy a second condo because we had too many grandkids."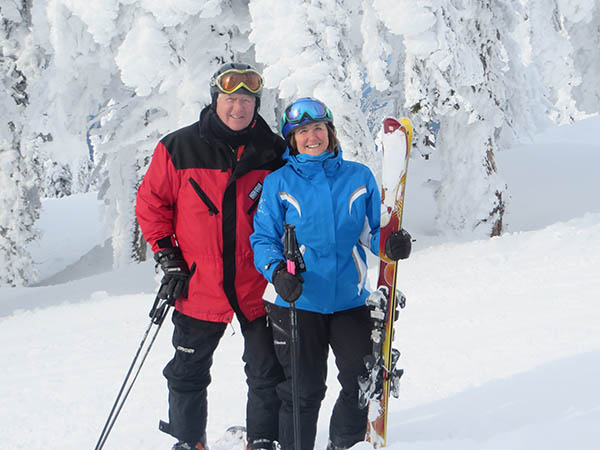 As the grandkids' skills improved, it became tradition to conquer the checklist of skiing terrain together off all five chairlifts while skiing with Grammy and Poppy. They love those runs where they're altogether, swooshing through fresh snow near their grandchildren, wide smiles on everyone's faces. Meeting up at the bottom of each chairlift and riding up two by two to do it again and again, no matter the weather—from powder days to bluebird days and everything in between.
"Even it's crappy, we still go up for a few runs. The only time we don't go is if it's raining," says Gloria.
But mountain living includes more than flying down the mountain and seeking powder. "Our grandkids go sledding, cross-country skiing, snowshoeing—we have all that equipment.
"So when the ski day was done, the day was never done," Gloria says. "Some of older grandkids are now telemark and backcountry skiing." Impressively, through the 40+ years of skiing, no one in the family has sustained any major injuries.
"The nice thing about skiing together is that it's probably the only sport that you do together" year after year. "You only watch kids at soccer or baseball games. But skiing is the one sport that is a family sport, no matter how old or how little" say Seth and Gloria.
"Everyone in our family can ski any terrain, any mountain…once you learn (how to ski), you have it—not something you ever forget," says Seth.
The Fletchers are also a ski patrol family, since Seth joined Mt. Spokane Ski Patrol the 1973-74 season. The perk of discounted lift tickets helped make skiing more affordable for their family. Additionally, the patrol's annual ski swap is where they still find gear for everyone.
They're also part of the local ski racing scene. Starting in the late 1970s, three of their children, when each was 7-8 years old, joined the team based at Mt. Spokane, and raced until age 14. Their son, Kevin, was even a ski racer for the University of Idaho.
The Fletcher's two local grandkids also joined the ski team at Mt. Spokane, and their 12-year-old granddaughter—skiing with her grandparents since she was two—is still a member of the Mt. Spokane Ski Racing Team (MSSRT), formerly known as the Spokane Ski Racing Association. Gloria volunteers as a certified level 4 "timing and calc official," and Seth used to officiate races.
As a devoted ski family, from the beginning the Fletchers skied with their children every weekend, from opening day to closing day, as well as occasional nights.
Though Seth "retired" from patrol six years ago, after 39 years of volunteer service, both still volunteer. In fact, because of the thousands of hours Gloria has given to supporting MSSP, a new service award was established three years ago to honor her example. Called the "Gloria Fletcher Distinguished Service Award," it's given annually to an outstanding non-patrol volunteer.
"This is going to be an exciting ski year, because of the new runs on Mt. Spokane's backside. Our kids and grandkids can't wait to come," says Gloria. "It's going to be so much fun. It gives us a new reason to be excited for skiing."
[Sponsored by Ski the NW Rockies.]
Find more ski family stories in the OTO archives.