This week's avalanche tragedy at Silver Mountain Resort has reverberated throughout our Inland Northwest outdoor community. We all probably know someone directly involved in the incident, whether it's mountain staff, ski patrollers, first responders, or the survivors and victims or their families and friends. Here at Out There, we have been emotionally impacted as well. We have friends who work for Silver Mountain and either know or know-of the victims and survivors. Like many of you, we feel your same fear and dread, your heartache and worry.
We also know that while other media outlets will report the hour-by-hour, day-to-day updates on this horrible tragedy, we won't be able to do that. As a magazine, we go deeper. And because we ski and snowboard along with you at our local mountains, this tragedy has impacted us on a profoundly personal level.
Avalanche beacons are being nearly sold-out at Spokane gear shops, but that's not enough. People also need to carry an avalanche probe and shovel in a backpack while skiing/snowboarding and — most importantly — know how to use them. Mini-avalanches also happen when a skier/rider falls into a tree well. So having an activated beacon also helps expedite rescue for that. And of course, the #1 safety guideline is to always ski/ride with a buddy.
After being buried in snow for more than 30 minutes, a person's chance of survival drops by half, according to the National Ski Patrol Association. Which is what makes Bill Fuzak's survival story an amazing miracle, as he eloquently detailed in a public post on Facebook in a "Skiers" public group.
It's not just skiers and snowboarders, and snowmobile riders who are vulnerable to avalanches. Not just backcountry users. Not just in-bounds ski mountain visitors. Snowshoeing, a relatively docile sport, comparatively, also puts a person at risk of being caught in a backcountry avalanche, depending on the circumstances. But as snowsports enthusiasts, we can't let fear prevent us from enjoying the sports we love. Our chances of being in a vehicle accident are much greater than getting caught in an avalanche. Yet, avalanche risk still exists in specific types of terrain and snow conditions, and we all should know as much as we can before we get out there.
Know Before You Go
"Know Before You Go" is a free, online avalanche awareness program to help alpine snowsports participants, of all ages, to understand when and why avalanches occur and how to avoid avalanches in the mountains. It was created by the Colorado Avalanche Information Center and Utah Avalanche Center, and was an official selection for the 2016 Banff Mountain Film and Book Festival. The program includes interactive eLearning courses (all free), videos, and much more.
I recommend starting with the video "To Hell in a Heartbeat" (ominous title, I know). It's a powerful four-minute video. (Trigger Warning: Though this is a reenactment, and for all-ages, it's a very emotional, intense video.)
Next, go through the information on the 5 Steps of Preparation for alpine skiing/snowboarding. Then you can proceed through the other parts of the "Know Before You Go" program.
Additional Avalanche Resources
Story from our March 2018 archives: "Backcountry Safety: Study Looks at Skier and Snowboarder Tree Well Incidents."
Idaho Panhandle Avalanche Center
Montana Fish, Wildlife, & Parks: Avalanche Awareness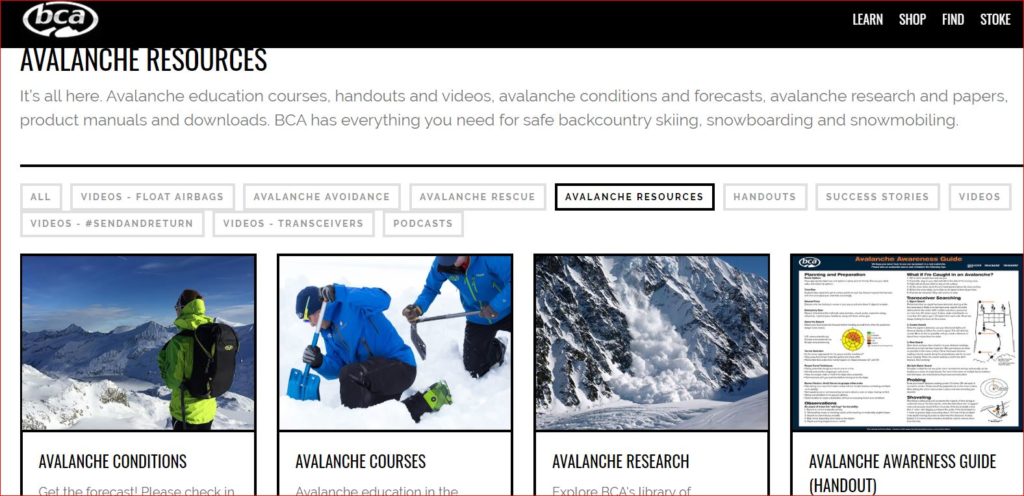 Gallatin National Forest Avalanche Center – Education resource webpage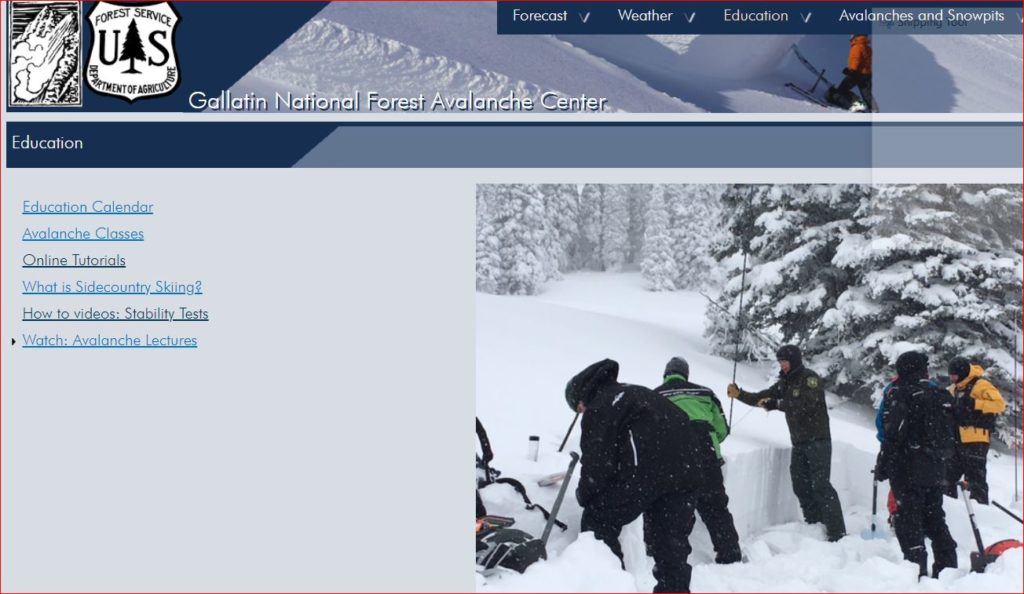 Online tutorial resources from Gallatin NF Avalanche Center
Video: "How to Survive a Potentially Deadly Avalanche" — episode 7 from ABC News Survival Week series, winter edition, originally broadcast in February 2015 on "Good Morning America."
Keep Calm and Ski On
The Out There Outdoors publishers, Derrick and Shallan Knowles, and the rest of our senior team of contributors want all of us to be more avalanche-aware and educated about outdoor safety, from the consistent use of bike helmets to backcountry survival skills. We're all learning more from this recent tragedy.
We do not assign blame for this tragedy. If there had only been survivors, this statement would likely not need to be made. But we suspect that people are having these thoughts of blame, and for sure, people involved are feeling guilt, remorse, and regret. We empathize with these feelings.
Nature is its own fierce entity; though humans try to "mitigate" risk, avalanches happen. Snow science experts and ski patrollers do what they can, within their knowledge and capabilities, to identify and reduce hazardous conditions and minimize risk. These professionals risk their own safety by lighting explosives and throwing them onto steep slopes to trigger avalanches before opening runs to the public. We have the upmost respect for ski patrollers, and know the past three days have been emotionally and physically exhausting for the Silver Mountain Ski Patrol and the other search and rescue workers and volunteers.
We don't blame the victims for their plight. We don't point fingers at any could've-should've-would've scenarios. We all know the cliche about hindsight. The reality is, for the most part, in-bounds ski terrain is much safer than side-country and backcountry terrain. Until now, most of us visited our local mountains on fresh powder days with no worries at all about an in-bounds avalanche. That naivety is gone now.
While there have always been news stories about avalanches, some incidents more sad and deadly than others — like this deadly tragedy out of Montana last week or this Dec. 2019 story out of Yellowstone — this Silver Mountain avalanche is a hometown story, whether or not you live in Kellogg, Idaho, or even ski/ride at Silver. And it breaks our hearts.
Mountains will still be our happy place, and powder days will still bring us joy. But now we do so with the knowledge of this cautionary chapter in our regional history. We would be remiss to not learn life-changing lessons from our sorrow.
Amy McCaffree, special section editor and Out There Kids columnist, has been writing for Out There since 2006. Most of her outdoor adventures include downhill skiing, camping, paddling, hiking, and biking, usually with her husband and their two children. Since 2003-04, she has been a season-pass holder at Mt. Spokane Ski & Snowboard Park, where her husband is a senior level, nationally-certified ski patroller, with 20 years experience with the all-volunteer Mt. Spokane Ski Patrol. Connect with Amy on social media at Instagram and Facebook.