Few people can claim that confronting a mama black bear while mountain biking, seeing a bull moose press its nose against your window, and writing a traffic ticket are all part of a day's work. Steve Christensen recalls wildlife encounters with nonchalance, as just a few of his many interesting experiences throughout his long career as a Washington State park ranger. Retired since last June, Christensen was manager of Mount Spokane State Park, his third state park assignment during his career, for more than 16 years.
His achievements at the park over the years include establishing the Quartz Mountain Fire Lookout as a rental facility, restoring the Vista House, adding interpretation features to the park, and installing upgraded vault toilets, which visitors definitely appreciate. More highlights include all the successful search and rescue missions, during both winter and summer, and the time he spent listening to park visitors' share their stories about exciting wildlife encounters.
But most significant is how Christensen improved the trails. "Mount Spokane is all about trails," he says, and improving and expanding the Nordic ski facilities is one of his greatest achievements. This project included acquiring a cross-country trail groomer and adding miles of Nordic trails as well as trailhead markers. His other related success was expanding the mountain bike trail network. "One of my biggest issues when I arrived was that there were lots of erosion problems," he says. "Naturally, I loved doing the trail assessment in the spring time. I would mountain bike or run all the trails…[and] see what needed to be fixed…Some rangers thought that was goof-off time for me, but I was working."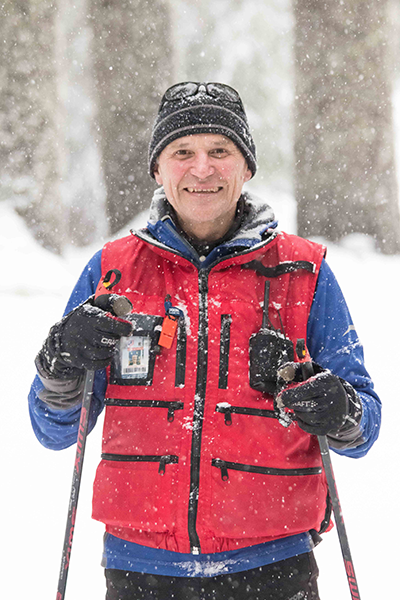 Improving the existing trails and adding new ones were huge endeavors, but Christensen is quick to explain that he didn't do it alone. "Everything at Mount Spokane involves volunteers….You couldn't operate Spokane as effectively if you didn't utilize all the volunteers. I think we have a strength there that is probably one of the tops in the state in terms of all the different user groups that support the state park…We couldn't have done it without them." In fact, he cites public investment in the park as one of the reasons for its success. As a result, "Mount Spokane has always been considered one of the 'icon parks'— a crucial one that needed to stay open…it will be standing when others may not."
Another part of Christensen's legacy is a decade of ski patrolling. Although he excels at downhill, telemark, and cross-country skiing, he's mainly a Nordic patroller. "The majority of time that I patrolled I was in my ranger outfit. If I had to go out to an injury, I would also identify myself as a ski patroller," he says. "I wanted others to see me as a ranger first, doing what they're doing, and a ski patroller second." Now that he's retired, he wears his red patrol vest rather than a ranger uniform.
His current lifestyle isn't any less active than his working years—although it does leave time for more diverse activities such as road and mountain biking, kayaking, sailing, fly-fishing, swimming with his grandchildren, and gardening. He is also a volunteer scoutmaster and a cross-country ski and snowshoe instructor for Spokane Parks & Recreation. Christensen considers himself lucky—noting that, even in retirement, "I get paid to do the things I love."//
Amy S. McCaffree is Special Section Editor and the Out There Kids columnist. She wrote about recommended reading for outdoor families last issue.
Feature photo: Jon Jonckers
Title originally posted in the April 2018 print edition of Out There Outdoors under the title "Thank You Ranger Steve."