The question came up while I was attending a party with my saner, better half not too long ago. The conversation revolved around skiing, and someone asked where I spent my formative years on skis. "Mission Ridge," I said. Their reply was one I have heard numerous times over the years: "Yeah, I have heard about that place, but have never gone." I responded as I always do: "You should."
Celebrating its 50th anniversary this season, Mission Ridge is located 12 miles from Wenatchee, and is situated in a basin on the eastern side of the Cascades. The mountain features 2,000 acres with a base elevation of 4,570 feet (the highest in Washington) and a summit elevation of 6,820 feet, equaling 2,250 feet of vertical drop. Thirty-six designated trails can be accessed by three fixed-grip chairlifts and one high-speed quad that provides a quick ride to the summit. But those stats don't tell you how the mountain skis.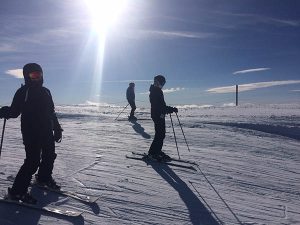 Two things make Mission Ridge a unique mountain. First, the sun: the region receives 300 days of it each year. Couple that with the elevation, and you have yourself a heck of a goggle tan come Monday morning. All of that sunlight makes for great visibility, especially during those low-light days in December and January. In the spring, the place absolutely glows. Mission Ridge's second unique feature is its terrain. The groomed runs that wind their way down from the summit and the upper reaches through bowls flanked by basalt cliffs and scenic rock formations seem to go on forever. Your legs will not. Steep, butt-puckering runs with names like Tyee and Johnson's Run lie in wait in the trees off Chair 3. For those willing to traverse Windy Ridge or the Bomber Cliffs, the powder fields of Bowl 4 and 5 can be tapped if conditions permit.
In terms of snow quality, don't let the numbers fool you. Just because the mountain reports a 50-inch base does not mean that skiing is limited to the groomed runs. No, everything is covered, and the dryness of the snow will make you question why you go to the Wasatch every year. Mission Ridge is one of very few places in the Northwest where you can experience champagne powder and not have to drive 14 hours to find it. And even when it is tracked out, the snow tends to be dry and easy to maneuver through. For the icing on the cake, a clear day on the summit of Mission Ridge will blow you away. The hulk of Mt. Rainier lies just to the west, Mt. Adams to the south, and the icy summit pyramid of Mt. Stuart looks to be so close you could reach out and touch it. Add the views with the snow-ghosted trees, and you have a picture-perfect day. Am I biased because I grew up at Mission? Yep. But I am also thankful to have grown up skiing a mountain with so much diverse, challenging terrain.
Visiting Mission Ridge
Terrain: 10% easy, 60% moderate/difficult, 30% expert
Snowmaking: 80 hydrants that cover 66 acres
Drive time: 3 hours from Spokane to Wenatchee; 20 minutes from Wenatchee to the parking lot
Lodging: Numerous hotels in the Wenatchee and East Wenatchee area. For larger groups, check out a VRBO.
Eat and drink: Check out Bob's Classic Brass and Brews or McGlinns Public House
Mountain must-see: The wing of a B-24 Liberator that crashed on the mountain in 1944 is displayed at the top of the cat track that provides access to Bomber Bowl. Stop and touch the wing for good luck. //