The Inland Northwest has no shortage of amazing races, rides and outdoor events for runners, walkers, road and mountain bikers, and triathletes. Many support deserving causes and all offer fun, unique experiences that motivate us to be more active and get outside more. We put together this first annual guide to motivate all of us to take advantage of the incredible number of diverse events for all ages and abilities that our region has to offer. See you at the starting line!
CYCLING
Lilac Century (April 30): This ride offers a variety of fun, scenic and challenging tours. Five tour lengths support all levels of riders and everyone will enjoy a free baked-potato feed at the finish. Tri-athletes may register for a Bike/Run "Brick" transition to a 5k run from a secure bike holding area. All proceeds to benefit local charities supported by the Spokane Aurora Northwest Rotary Club.
Apple Century Bike Ride (June 3): Enjoy the incredible riding and scenic landscapes of the Wenatchee area on this spring century that benefits rotary club projects in the local community and around the world.
Silver Valley Ride to Defeat ALS (June 17): Ride solo or as part of a team through the historic Silver Valley on the world-class Trail of the Coeur d'Alenes and raise funds to fight Lou Gehrig's disease. This is a fully-supported ride with several lengths to choose from and a catered lunch at the end.
CHAFE 150 (June 17): The route is amazing, the rewards incredible, and the fundraising cause is worthy (benefiting local students on the autism spectrum). The Chafe 150 starts and finishes in beautiful Sandpoint, Idaho, on the shores of Lake Pend Oreille after winding into the nearby river valleys of Montana. Riders are treated with seven fully-stocked break stops, professional ride support, plus an epic after ride party.
RedSpoke (July 19): Each year the Redmond Rotary Club sponsors this ride across Washington from Redmond to Spokane as a fundraiser. RedSpoke participants are required to contribute or collect a minimum of $775 in addition to their registration fee.
Ride Around Washington (July 29): This year's Ride Around Washington travels the state's rural northern frontier, challenging riders with epic climbs and rewarding them with a sublime scenic cycling experience.
Spokane Valley Cycle Celebration (July 30): Spend the day exploring the scenic beauty in and around Spokane Valley on your choice of 10, 25 or 50 mile bike rides. All rides start at the North Centennial Trailhead across from Mirabeau Point Park. There is also a free Kid's Bike Rodeo with hands-on activities.
8 Lakes Leg Aches (August 5): Choose from 30, 45 or 75 mile routes – the 75 mile route passes Willow, Granite, Silver, Medical, Clear, Chapman, Kepple and Fish Lakes, for the full 8 Lakes ride experience. Year after year, this is considered one of the best organized bike rides in Eastern Washington.
Blazing Saddles Bike Ride (August 5): Northeast Washington's premiere cycling experience is back with a new date and new courses across the Colville area's gorgeous countryside. Choose from 45, 68 or 100 mile rides, including Colville's signature road cycling loop, the 45-mile Colville Loop. The 68 mile and century rides are along Lake Roosevelt, with the 100 mile ride crossing the lake by ferry.
Tour de Lentil Bike Ride (August 19): Held in conjunction with Pullman's National Lentil Festival, riders choose from a 50, 100 or 150k bike ride through southeast Washington's scenic Palouse. The event begins at WSU and rolls out Wawawai-Pullman Road, through Colfax to Palouse, past Kamiak Butte, and back to Pullman. There are three rest stops along the way and riders can enjoy Lentil Festival Food & Brew Fest at the end.
Great Northwest Fall Bike Tour (September 3): Beginning in 2001, the Great Northwest Fall Tour has offered a cycling event for beginner and advanced riders to enjoy the scenic countryside of Pend Oreille County. Choose the 15, 30, 50 or 85-mile route, all on paved county roads.
SpokeFest (September 10): Over 15,000 riders of all types, abilities, and ages have ridden the first nine years of SpokeFest. Celebrate a great community event with the signature 21-mile ride or 9 mile and 50 mile options. SpokeFest is a non-profit event that promotes bicycling for health and transportation.
WaCanId Selkirk Loop Ride (September 11): An annual bicycle tour taking cyclists on paved roads encircling the Selkirk Mountains of Washington, Canada and Idaho, this 6-day event covers 370 miles/595 kilometers and showcases the International Selkirk Loop's spectacular scenery: majestic mountains, beautiful lakes, rivers and North America's longest free ferry ride. The ride claims the best SAG support of any ride – so if you need a lift along the way, no problem.
Bike MS: Cycle Silver Valley (September 16): An unforgettable, one- or two-day journey through the ancestral lands of the Coeur d'Alene nation on a "Rails to Trails" path almost completely off of roadways. As many as 200 riders will cruise along looping routes that start and finish at the Silver Mountain Resort. Full meals, generous amenities, stunning landscapes, fully stocked rest stops and spirited festivities are all included.
Rotary in Motion 5 Mile Family Bike Ride (September 16): This family-friendly ride put on as part of the RIM Ride weekend takes riders on the City of Liberty Lake's beautiful trail system. It's a fun and safe ride for families and kids.
RIM Ride (September 17): Choose from 15, 25, 50 or 100 mile rides that explore scenic Liberty Lake, Post Falls, Green Bluff and Spokane Valley cycling routes. Routes for all ages and abilities are well marked with food stops and medical and mechanical support. Proceeds benefit various Rotary Club community projects.
Clarkston Rivers & Ridges Ride (September 30): The Rotary Club of Clarkston invites you to come and explore a road bike experience that will take you over major rivers, through the famous Palouse and back. Multiple routes appeal to a variety of riders, including a 50-mile out and back or a century ride.
Coeur D'Fondo (September 23): Coeur d'Fondo showcases beautiful Lake Coeur d'Alene and the forest, roads and scenery along Idaho's Scenic Byway. The course passes through many lakeside communities before finishing back at the fall Oktoberfest in downtown Coeur d'Alene. Choose between five courses ranging from the 108-mile Gran Fondo to the 15-mile Family Fun Ride.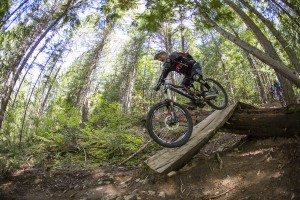 MOUNTAIN BIKING
Two Wheel Transit 10 Hour MTB Race (April 29): This inaugural race at Camp Sekani will hit the early-season dirt in its prime with plenty to offer all riders. Each team completes as many 9.4 mile laps as possible in the 10 hours, and the teams in each category who do the most laps win. There is also a solo rider category. This new race on some of the best mountain bike trails around is sure to be a hit.
Woodrat 25 Mile (May 20): Choose a 25 mile or 12 mile race division. Double-track and singletrack riding in the Panhandle National Forest includes sections of low chain ring climbs, some fast downhill, groves of huge cedar trees, and lots of turns. This ride is for intermediate skills or better, no crazy rock jumps or boulder fields, but quick turning sections of singletrack for confident riders.
24 Hour MTB Race (May 27): Every Memorial Weekend, riders race in Riverside State Park, beginning at noon on Saturday and ending at noon on Sunday. Teams and solos compete for medals, prizes and bragging rights. Each team decides how many laps each rider does, from one to a whole bunch. Bring your camping gear, bike gear and whatever else will keep you going for 24 hours.
Wednesday Night MTB Race Series at Riverside (May & June): Join a fun crew of riders for one or two laps on a different 7-9 mile course through Riverside State Park every Wednesday night in May and June. All levels and abilities are welcome, as riders can race or ride as seriously as they choose.
5 in July Wednesday Night MTB Race Series at Farragut (July): Choose from one or two lap courses (team or solo) every Wednesday night in July. The cross-country courses tour some of Farragut State Park's best riding.
FEATURED MTB EVENT: Spokatopia MTB Jump Jam & Demo Day (July 8): Don't miss one of the biggest bike demo events in the Northwest with shops and reps offering up the latest and greatest mountain bikes for demo all day long. The Spokatopia Mountain Bike Jump Jam also happens that day as part of the Spokatopia Outdoor Adventure Festival at Camp Sekani Park in Spokane. Compete or watch riders flying through the air at the Evergreen East-sponsored beer garden.
Nelson Fat Tire Festival (August 24-27): Nelson, B.C. has become a full-on mountain biking mecca, and this festival showcases some of the town's best downhill and cross-country trails along with the unique, creative and passionate people that make the local biking community so special. Rides, races, shuttles, parties, music and family-friendly events fill out the weekend.
Ovando Gran Fondo (September 9): Starting and finishing in Ovando, Montana, this fully supported, 55-mile ride takes you through some of Western Montana's most scenic landscapes, including private land not otherwise open to the public. Ride terrain is primarily gravel and dirt roads, so cross or mountain bikes are recommended. The OGF benefits the Missoula Symphony Association.
Kootenay Sufferfest Cyclocross Race (September 17): Traditional or classic style cyclocross racing on a 2.5-3 k course with multiple loops within a set time. For experienced and non-experienced riders on mountain or cross bikes.
Silver Mountain Bike Park Race Series (Summer/Fall): Silver Mountain Bike Park will once again host a series of mountain bike races with opportunities for a wide range of riders, from pros to those who are new to racing. The race series showcases some of the best downhill trails and riders in the Pacific Northwest. Dates TBA at Silvermt.com soon.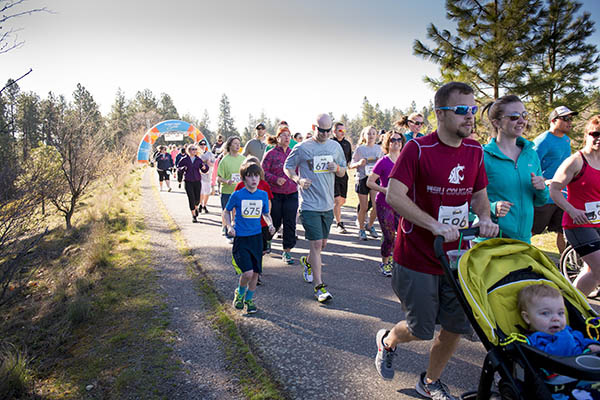 ROAD RUNNING
FEATURED RUN: Hunger Run (April 1): In order to increase awareness of hunger in our region, Second Harvest and the Union Gospel Mission put on the Hunger Run, a 5K and 10K family-friendly race set for the first Saturday in April in Spokane Valley. One in seven people in the region struggle with hunger and food insecurity, and both sponsoring organizations are passionate about feeding the hungry. Second Harvest distributes over 2 million pounds of free food each month, and UGM serves over 900 meals a day and is open to the public for lunch and dinner daily. John Ortiz, District Manager for Safeway/Albertsons, explained his company's support of the event: "We believe each and every one of us can take responsibility for the people who are hungry in our neighborhoods. They are our children. They are our neighbors, our friends, and our family. There are too many hungry and malnourished people in our community and we refuse to ignore a problem that has existed for so long in a country with so much bounty and excess."
Yakima River Canyon Marathon (April 1): This point-to-point marathon course offers spectacular views of the Yakima River Canyon. Beginning in Ellensburg, the course has two small loops and then heads south to the canyon. There are two major hills and many curves as the route follows the Yakima River to Selah, Washington.
Hauser Lake Icebreaker Run (April 2): The Hauser Lake 10k Icebreaker benefits the Double J Dog Ranch at Hauser Lake. They are the Inland Northwest's premier sanctuary and rehoming center for dogs with special needs. The 10k course is a Bloomsday second seed qualifier and is USA Track & Field certified. The loop around Hauser Lake is absolutely gorgeous.
Negative Split Half Marathon (April 9): The Negative Split Half Marathon, 10K, and 5K takes place in downtown Spokane in Kendall Yards between Monroe and Cedar. This is a great way to kick off your spring break or get yourself primed for Bloomsday.
Spring Dash (April 23): This is a great race to kick off the running season and raise funds for United Way of North Idaho. The beautiful course passes through downtown Coeur D'Alene and serves as a second seed qualifier for Bloomsday. The race starts and finishes at McEuen Park.
Bloomsday (May 7): Arguably the most iconic race in the entire Pacific Northwest, Bloomsday remains so popular because it's fun for every age and ability, the volunteers are extremely encouraging, there's unique live music, and the event gives back so much to the community.
Color me Rad (May 20): At the starting line you're clean as a newborn baby, and some 3 miles later, you'll be so coated with a rainbow of color that your own mother may not recognize you. At each color station, a new dimension of powder or gel will paint your masterpiece. You'll cross the finish line and into a final blitzkrieg of color.
Coeur d'Alene Marathon (May 28): The Coeur d'Alene Marathon, Half Marathon, and 5k fun-run event is one of the most spectacular races in the Inland Northwest. The majority of the racecourse hugs the shores of scenic Lake Coeur D'Alene, and a portion of proceeds benefit the North Idaho Centennial Trail Foundation.
Foothills Scenic 5 Fun Run (June 10): Choose from a 5 or 3-mile course on a mixture of paved and dirt roads in the Foothills community north of Spokane. The routes feature local agricultural lands with Mount Spokane as the backdrop. This annual fundraiser concludes with a huckleberry pancake breakfast.
Dad's Day Dash 5k (June 18): Celebrate Father's Day on a 5k run or walk in and around Spokane's Manito Park and help raise fund for SNAP, Spokane's community action agency. All proceeds help provide people of low income in our community with access and connection to resources that create opportunities.
Glacier Half Marathon (June 24): This event is part of the National Park Half Marathon Series. The course runs on the border of the east side of Glacier National Park. Most of the pre- and post-race activities will be held in East Glacier Park Village, Mont.
Missoula Marathon (July 9): In 2010, Runner's World Magazine readers named the Missoula Marathon the Best Marathon in United States. In 2011, it was named the Best Tourism Event by the State of Montana. And the 2017 Runner's World Marathon Guide named it one of the top races for Back Of The Pack participants.
Round "About 5K" (July 23): This scenic, stroller-friendly run/walk winds through the streets of Deer Park, Wash., a half hour north of Spokane. The route incorporates two of the town's roundabouts, hence the name. Proceeds benefit The Leukemia & Lymphoma Society.
Spokane to Sandpoint Relay (August 18): The Spokane to Sandpoint Relay is a 200.2-mile overnight relay in the style of Hood To Coast. Teams of 12 (or even 6 or 8) runners take turns running "legs" – shorter segments of 3 to 9 miles that link together at exchange points. A total of 36 legs comprise the Spokane to Sandpoint Relay. Running is often a solitary sport, but in a relay, it's all about your team. Many teams get in to the spirit by creating elaborate names, wearing matching outfits, participating in contests, having spontaneous dance parties, cheering on fellow runners, and decorating their vans. The Spokane to Sandpoint Relay is a race, a celebration, and a vacation all wrapped up in one weekend of running followed by an epic after party.
Tase T. Lentil 5k Fun Run (August 19): This official USA Track & Field Certified race is held Saturday of Lentil Fest at 7:30 a.m. Kick off the National Lentil Festival Food & Brew Fest with a fun run or walk.
Riggins Salmon Run (September 9): Runners complete an out and back course along the beautiful Salmon River, retrieving a special token at the turn around aid station. The finish line for all distances will be at Riggins City Park, where runners and their families can enjoy live music, food and drinks. There's even a fun run for kids age 3 to 6.
Run the Dam (September 16): Runners will begin on the east side of the Grand Coulee Dam and run across the largest concrete structure in North America, through "Old Grand Coulee," along B Street, and back along Banks Lake, finishing at North Dam Park in time to enjoy the Harvest Festival.
Sandpoint Scenic Half (September 17): The Scenic Half Marathon is actually a three-race event, giving participants the option to run a 13.1 mile half marathon, a 10k or 5k. With a route across Sandpoint's iconic Long Bridge, offering panoramic views of Lake Pend Oreille and the surrounding mountains, what else could they call this awesome event?
Newport Autumn Bloom 5k or 10k Fun Run (September 16): This two-distance fun run through the picturesque community of Newport, Wash., has something for all serious and novice runners and walkers. The 10K is a certified Bloomsday second seed qualifying race, and the event benefits programs of the Newport Hospital and Health Services Foundation.
Happy Girls Run Spokane (September 23): Happy Girls Run Spokane brings together women of all levels of physical fitness and achievement for a race that is life changing for many runners. All Happy Girls Run Half Marathon finishers receive a stunning piece of custom jewelry made locally by Mishakaudi. The rustic bronze necklace was right on trend for the season. 5k and 10k runners will receive new Happy Girls Run Sock Guy socks.
FEATURED RELAY: Centennial Beer Chase (October 7): Love running scenic trails and drinking craft beer? Round up a few friends for this second annual, one-day, six-person running relay of approximately 50 miles, consisting of 12 legs of varying distances (3-7 miles per leg). The course will be flipped this year, starting from Spokane and running the Centennial Trail east with exchange points at local craft breweries along the way to Coeur d'Alene for an end-of-race party. On a 6-person team, each person runs two legs; on a 3-person team, each person runs four legs. Each time runners exchange at a brewery, they have the option to enjoy a 3-4oz sample of beer. Teams must provide a designated driver.
Spokane Marathon (October 8): The Spokane Marathon, a Boston Marathon qualifying race, is one of the most scenic courses in the country. The course includes Brownes Addition, Fort Wright Mukogawa, Riverside State Park, the Centennial Trail, a portion of the Bloomsday course, and finishes in Riverfront Park. This is the oldest marathon in the area, and proceeds benefit Spokane area high school cross country programs.
Hayden Lake Marathon (October 14): Runners have the option of a full marathon, half or quarter marathon length as they tackle the gorgeous, forest-lined roads around Hayden Lake north of Coeur d'Alene (the full marathon goes completely around Hayden Lake). Enjoy breathtaking views while running the hilly course past golf courses, lakes, horse pastures, farms, and forests. All distances start and finish at Hayden Lake's Honeysuckle Beach.
TRAIL RUNNING
Snake River Island Hop (April 22): This USATF sanctioned 100k ultra marathon (with a 50k option) was created for the person who has successfully completed a marathon and wants to see if they can push themselves farther. The course is flat and the trail is mostly gravel, providing a positive and safe experience for beginning ultra runners.
Spokane River Run (April 23): One of the oldest trail runs in the Northwest that is recognized in the Trail Runner's Trophy Series, this race features a 5k, 10k, 25k, 50k and 50k team relay race. The beautiful and challenging courses run through Riverside State Park and are primarily on singletrack trails that wind through thick pine forests and rugged basalt cliffs along the roaring Spokane River.
Trail Maniacs Liberty Lake Trail Run (April 29): An 8-mile loop run located near Liberty Lake, Wash., that features waterfalls, a creek bed, bridges, singletrack, and switchbacks with canopied cedar groves.
This trail run is rated as difficult. Post-race party includes a pancake feed with sausages and usual Trail Maniacs post-race refreshments.

Priest Lake Mother's Day Marathon (May 13): Celebrate the power of Mom on this special Mother's Day weekend. Finishers in all distances will be awarded a stylish keepsake Priest Lake Marathon pendant finisher necklace. Run along Priest Lake with big views of the Selkirk Mountains.
Trail Maniacs Farragut State Park Race (May 20): Farragut has miles of singletrack and you will see all the best sections. Each of the courses will have very little elevation gain/loss per lap. Everyone finishes on the Lake Shore Trail, and of course will include many "Damn-it-Dave" hills.
Rain Shadow Running Sun Mountain (May 20): On the edge of the Chelan Sawtooth Wilderness, above the Methow River Valley, these courses offer great mountain trail running early in the year. You can expect fields of wildflowers, beautiful, snow-capped peaks in the distance, and stunning singletrack. Pay close attention to the rise and fall in the course profile.
Priest Lake Spring Run (May 28): Half Marathon, 10k, and 5k options on a mix of pavement and compact gravel road leave few excuses to get out and run at Priest Lake this spring in a fun, festive atmosphere. There's also a 1k Kids Dash—children under 10 can run a 600 yard course. All participants receive a tech t-shirt.
Herron Half & 10k (June 4): This race near Flathead Lake, Mont., is well known for its community support and Big Sky camaraderie. They always have great prizes and really cool awards. The half marathon involves over 2000 feet of vertical gain and the 10k over 800 feet.
Rainshadow Running Beacon Rock (June 10): The Beacon Rock races are harder than your average trail race courses thanks to the elevation gain and loss for each course (7500 feet for the 50k and 3750 feet for the 25k). You're in the forest most of the time, but the views (on a clear day) of the Columbia River Gorge, Mt Hood, and Mt Adams are spectacular.
Trail Maniacs Heyburn State Park Race (June 17): Heyburn's course is just plain F.U.N. Runners start out with a nice "little" hill, and then it all gets better from there. There are many rolling hills and a creek crossing. Oh the creek crossing (great location to snap a pic). All of that combined with the favorite meal of all Trail Maniac races: taco bar with warm tortillas and loads of beverages from Slate Creek Brewing.
The Up Chuck Challenge (July 8):The 3rd annual Up Chuck Challenge trail run starts at Spokane's Camp Sekani Park on the Up Chuck Trail for a fun, winding, nearly all singletrack 5k climb to the top of Beacon Hill. Or try the 1.5 mile "Up Chuck Lite" run or walk to the top of the Up Chuck Trail. The 5k version gains nearly 1,000 feet of total elevation. The race is timed on the up only, with another 2.3 mile run or walk back to the start for the 5k, and a half mile walk/run back down for the 1.5 miler. The race ends back at the Spokatopia Outdoor Adventure Festival.
The Dirty Dash (July 8): The Dirty Dash is a mud run obstacle course where a military boot camp meets your inner five-year-old's fantasy and subsequently converts boy to man and then man to swine. All you'll need is a complete lack of shame to wallow in pits of mud and a smile to show through at the end.
Kaniksu 50 & Emory Corwine Memorial Ruck Race (July 15): This non-profit 50-mile Endurance Run and Memorial Relay Ruck Race travels through the Lower Selkirk Mountain Range of the Colville National Forest. The 50-mile ultra run takes place in conjunction with a relay ruck race. The ruck race is a relay where 1-5 participants complete one of 5 legs carrying a minimum 35lb ruck for males and 25lb ruck for females. This event celebrates the life of Emory Corwine who was a USAF SERE Specialist that passed away in June 2012.
Idaho Peak Ultra Trail Marathon & 10k (July 22): A race to the summit of the BC Kootenay's iconic Idaho Peak and back with 1 mile vertical elevation gain/loss. The race includes some of the most enjoyable singletrack running trails in BC, old mining roads, and possibly the only mountain marathon in North America that requires a cable car to cross a creek!
Trail Maniacs Mount Spokane State Park Race (July 22): In a word, Mount Spokane is stunning. The races are challenging, and they're equally rewarding. Lots of singletrack and forest roads which loop around Day Mountain, Kit Carson and Mount Spokane. There's something for everyone at this race, and the post-race party is always memorable. Bring the whole family.
Bare Buns Fun Run (July 30): This year is the 33nd running of The 'Original' Bare Buns Fun Run and the 78th Anniversary of Kaniksu Ranch. BBFR is a clothing-optional, 5K run/walk through a forested area on a pressed gravel/dirt road. The race is sanctioned by USATF and is a part of the Buns Across the Border series. Nudity is not required, but clothed runners are in the minority.
Glutes in the Koots (August 7-11): Four days of unparalleled trail running, coached and guided by ultra runner Jen Segger, with four nights lodging at the Sol Mountain Lodge in the B.C. Kootenays. Professionally catered meals, new friends, and a once-in-a-lifetime experience. This is the best running camp to prepare yourself for ultra distances and technical terrain running.
Trail Maniacs Riverside State Park Race (September 9): The trails feature rugged terrain, freshwater marshes and several basalt pillars. The mighty Spokane River is never far away. The start and finish are at the Bowl and Pitcher campground, and most of the trails are in the shade. Like always, the food and drinks at the finish line are outstanding.
XTERRA Smokechaser 30k & 5 Mile Trail Race (September 9): This trail race starts on the shores of Priest Lake, Idaho, and runs through sections of lush forest and alpine terrain to a historic fire lookout tower at 7200′ elevation. Experience the wilderness trails of Priest Lake like the Smokechasers of days past with this epic challenge.
Sekani 5k & 10k Trail Run (October 1): This 9th annual 5k or 10k trail run also includes a free Kids' 1k. The run is an adventure run/hike/walk race on dirt trails in Spokane's Camp Sekani Park. Expect 700 feet of elevation gain for the 10k run. The trails run above the Spokane River and provide great views of the City of Spokane and surrounding areas. Proceeds benefit Franklin Elementary school's APPLE program.
Trail Maniacs Halloween at Hells Gate State Park Race (October 28): The State Park Series season finale is always at Hells Gate State Park in Lewiston because it's the best park to host a Halloween party. Runners are encouraged to run in costume, and October weather next to the Snake River is typically mild. The last race of the series generally means the greatest amount of prizes and giveaways.
Chocolate Chip Cookie 50k (October 28): This is a rolling trail run with awesome views of the Spokane River, the Swinging Bridge, and haystack basalt towers throughout Riverside State Park. The course includes two loops with an approximate total of 2470 feet of elevation gain. It is a beginner-intermediate course, with some short hills, single and double track, forest roads, and a little gravel. Best of all, the chocolate cookies are homemade and delicious.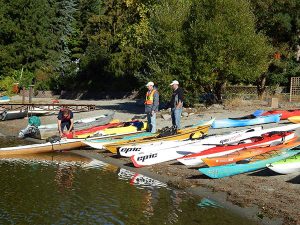 TRIATHLON/SWIMMING/MULTISPORT
Troika Triathlon (May 20): This is the ultimate triathlon event in the Inland Northwest. Troika Triathlon offers multiple options including an Olympic course, a collegiate Olympic course, a sprint course, a duathlon, an aquabike, and a half distance triathlon. In a nutshell, there's a triathlon race for every age and ability. Many triathletes consider this the best primer for additional races later in the summer.
Hayden Triathlon (July 8): This sprint triathlon features breathtaking scenery, with a challenging but friendly course. The Hayden Triathlon is USAT sanctioned, and treats racers with a .5-mile swim, 12-mile bike, and 3.1-mile run. Based on its continued growth, this is one of the most popular triathlons in the region.
Valley Girl Triathlon (July 9): This popular women's sprint distance triathlon includes a 1/3 mile swim, 12 mile bike ride and 3 mile run and is limited to 400 participants. The event takes place in beautiful Liberty Lake, Wash., and includes a post-race pizza party celebration.
Tiger Triathlon (July 15): Complete a course that travels through the scenic Colville National Forest, with a finish in Colville, Wash. Swim Gillette Lake, ride the mostly downhill course down Tiger Pass, and finish with a run on the packed gravel and asphalt of Rotary Trail back in Colville.
Wunder Woman Triathlon & Duathlon (July 30): This triathlon and duathlon for women and men will have more team options, more events, and more awards this year, and it all benefits the Spokane Osteoporosis and the Washington Osteoporosis Coalition. Free bone density screenings will be provided for participants and spectators.
Long Bridge Swim (August 5): This event has grown a lot since 68 friends swam across Lake Pend Oreille in 1995. The Long Bridge Swim is held the first Saturday in August and attracts a wide range of swimmers. So far, 6,374 swimmers have successfully finished, including children as young as 7.
Priest Lake Triathlon (August 26): Choose between an Olympic distance triathlon or a sprint mountain bike distance. All participants receive a technical fabric finisher shirt and finisher medal featuring an international award-winning design.
FEATURED MULTI-SPORT EVENT: Rathdrum Adventure Race (September 9–THIS EVENT HAS BEEN CANCELED FOR 2017 DUE TO EXTREME FIRE DANGER): Mountain bike Rathdrum Mountain, paddle Twin Lakes in a kayak, and then run the trails back to Rathdrum, Idaho's charming City Park. North Idaho's premier "alternative" triathlon offers two courses. Choose the long or short course and compete or just have fun in the solo or team categories. //
Editor's Note: This guide was compiled by Jon Jonckers and Derrick Knowles. Did we miss your favorite race, ride or outdoors event? Email derrick@outtheremonthly.com and we will do our best to include you next year!