This booty has been FOUND! Congrats Verna!
Ready to play Out There Outdoors' Backcountry Booty treasure hunt contest? Read on for info on our latest contest sponsor and contest rules and details. Then get out there and find the booty!
Mica Moon Adventure Package
Located just outside the town of Liberty Lake, Washington, Mica Moon is one of the largest private-land zip line tours in the world. They offer a state-of-the-art zip line course that increases in intensity, starting with the Peekaboo zip line (the lowest and shortest zip from tree to tree) and working up to Big Mama, which travels across-canyon for nearly a mile, giving its rider a full minute on the line. Mica Moon also has an amazing, new aerial trekking course! You'll find a creative, engaging, core-challenging course that you'll want to play on for hours, whether you're wobbling your way across a line of hanging barrels or launching from a Tarzan swing.
With the Combo Pass, the prize for this Backcountry Booty, you'll receive an action-packed adventure. Start on Mica Moon's award-winning zip line and finish on the newly-built treetop aerial park. The tour is about 5-6 hours long.
The Mica Moon Adventure Package includes:
TWO Mica Moon Combo Tour passes ($258 value; Ages 7+)
and TWO Spokatopia Outdoor Adventure Festival VIP Passes ($170 value). Test top-of-the-line water sports gear and mountain bikes, enjoy a drink in the beverage garden, and get a mystery Bonus Bag at Spokatopia, July 13 & 14.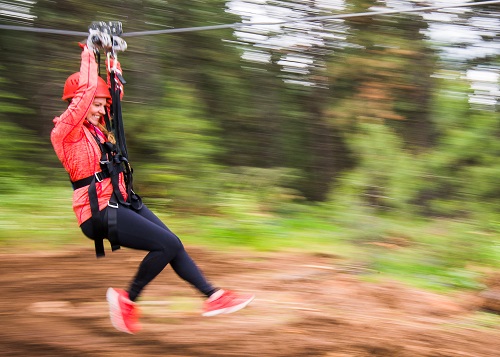 Thanks to our Backcountry Booty sponsor, Mica Moon!
---
CONTEST RULES
Play the Out There Outdoors Backcountry Booty treasure hunt contest and you get to explore different trails around the region and possibly win gift certificates for cool outdoor gear and other prizes. Here's how it works:
We hide a booty certificate, that's good for whatever prizes are up for grabs, near a trail somewhere in a park or recreation area in the greater Spokane area.
We name the general location and offer up a few clues and photos on Facebook and the Out There Outdoors website (scroll down on this page for the clues and pics).
You "like" the Out There Outdoors Facebook Page to keep in the loop when a new booty is up for grabs, and then check the contest page at OutThereOutdoors.com to review all the current clues.
You take care not to trample native plants/wildlife while you're searching. No digging, turning over rocks or disturbing shorelines, logs or brush that provide important wildlife habitat is required to find a booty and is highly frowned upon and will bring you bad booty karma! Walk, look around and pay attention to the clues and forest/nature around you. We also encourage you to take along a garbage bag for picking up trash whenever you're out hunting for booty.
We keep giving out clues on Facebook and on our website until someone finds the booty and wins.
Winners take a victory photo at the location where they find it and post the photo on the Out There Outdoors Facebook page to confirm that the booty has been found (letting us know that you found the booty right away is important–email us with questions).
Follow the instructions on the booty certificate and we will let you know where to pick up the prize(s)!
---
Clue #1
This Booty is hidden somewhere in Palisades Park! Happy hunting!
Clue #2
Enjoy the view of downtown Spokane and the Bachelor Button flowers as you walk!
Clue #3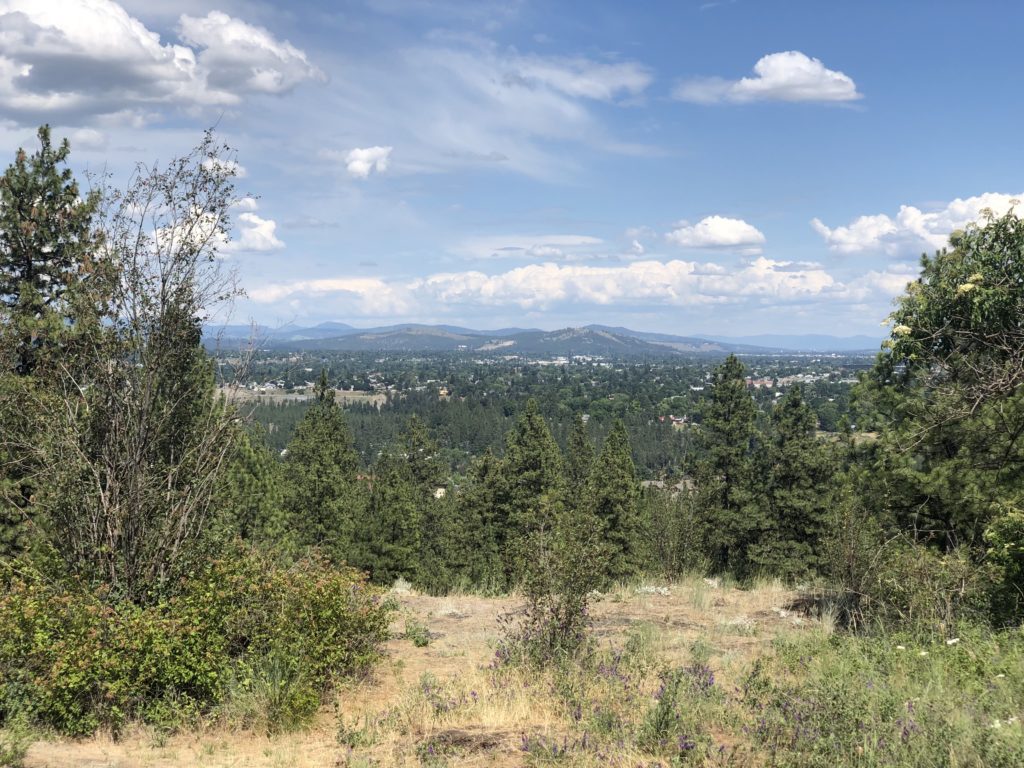 When you see this view from the gravel walking path, look for a side trail! This side trail will be brushy, but it will be worth the walk—the booty is hidden within 500 yards of the start! Think off-trail on the off trail.