Even the leanest and most health-conscience hikers and climbers succumb to pizza cravings. And when pizza is hand tossed and fire cooked, and its ingredients are locally sourced and farm fresh, it's possible to indulge without guilt. As an added bonus, McGlinn's Public House offers these delicious pies for only $10 a piece during happy hour, when pizza goes down even easier with discounted microbrews.
The stand-out pizza is the Italian sausage with red sauce, mozzarella, forest mushrooms, kalamata olive, and onion. The sausage is salty and spiced, the mushrooms flavorful, and it's served with a salad's worth of wilted kale on top. Fortunately, the crispy, puckered dough is available with any pizza options, which includes Blueberry Prosciutto, Beet My Goat, and Wild Mushroom, to name a few.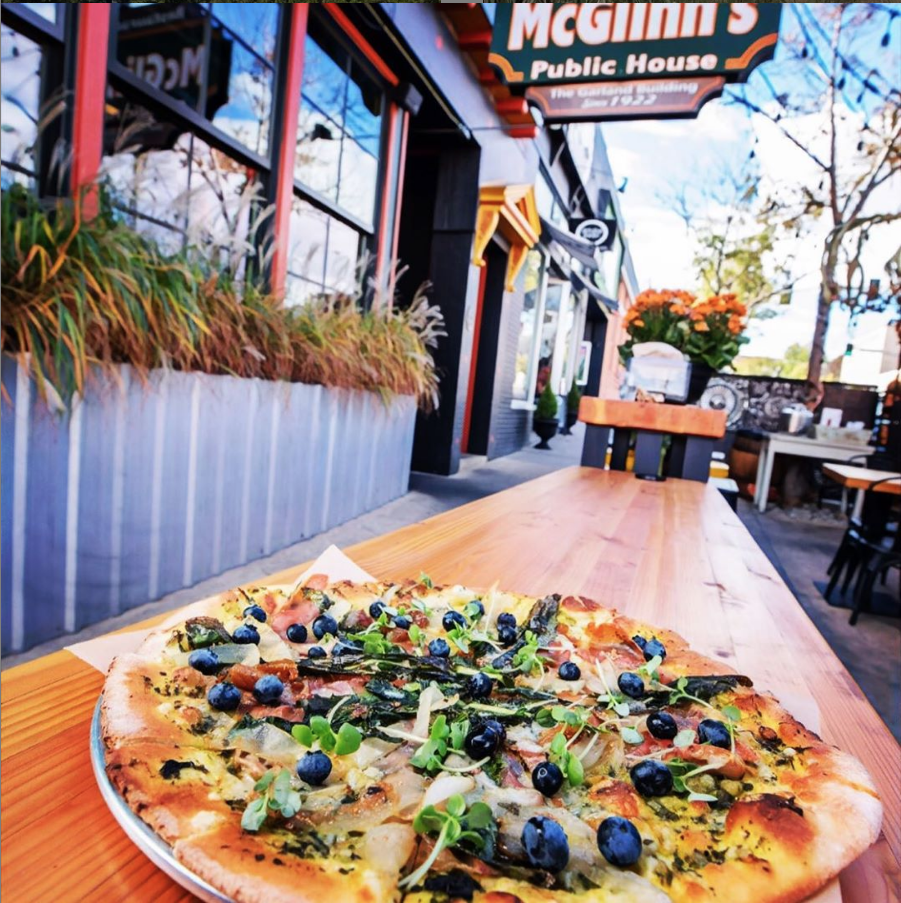 For east-bounders, McGlinn's is the perfect stop on the way home from a weekend of cragging or exploring trails in Leavenworth. Because it's 25 miles away from the Bavarian-themed hub, close parking abounds and the prices are targeted to locals, not tourists. While often busy during the traditional dinner hour, McGlinn's is one of the few late-night kitchens in Wenatchee, serving food until 11 p.m. and drinks until midnight. The healthy pub also boasts enormous salads, unique sandwiches, delicious burgers, and a standout dessert menu. McGlinns is also notable for its atmosphere. The staff have created a parklet, or outdoor patio wonderland, on its public sidewalk. Between the trellising grapes, abundant flowers, cooling misters, and live music on the mini stage, McGlinn's vibe often feels like one of those serendipitous summer nights where the whole gang is together, the drinks go down easy, and the food is just right. It's the spot locals bring people who are visiting town for the first time, and the place in-the-know adventurers end up whenever they're in the area.