Smoke billowed in patches from Hall Mountain on the east side of Sullivan Lake in the Colville National Forest when my family arrived for our camping stay over Labor Day weekend 2017. Since the Noisy Creek Fire had been declared contained, we didn't expect to actually see fire when we arrived. After dark, we saw the glowing red of flames. Every morning, smoke hovered over the lake like fog. Fire eventually reached the shoreline, and kayakers paddled there for a close-up view. On Monday, we awoke to a campground inundated with ground-level smoke. As we traveled home, the Inland Northwest was choking with smoke from around the region, including from fires in the Cascades, central Oregon, and Idaho.
As a mom, I've wondered how best to discuss wildfires with my young children. Beyond prevention, what's most important for kids to know about wildland fires?
Nicole Bronson, fellow mom and a 4th and 5th grade teacher at Pioneer School in Spokane Valley, recommends helping children learn about ecology and interconnections in the natural world as a starting point for teaching about fire. Prior to becoming a teacher, Bronson worked for 10 years as a park ranger, including stints at Turnbull National Wildlife Refuge and Idaho's Round Lake State Park. As a teacher, she combines her ranger experiences with her studies in wildlife, parks and recreation, biology, and botany.
"What we're doing is having an impact collectively [on our environment]," she says. Children need to understand "how we impact each other." This includes humans' relationships with animals and habitat; the connections between human activity and how our use of natural resources affect human health (such as clean air and water); the synergy between climate and weather (such as drought and how climate influences weather); and the real, local examples of all these (such as drought trends in the Inland Northwest.)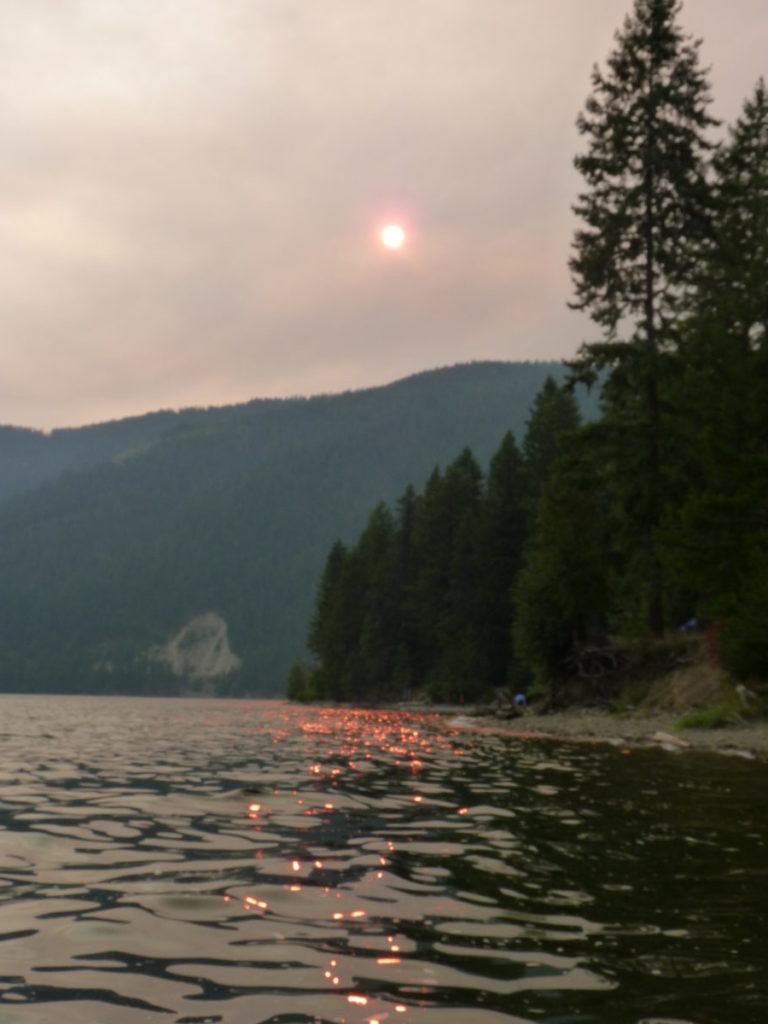 "Kids need to be exposed to lots of [environmental] themes and topics and be able to form their own opinions," she says. It's important that children understand that not all forest fires are bad, and that nature goes "through cycles of wildfire," says Bronson. She recommends the children's book "The Charcoal Forest: How Fire Helps Animals & Plants." Another good resource is the National Geographic Kids book "Wildfires" by Kathy Furgang. Bronson also recommends that parents utilize online resources from credible sources, like the Washington State Department of Natural Resources and the Department of Ecology.
Teaching opportunities abound when your family is out there. "If you're driving by an old burn area and not planning on getting out of the car, have kids look visually to see what's gone and what's still there," says Bronson. "Maybe do some predicting about what might happen next, in the next season or one or two or five years from now." If you have the opportunity to get up close, she advises to look under bark, in dirt holes, and under downed trees. "Get children to think about the past, present, and future [of the forest]. Ask your children: Where's the water and shelter? In the process of fire, what plants can come back in and grow more easily now that the tree canopy is gone?" she says.
Smokey Bear, America's official icon for wildfire prevention, turns 75 years old this summer, but Bronson says kids should also know about Reddy Squirrel. Created in 2002 by "Forest Magazine" and published by the Forest Service Employees for Environmental Ethics (FSEEE) organization out of Eugene, the squirrel emphasizes readiness for inevitable wildfires. Holding a rake and wearing a hard hat, Ready Squirrel's motto is "Forest fires happen. Be ready!" She offers a counterpoint to Smokey Bear's fire-prevention message. Created to convey what fire ecologists and forest firefighters have long known, the Reddy Squirrel educational campaign's target audience is people living in or near forests, as well as home insurance companies. State parks and national forests, many of which are prone to wildfire, are frequent adventure destinations for families. Take the time to teach your kids what you can about the ecology of forests, the role of wildfires, and to further lighten our impact on the Earth beyond Leave No Trace.