In the past, Loulou's Ski Shop was the local place to go for all your alpine ski equipment. Founded in 1973 by Loulou Kneubuhler, this little shop provided great service and ski equipment for Spokane and the surrounding area. Loulou's Ski Shop had the expertise and knowledge to equip and fit every level of skier.
Loulou Kneubuhler was born in St. Jean De Maurienne in the French Alps in 1943. Where he grew up, there were 80 ski resorts within 100 miles and many more outside that 100-mile radius.
A quarter century later and one hemisphere over, Loulou started the Mighty Mite program and coached at White Pass Ski Area. He also coached for the Spokane Ski Racing Association. As good weather fortune would have it, Loulou happened to come to Spokane during the 1968-69 winter, which was the best snow season on record. "I thought I'd died and gone to the heaven with the big snow flakes," Loulou says.
Loulou opened Loulou's Sports Shop in 1973, and in 1978 he installed "Magic Mountain," a moving carpet that allowed indoor instruction. Skiing greats like Phil and Steve Mahre, Tamara McKinney, and Craig Kelly honed skills on Magic Mountain. Allison Cowles (of the family that owns The Spokesman Review) spent time on Magic Mountain, and it was there that Mt. Spokane 2000 was conceived to revive a fledgling ski hill. Loulou became a board member for the Mt. Spokane 2000 project. In 1996, Loulou sold the business to Mike King, who operated the ski shop for several years.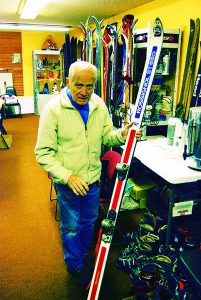 Now the building houses a tennis pro shop and Loulou's Ski Museum. I was blown away with the selection of equipment from long ago. He starts his tour with the "Evolution of Skis" from the old days. I mean really old days. The oldest ski was found in Glacier (before it was a national park). Loulou believes that one of his ski artifacts was used by a trapper. Other skis in a place of honor are a 1960 first steel edge ski that won a race at Squaw Valley, a red Head ski designed by racing great Jean Claude Killy, and a white Kniesl ski designed by Karl Schranz from the early 60s.
In the 1970s, Loulou teamed up with the Crescent Department Store and hosted ski clothing style shows at the Ridpath Hotel. But the museum houses far more than skis. The ski boots, both leather and plastic, cover a wide variety of types and styles, and the ski bindings will amaze you that they were ever used. This collection shows the evolution from crude straps to early state of the art. It surprises me that us old timers on skis survived. The vintage clothing takes you back not only to the old days, but also through the evolution of winter wear. A lady gave Loulou a fancy wool ski jacket and pants set that would now be the star attraction at a retro day on the mountain.
Loulou's Ski Museum is a non-profit operation. Donations from people all over the region, nation and beyond contribute to the museum collection. If you own an ancient piece of alpine (downhill) ski gear, Loulou would gladly accept it for his collection.
Loulou's Ski Museum is located at 428 E. Pacific Avenue in Spokane. Admission is free, but visits are by appointment only, so call ahead: 509-599-0625 or email loulou@skionline.com for other inquiries.
Written by Chic Burge.