Whitewater Ski Resort's Coldsmoke Powder Festival Is Always a Trip to Remember
I make it within five blocks and 20 minutes of the opening social event at Coldsmoke Powder Fest in Nelson, British Columbia, and I realize I'm getting a migraine. To the point that I can't see. Did I mention this particular event I'm supposed to be covering is a series of short films?
Coldsmoke celebrates mountain culture with clinics, socials, competitions and more. From February 19 through 21, 2016, the 10th annual event will take place at Whitewater Ski Resort and in nearby Nelson, British Columbia. With any luck, the snow will be better this year — conditions at Whitewater last year were not bad on groomed runs, but they were frozen chop off-piste. As a result, the backcountry clinics, usually well-attended for the BC powder, suffered. The on-piste clinics, however, provided tailored feedback and small class sizes, and my intermediate-level snowboarding decidedly improved in only a few short hours with Nelson local and former pro rider Kendra Starr.
Even with a migraine, the social events are fun, from dinner and tastings featuring local artisans such as Tod Creek Cider and Kootenay Distilleries to the aforementioned film festival. I wrangle getting in early to the films and ask the staff if there's a pharmacy close by. Yes, a block and a half away. In a blind fog, I stumble out of the building and across the street, concentrating hard on the aura of headlights to avoid getting hit. Good news: I manage to find the pharmacy. Bad news: It closed 10 minutes ago.
I've left my coat behind on the theory that the cold will constrict the vessels in my brain and cure the migraine. Longer exposure may do me good, so I set out down the street to find drugs, preferably legal ones. I have to stare down buildings head-on to read their signs, or maybe sideways depending on the spots in my vision, keeping a good pace so I don't freeze to death.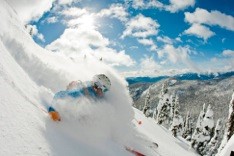 I lurch along Nelson's main drag like a drunken tourist who has never seen civilization before. An older fellow appraises me at a stoplight and asks if I'm not cold. "I'm trying to find a pharmacy," I blurt out, and then correct myself: "I'm trying to find something to cure migraines." The fellow is sympathetic and suggests the local co-op, so I lurch my way to the natural market to find out what natural oils hippies prescribe for my particular ailment. Peppermint, of course. I purchase a vial of peppermint oil and slather my eyebrows, neck, forehead and temples with it. I march back to my destination and drink copious amounts of water, massaging the peppermint oil into my neck.
The first film is Sweetgrass Production's "Afterglow," a psychedelic night skiing light show with existential dialogue I can't process. The colors are pretty, though. The music is so good it's making my spine feel funny. I decide migraines are kind of like being on ecstasy, only with pain instead of pleasure. Everything just washes over you in feelings, tiny things that you wouldn't notice otherwise. If you think about it correctly, it's kind-of delicious. I lean back in my chair and decide that if I hold my skull just right, my sensitivity is actually veering off into the realm of fun. I can see straight again. And my head doesn't really hurt. I'm just high on peppermint oil now.
From there, my Coldsmoke Powder Fest trip just keeps getting better. The snow on the mountain is fast and icy, which normally terrifies me, but it forces me to learn what I've put off learning for so long. Alpine Inn and Suites, on the outskirts of Nelson, provides a quiet spot away from the bustle of downtown and is the last (and therefore latest) pickup on the Whitewater shuttle up to the mountain.
The clinic I take, one of a few covering snowboarding, focuses on learning how to ollie, how to ride switch and how to carve on steeper terrain. The four of us in the class get individual tips on beginning tricks and improved form. Other clinics teach telemarking and skiing and cover a wide range of skill levels, from an introduction to touring to the "beyond expert" freeskiing clinics (all of which will be taught at the upcoming Coldsmoke Powder Fest). I demo a new snowboard and love it.
I also check out the competitions, of which four will repeat this year: the ROAM Randonnee Rally, the Village Ski Hut Slopestyle, the Poker Run and the Backcountry Olympics. Participants may compete individually, but the highest-scoring male and female to complete all four events will be crowned the King and Queen of Coldsmoke with all the pomp and circumstance (and prizes) that entails. Winners earn a Whitewater 2016/2017 season pass as well as The North Face ski gear. Social events throughout the festival provide plenty of opportunities to win everything from Keen socks and Clif Bars to actual skis. Find more info and register for clinics at Coldsmokepowderfest.com. //