We're all trying to get the best bang for our buck, and when you ski or board, that means trying to get some freshies in the days after a storm. We are lucky living in the Inland Northwest with so many resorts all within a short drive. Taking last season out of the mix, each of these resorts usually gets consistent snowfall resets. As a powder lover, I always venture to the areas that are out of the way or not well-known. Each resort has plenty of its own "secret stashes," but it's just a matter of knowing where to look, who to follow or who you know. Even on the not-so-epic days, there are usually a few good stash spots at each of the resorts. Here are a few of my secret stashes.
Silver Mountain—South of the Border: SOB is an intermediate-advanced run and it's always a goody. Off Chair 2, ski down Sunrise a short distance. On the right side, go through Kerry's Meadow to the cat track and you'll see the rope line. Look for one of the gate openings into South of the Border. It's best if ventured in with a friend and only if you have the essential backcountry gear: transceiver, probe and shovel. South of the Border has some big old-growth trees and meadows that open up nicely. There are a few rock drops in there, and it has a little bit of everything for skiers and boarders intermediate on up.
Robert Hoskinson knows all the hidden gems at Silver Mountain. "SOB is beyond the official border of the resort. SOB has some great mellow tree skiing, and the large open area of Avalanche Ridge. Just don't miss the traverse marked with fog balls; otherwise, you'll end up in Big Creek."
Longtime local Alli Leveque says, "You have everything available to you, whether you want wide open, trees, rock cliffs or you want some fun little things to pop off of, there's lots of fun stuff South of the Border. A lot of us locals don't like to tell people about it. It's our little private area, but definitely the best place on the hill."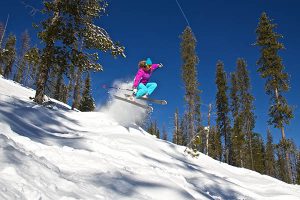 Lookout Pass—Lucky Friday Glades: Take Chair 1 and get off to the left. Head down Golden Eagle and you'll come to the top of Lucky Friday Glades. Drop into this gladed tree area and veer to the left, hugging the little finger ridge that runs parallel with Lucky Friday Glades. This section is usually less traveled, providing pockets of freshies and a few steeper sections.
Dallas Ward started skiing at Lookout at age 5 and raced on the Lookout Pass ski team. She has been on the Lookout ski patrol for the past 7 years. "I love the peacefulness when skiing Lucky Friday," says Ward. "The Glades give me a great escape from the busy groomed runs, and the far left and far right sides always hold the best snow the longest."
In the last few hundred yards before the cat track, veer even further left into the trees for more open shots before you're dumped back down onto the Quicksilver Cat Track.
49 Degrees North—Cy's Glades: This is an iconic tree run located on the upper-right side of Chewelah Peak. Ride either the Bonanza or the Sluice Box chairs, exit to the right and head down Lost Dutchman to the top of Upper Cy's. The openness of the trees let the snow accumulate on a consistent level and make for some fun runs.
49 Degrees North Assistant Ski School Director Ali Pasino has spent plenty of her days playing in Cy's Glades. "Perfectly spaced trees allow for playful skiing without feeling crowded," says Pasino. "It's a great introduction for people newer to off-piste powder stashes and still interesting enough to leave the most accomplished skier wanting seconds." Personally, I always go back for seconds. When you get to the bottom of Cy's, you're drawn back down to the Sluice Box chair for your second helping of fun.
Mt Spokane—Roller Coaster: Smack dab in the middle of the mountain as you look up from Lodge 2 between Chair 1 and Chair 2, you can gain access to Roller Coaster by either chair. I usually come in through Meadows and then the upper portion of Siesta, which will drop you on top of Roller Coaster. Once in Roller Coaster proper, veer left into the trees. It's tight in a few spots but opens up with lots of little pockets of open glades. This little zone always seems protected from the wind and offers numerous routes down to the Lost 200 Cat Track. "It's hidden away just enough that you can find nice fresh patches of powder, long after you think everyone has skied it out. It's well worth a look," says Spokane skier Desiree Leipham.
Each resort has dozens of secret stashes. You just need to do a little investigating or know who to stake out and follow. Get out there and find your own secret stash. // (Bob Legasa)