Where exactly Big White Ski Resort is located was pretty much a big mystery to me before our first trip to the resort earlier this winter. I knew it was near Kelowna, B.C., a few hours north of the border, and that they often open early and get huge powder dumps when other regional areas get skunked. But I had no mental image for the mountains, the town or even the road route to get there. Thanks to a little-known shortcut (cut west from Highway 395 over Boulder Pass to Curlew, Wash., and head northwest to the Midway Border Crossing, open 9-5 daily), it's only a five-hour drive on some of the most beautiful and well maintained Inland Northwest backroads to reach the resort.
Right away when we got there we knew something was different about Big White, and not just because of the ubiquitous Australian accents of nearly every resort employee. Everyone seemed to be smiling and genuinely stoked to be there, from the young Aussie servers to the seasoned local skiers and snowboarders we met on the lifts. With a wide range of ski-in/ski-out lodging choices, from high-end condos and townhouses to plenty of economic options including a youth hostel, Big White is accessible to a diverse range of snow sliders and is Canada's largest ski-in/ski-out village.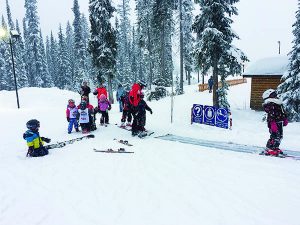 Big White is often promoted as a "family-friendly" resort, but before deciding to reproduce in our late 30s, that wouldn't necessarily have appealed to us. What we figured out over the weekend, though, is that "family friendly" at Big White means you don't have to endure f-bomb saturated teenage rants or suck up second hand smoke in the lift lines, which is appealing whether you have kids or not, but it also means that there's a positive vibe in the interactions with pretty much every employee, skier and snowboarder we met around the mountain. There's an authentic sense of community, especially with the people who work there and the regular mountain residents, that felt a lot like a big family.
Family friendly also means that Big White has a kids ski school that's rated #1 in Canada and a place called Happy Valley where beginner terrain and a whole other world of winter activities awaits family members of all ages who may not be as keen on alpine skiing and snowboarding as you are. There are two magic carpets for kids and adults learning to ski or ride, a tubing hill, ice skating rink, snowshoeing trails, a 60 foot ice climbing wall, and sleigh rides and snowmobile tours. There is also a Kids Centre in the village where parents can drop off their children in a fun, safe environment that includes ski outings and other games and activities before heading out for some adult-only time on the slopes.
But don't let those impressive family-friendly credentials scare you away if you're a childless skier or snowboarder looking to shred the steeps. Family friendly at Big White doesn't mean that every inch of the mountain is a good place to drag a 5-year-old. There is plentiful challenging terrain (over 25% of the resort is rated black or double black) to keep hard chargers entertained. And while there were a lot of kids and families bebopping around the village and sliding down the slopes for sure, the scene was far from Disneyland. There were a ton of kid-free singles and couples everywhere we went. And on an early-season Saturday night, the village bars were packed with music, dancing and revelry late into the night.
Since our little one was still mastering crawling in front of the fireplace back at our beautiful suite at the Stonebridge Lodge with his grandparents, we took advantage of a snow host, a free guest service that hooks you up with a guide to show you around the mountain. Our snow host made sure we got a good sampling of the mountain on different runs at a fun, adult-appropriate clip. We had fresh snow each day, which meant the skiing was amazing, but we missed out on the reportedly epic views of the Monashee Mountains (a trade-off we were definitely okay with). The runs we found ourselves gravitating towards over the three-day weekend were mostly long, blue cruisers with fun, interesting terrain and plenty of powder pockets along the tree line. We noticed too that the greens skied more like blues and some of the blues felt like they were approaching what would be a black run in the U.S. (we were okay with that too).
Even with only a portion of the mountain open so early in the season when we visited in early December, we barely scratched the surface of Big White's vast 7,355 acres and 118 runs served by 15 lifts. Which means we will be back next year. And the year after that and the year after that. //
Dining & Drinking Out on the Town at Big White
Since we brought along our own childcare for the weekend, we had the chance to explore the resort's amazing eating and drinking options and diverse nightlife. With 19 on-mountain restaurants, pubs, cafes, delis and nightclubs, ranging from high-end to ski bum-friendly options, there is no shortage of quality places to fill your belly or quench a well-earned thirst. Save your brown-bag days for the local resorts and plan to splurge on eating out at Big White. Everything we tasted was amazing, and we frequently forgot that we were at a ski resort. Here are a few of the dining and drinking highlights that made our ski trip an awesome culinary adventure to boot.
The Toasty Tree House: Ski right up to this little food hut in the village center for a Flammlachs, a traditional salmon recipe from Finland served hot off the plank on a European style bun with cream sauce, or other quick bites that you can enjoy by the bonfire.
Kettle Valley Steakhouse: Hidden in the Happy Valley Day Lodge, the specialty here is the Certified Angus Beef and a selection of sustainable seafood options. The wall of wine behind the bar means you'll find a vast selection of Okanagan Valley wines.
6 Degrees Bistro: Slope-side fine dining in a cozy, inviting atmosphere. Tucked into the Stonebridge Lodge, this is the place to enjoy a finely-crafted meal and wine pairing prepared by people who are passionate about all aspects of food and the dining experience.
Sante Bar & Grill: Located in the heart of the village in the White Crystal Inn hotel, this casual eatery offers several creative variations on the Canadian classic poutine (fries, cheese curd and gravy) as well as loads of burgers, salads, bowls and other comfort foods. We had the best, buttery bowl of chicken, rice and Indian curry ever.
Globe Café and Tapas Bar: All of the food we tried here was delicious, including the gluten-free options, but the highlight was the Table-top S'mores, a gourmet spread of s'more fixings that you get to prepare for yourself over an open flame.
Gunbarrel Grill: Feeling a little sleepy after an amazing meal and looking for a second wind to enjoy a bit of the village nightlife? Try the Gunbarrel Grill's signature booze and coffee drink, the Gunbarrel Coffee. It's a tasty adult beverage and show in one, featuring a Montgomery Ward double-barrel shotgun from the early 1900s that serves as a flaming cocktail mixer!