"It's a labor of sheer passion, the combination of nature and exercise – it's a joy to crush a mean drive off the tee pad and to watch the flight of the disc."  So Shawna Buzzingham, just back from the Professional Disc Golf Association World Championships in Portland, describes playing her favorite sport. Buzzingham placed 25th in the top tier women's division. About a dozen pro players from Spokane competed in Portland, just one indication that this fast-growing sport is alive and well here in the Inland Empire.
Disc golf is a lot like regular golf, with some huge exceptions. First, the player winds up and throws a flying disc, rather than smacking a small dimpled ball with a club. (The disc is no longer commonly called the trademarked "Frisbee"). Launching the first drive from a tee pad, the player strives to make the minimum number of throws to ultimately toss (putt) the disc into the target – a chain basket around a metal pole.
Disc golf is a sport where age is no object and money isn't either. Spokane pro-player and course designer Jeremy Thorton says he makes friends whenever he plays and learns from everyone, whether they are 14 or 74. He points out that a family can spend $10 a piece for a new disc, which gets them set up to play a few holes for free at a public course nearly year-round.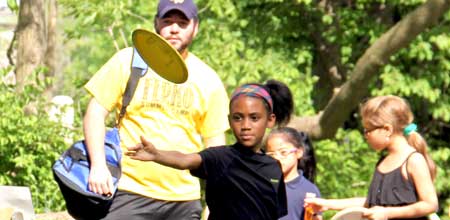 The first blossoming of the sport was in the 60s. The forefathers were associated with a certain free-spirited, tie-dyed and granola crunching crowd. Now the sport is nationwide and worldwide. Players come from all walks of life; churches and schools everywhere are putting in 9-hole courses and getting kids outside. Tournaments are held in over 40 different countries, and it's estimated that the sport is growing by 12-15% a year.
"It's no wonder that more and more people are playing disc golf. It's such a casual, easy sport. It's like taking a little walk, and leaning over now and then to toss the disc. But then you get hooked. First, you learn the basics; then you start studying the better players and learning from them; eventually you create your own style," explains Nancy Morgan, a Spokane disc golf pro and tournament organizer.
In spite of disc golf's surging popularity, it is largely ignored by big corporate sponsors. The recent Disc Golf Champion of the World received a $5,000 cash prize and had to pay for his own transportation, food and lodging. Professionals are playing for love and traveling on their own dime. The shared goal of the top players, says Buzzingham, is not money or personal glory so much as it is "to grow the sport, teach the young, and share the love."
The disc golf community provides all the hospitality they can to traveling players. The shared love of the sport creates camaraderie and even a sense of family among people who might have little else in common. If you haven't already played, get out there and send a disc flying – enjoy the satisfying clang as it settles into the chain basket; experience what all the enthusiasm is about!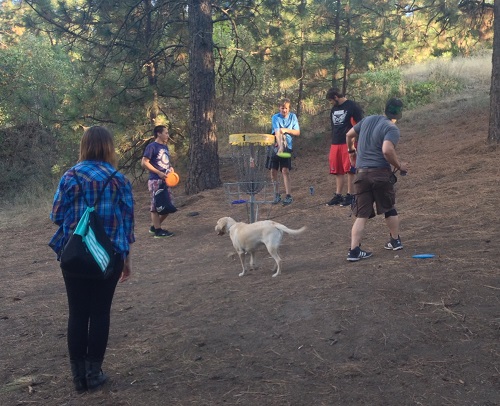 Disc Golf Tournaments Coming Up
Local tournaments are another expression of regional enthusiasm and support for disc golf. On September 13-14, Stimpi Ridge disc golf course is hosting a PDGA C Tier event (geared more towards having fun and improving skills). Players at all levels can play three private courses in one weekend: Stimpi Ridge, TNT Acres, and Happy Hill Disc Golf Courses. This tournament makes it easy to get acquainted with the three local private courses. Normally, private courses require calling first for permission to play, and learning the boundaries and mandatories of the course. Private courses are usually smaller than public courses, but may be more challenging.
The General Store's 3rd Annual B Tier Open (this tier includes a little more cash for winners) will take place October 4-5 at the Downriver and High Bridge public courses. There will be multiple divisions: men and women; junior and novice; and recreation, amateur, and pro. For more information and to register, visit Pdga.com/tour/search (and enter the date of the tournament). Players in both tournaments get a t-shirt and a disc. //
Where to Play: Inland Northwest Public Disc Golf Courses
Public disc golf courses in the Spokane area are High Bridge, Downriver, and Camp Sekani. In North Idaho, there is Farragut State Park with three courses and a 9-hole putting course. There's also a course at Corbin Park in Post Falls and Coeur d'Alene has two public courses: Cherry Hill Park and Bluegrass Park. And Sandpoint has a new 18-hole course; $1 to play the Baldfoot DGC, with funds going back to the course.