One-hundred fifty years ago, get-rich-quick schemers struck gold in what is now Helena in southwest Montana. More recently, the dry, fir-adorned foothills flanking Montana's capital have produced riches for mountain bikers.
Tucked in a "banana belt" on the dry east slope of the Continental Divide, about a five hour drive from Spokane, Helena sees a snow-free riding season from late March through November. Consider it Montana's version of the Methow Valley: short on big-hit bombing and long on aerobic, not-too-technical trail riding, complete with a laid-back cycling culture – riders here are far more likely to rave about a trail than rate your gear.
A Single Track at the End of Every Street
Forward-thinking cyclists, in concert with the Prickly Pear Land Trust, have quietly developed an extensive trail network across two city parks, Forest Service land and easements through private property that has turned Helena into a destination mountain bike town: the International Mountain Biking Association has recognized Helena as one of 16 bronze-level Ride Centers in the world, among the likes of Steamboat Springs and Aspen Snowmass.
Much of the credit for that distinction goes to a bike-friendly infrastructure: downtown Helena operates the free Trail Rider shuttle, which ferries riders and their bikes to a rotating roster of trailheads Wednesdays through Sundays from June through August and on weekends in September. And with a trailhead seemingly at the end of every street, it's easy to strike out on your own to explore Montana's Gold Country.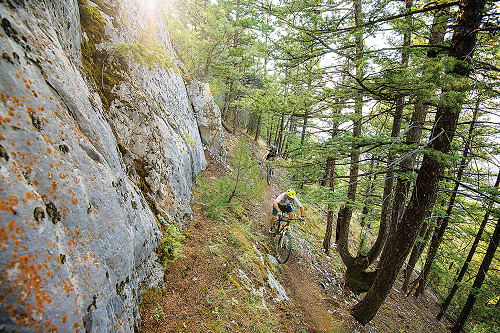 South Hills Trail System
Introduce yourself to the Queen City with a cruise through quiet Victorian-era neighborhoods on your way to any of the gulches in the South Hills trail system, the centerpiece of Helena's vast mountain biking and hiking trail network. Several leg-stretchers depart from Davis Gulch; try Eagle Scout and Archery Range for a fast, non-technical loop through open, arid forest. Or, from the top of Eagle Scout, play on Pay Dirt, which features tight boulder gardens and a handful of nice kicker jumps.
On the east side of the South Hills trail system, the Eddye McClure trail will test experienced riders' switchback skills. From the Trail Rider shuttle-accessible east end, warm up with 15 minutes of tight-turning and thigh-burning climbing before reaching the ridgeline. Here, experience what locals refer to as "magic dirt," a crushed limestone that drains quickly but holds its form when dry, a reprieve from the summertime dust bowl conditions typical of some Spokane area trails. The unique limestone trail composition forgives speed on the off-camber tread and tight switchbacks, but the narrow, handlebar-crowding doghair firs will test your concentration and nerve. Views are scant on this thickly timbered route, but you'll need all your focus just ahead of your front wheel anyway.
Connect into the Mount Ascension City Park trail network at the west end of the route for a commanding view – Helena below, the Sleeping Giant to the north, the Little Belt island range to the southeast. Descend back to town on Entertainment's high-speed, swooping singletrack through meadows and doghair timber. Turn-for-turn, this is one of the most grin-inducing trails in the South Hills system.
During the Trail Rider shuttle service season (which includes weekends in September), catch a ride on Saturday and Sunday mornings to the west end trailhead for Mount Helena Ridge, easily one of the premier "urban" singletrack rides in the Northwest. From the trailhead, a stiff 15-minute, sun-baked ascent rewards riders with seven miles of fast singletrack through open, blueberry-carpeted rock gardens and vast meadows. The gold hue of grasses and vast views east to the Little Belt Mountains may even inspire riders to stop and stare agape.
At the east end of the route, the trails get congested with hikers, trail runners and dog walkers near the summit of Mount Helena City Park, the most popular hike in the city. Your best bet: save the summit for a side hike and drop off the back side on McKelvey Trail for a quick descent down a rock-strewn gully to Grizzly Gulch and a cooldown cruise on pavement past historic Reeder's Alley.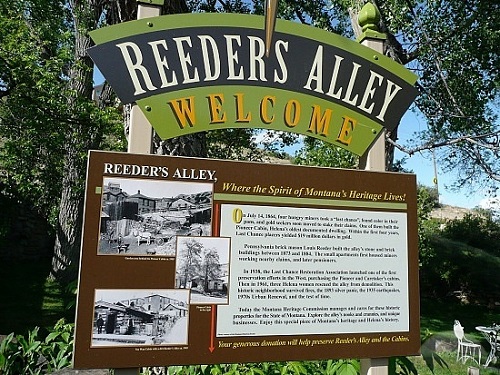 Downtown Helena—A Bike Friendly Hub
Road-tripping mountain bikers can stay downtown for a car-free weekend of riding. The Holiday Inn in the heart of the historic Last Chance Gulch walking district defines "bike friendly": hop on the Trail Rider shuttle right outside the hotel, and, post-ride, roll your bike right into the elevator and up to your room.
Before catching the Trail Rider, walk north on Last Chance Gulch to the intimate No Sweat Café for hearty homestyle breakfasts; the breakfast scrambles will provide plenty of carbs and protein for a full day of sweating and smiling.
Conveniently located near the mouths of several South Hill gulches, Blackfoot River Brewing Company makes a great – albeit crowded – post-ride gathering spot. The promise of a rooftop table and Single Malt IPA may inspire you to finish your ride early.
Just up the street, the Old Miner's Dining Club offers casual but high-quality barbeque. Located in the historic Caretaker's Cabin on Reeder Street – one of the oldest houses in Helena – proprietor Jim Sobonya, the descendant of Montana miners, prepares everything on a massive gas grill outside. Jim and his wife also boast the only gluten-free kitchen in Helena; try the cheesecake on gluten-free graham cracker crust.
When You Go
Start planning your trip in advance by spending some time online with Bike Helena, an awesome cycling resource for locals and visitors: Bikehelena.com. You'll find more ride recommendations, photos and video, event information, trail news, and additional accommodation recommendations. Check out their calendar to plan your trip around one of many bike events, races, and rides they have set for September. //