Stand up paddleboarding – also known as SUP – is a pretty beginner-friendly sport, but there are still plenty of tricks that can help you paddle more efficiently and have more fun. I rented a paddleboard for the first time in Hawaii a few years back, and with years of surfing experience, I figured the tame waters of the beginner spot I paddled out at would be a piece of cake. Once out past the breakers, I hopped up on the board like an old pro, assumed a surfer stance, took a couple paddle strokes, and, with a surprising lack of grace, fell backwards into the ocean with a loud smack. After falling another 15 or 20 times, I noticed a local calmly paddling circles around me. Turns out surfing and standing on a SUP are way different. I was standing on the board all wrong, and once I figured that out, I stayed on the board and even caught a few waves. The point here is that if you are new to stand up paddleboarding, signing up for a lesson, or a tour that includes some instruction, is a great way to speed up the learning process by starting out with the right form and techniques. Try one of these flat-water SUP lessons or tours on Lake Pend Oreille or the Spokane River to make learning a lot easier.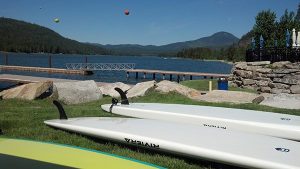 Scenic Lake Pend Oreille Paddling
The paddling opportunities around Sandpoint are pretty incredible with Lake Pend Oreille, the Pend Oreille River and other nearby spots. Dan Chamberlain with SUP Sandpoint moved to the area almost four years ago and has quickly become a local expert on the best places to paddle. SUP Sandpoint rents and sells boards, offers lessons and takes people out on tours at several beginner-friendly paddling destinations.
"I offer three paddling trips that are great for beginners," he says, noting that his tour on the Pack River near where it empties into Lake Pend Oreille is his favorite. Like all of SUP Sandpoint's tours, that trip includes gear (board, paddle, pfd, etc.) and instruction. (Chamberlain notes that most people start out making things hard on themselves by doing things like holding the paddle wrong.) The Pack River trip comes with complimentary cheese and wine from Pend Oreille Winery, as well as a shuttle back to your car. "It's a fun trip that's great for first-timers," he says.
The other two stand up paddleboard tours he offers, Sand Creek and Dover Bay, also come highly recommended as scenic paddles close to town. If you're not up for a full tour and just want to rent a board or two for a couple hours, SUP Sandpoint delivers inflatable boards and gear wherever you want to paddle, making exploring on your own easy. SUP Sandpoint also sells Rivera, Image and Shark boards, and Chamberlain notes that they offer the best board prices around. Whether you live in town or are planning a trip up from Spokane or Coeur d'Alene, call in advance to book your gear, lesson or tour as many summer weekends book up early. More info: Supsandpoint.com or call 208-610-4321.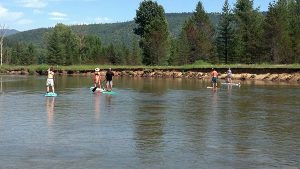 Spokane River SUP Lessons & Tours
Just upstream from downtown Spokane is another beginner-friendly stretch of paddling paradise that has traditionally seen little boat and board traffic, although a new paddling access set to open in August under the Division Street bridge next to the Convention Center will make this awesome section of urban river even more accessible. Currently most kayakers and SUPers use the McKinstry take out (850 E. Spokane Falls Boulevard), as do ROW Adventures and Spokane Parks and Recreation for the tours and lessons they offer on this slow, lake-like stretch of the Spokane.
Spokane Parks and Recreation has several SUP trips lined up that still have space. All the gear is included, along with instruction and on-the-water tips for $21. Sign up online for these paddleboarding trips or lessons: August 4 or 18 (both from 6-8 p.m.) and several 1-hour lesson and tour outings on Saturday September 5 (between 10 a.m. and 4 p.m.). Spokane Parks and Recreation also offers flat-water SUP trips on the lower Spokane that launch from Plese Flats in Riverside State Park. These trips are family-friendly. More info: My.spokanecity.org/recreation/outdoorRowadventures.com.
The tours ROW Adventures runs on this mellow and surprisingly scenic slice of Spokane River flat-water take advantage of the riverside location of No-Li Brewhouse, where the trips start and end, for some post-paddle revelry. Dubbed Paddle-n-Brew tours, these half-day trips explore the full length of this unique urban riverway from near the Upriver Dam downstream towards the city center (around 4 miles). These trips are a great way to check out parts of the Spokane River that few locals ever experience. Children are welcome and reservations are required. Trips cost between $60-90 per person depending on the size of your group and include No-Li beer after paddling. More info: Rowadventurecenter.com. //