Waterfront Park at Medical Lake
Fed by natural springs, Medical Lake west of Spokane is a tranquil gem that's fairly shallow, with an average summer-time water temperature of 74 degrees. Waterfront Park, located on the lake's south end, provides a small sandy beach and roped-off swimming area, with a nearby restroom (checked daily during summer) and outdoor shower. Although the city no longer hires lifeguards, don't let that deter you. Put your little kiddos in Coast Guard-approved PFDs and they'll be fine – of course, supervise them at all times. Better yet, swim with your kids.
Motorized boats are prohibited so you can enjoy the sounds of nature rather than engines. A large playground above the beach will entertain kids when they need a break from the water. There are nearby picnic tables and another restroom. But the park's best perk is the three-mile paved loop trail around the lake. Parking is free, but check the city's online events calendar before you go on a weekend, as this park hosts some big events and can get crowded. Medical-lake.org/citserv/wfp.asp.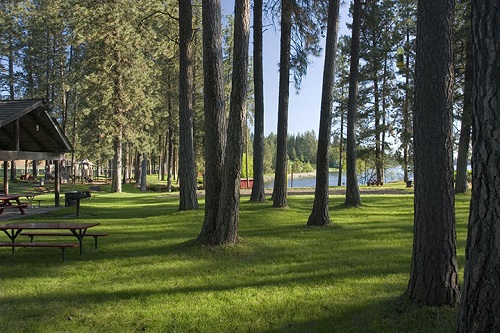 Liberty Lake Regional Park
While it's not free to play here – Spokane County charges a $2 fee per person (children age 5 and younger are free) – this beach park east of Spokane near the stateline is well-maintained and popular. Lifeguards are on duty daily through September 1 from 11 a.m. to 5 p.m. (weather-dependent). A playground, picnic tables and restrooms create a total package for a day at the beach. Spokanecounty.org.
Honeysuckle Beach at Hayden Lake
Lake cabins are so over-rated, says the family who doesn't have one. Which is why Hayden Lake's Honeysuckle Beach near Hayden, Idaho, is great because it has it all – certified lifeguards, restrooms, a kid-friendly food concession, dock, beautiful mountain views, and blue-looking lake water. Lifeguards are on duty from noon to 6 p.m. daily, until the third or fourth week of August. Cityofhaydenid.us.
Round Lake State Park
With a maximum depth of 37 feet, the large swimming area at Round Lake between Coeur d'Alene and Sandpoint feels warm by July. Twin fishing docks border the designated swim-at-your-own-risk area, and while the "beach" is hard-packed dirt instead of sand, kids don't seem to care. (Bring your camp chairs!) There are only a few picnic tables near the trees, set back from the beach, along with a water spigot and vault toilets.
Best of all, Round Lake is surrounded by forest – no cabins or multi-level houses, just nature. And only electric motor boats are allowed, so what you mostly hear is kids swimming, people canoeing or stand-up paddling (rentals available), and families fishing. Overnight camping is available here, too. The day-use fee is $5 per vehicle.
When you go, and if your family needs to work up a sweat before swimming, hike the kid-friendly 1.8-mile Trapper's Trail around the lake if the east end of the loop is no longer flooded (ask a ranger or look for signage). Kids will enjoy seeing giant skunk cabbage plants and wildlife. Parksandrecreation.idaho.gov/parks/round-lake.
Fish Lake Regional Park
If you're seeking a quiet or low-brow beach experience, then head to Fish Lake near Cheney. This small lake has a tiny swimming beach that's neither roped-off nor staffed with lifeguards, but the sand is good and kids have fun in the warm-ish water. And because no internal combustion motor boats are allowed, you can actually hear the natural sounds inherent at this rustic Spokane County park.
Two nearby play equipment areas help entertain children. And while there are bathrooms with flush toilets here, they're not checked daily. But as one of the closest lakes to Spokane, it's convenient if you live in the urban 509 area and want to spend only a couple hours at the beach and still be home in time for naps or an early dinner.
Bring your blanket (there are no picnic tables), your dog and your family's sand toys and enjoy a simple beach experience like Spokane's early settlers. Spokanecounty.org.
Sandpoint City Beach on Lake Pend Oreille
Off Highway 95, at the entrance to the city of Sandpoint, you'll find this family-friendly beach, open from 4 a.m. to 11 p.m. Playground equipment and plenty of picnic tables await you here, along with two swim areas staffed by seasonal lifeguards, restrooms, food concessions and more.
To access the park from downtown Sandpoint, take the Pedestrian Walking Bridge over Sandcreek to the park. Ample public parking is also available.
Two notable landmarks kids will like to see are the mini replica of the Statue of Liberty and the multilingual Peace Pillar. Cityofsandpoint.com/ParksRec/Parks/City_Beach/Beach.htm. //