Although it may not be the scariest thing to do on a bike, cornering is by far the hardest and most important aspect of mountain biking. Improving your cornering ability will exponentially boost your bike handling capabilities, allowing you to go faster and have more fun. Additionally, as you start to feel more confident with cornering, you will find yourself more poised and ready to tackle jumps, rock gardens, roots or whatever the trail puts in front of you.
Step One: As you come into the corner, set up high in the berm, keep your weight low and slightly forward, and fix your gaze at the exit of the corner. This will give you the best trajectory through the turn. Along with looking towards the exit of the corner, a simple rule of thumb I follow is to point my belly button where I want to go. This simultaneously turns your shoulders as well as your hips, which aligns your body and makes the bike snap through the corner.
Step Two: While you rail through the corner, keep your hips and shoulders turned while you look even farther down the trail. Remember that you will naturally go towards where you are looking, so keep your eyes off the obstacles you don't want to hit. Also, staying off the brakes while cornering will increase traction and help you stay in good riding position. Braking just a little before the corner will allow you to hit the corner smooth and exit with more speed then when you entered. Also, weighting and lowering your outside pedal will help dig your tires' cornering knobs into the dirt to keep you from breaking traction.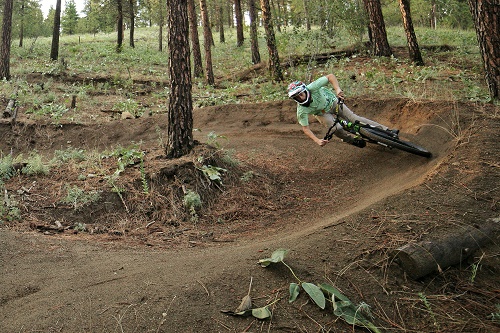 Step Three: As you exit the corner, level your pedals and push into the bike to gain extra speed as you move back into a neutral riding position. Lastly, center yourself on the bike and get ready for the next corner!
Final Thoughts: Cornering is something I'm always working on and is incredibly rewarding when you feel it all click. Keep these tips in mind and eventually the whole process will become a natural part of riding. //