At almost 8,000 feet above sea level, the trek to Machu Pichu is difficult even for the fittest of tourists. But in 2013, a special group of hikers carried a wheelchair for 10 hours along the ancient Incan Trail. As they prevailed despite equipment malfunctions, treacherous terrain, and altitude sickness, Steve Gleason and his crew proved that a terminal diagnosis of ALS can't stand in the way of living life to the fullest.
The Team Gleason logo is simple: a silhouette of an athlete, fist raised in determination, with "NO WHITE FLAGS" boldly lettered across the front. It is a symbol of human spirit, of perseverance in the face of insurmountable obstacles. It's an image of an athlete who has resolved to never give up, never surrender.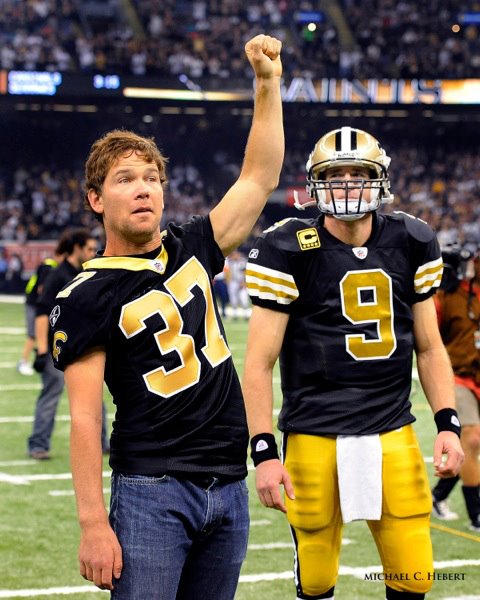 Arguably one of the most successful athletes to come from Spokane, Steve Gleason played for Gonzaga Prep and Washington State University in the mid-1990s before launching an eight-year career in the NFL. His time with the New Orleans Saints was highlighted in 2006 by what is now known as "the most important play in franchise history." In the opening moments of the Saint's first home game after Hurricane Katrina, Gleason blocked a punt by the Atlanta Falcons. The play galvanized the Saints to victory, inspired the entire city, and is now immortalized by a bronze statue outside the Superdome, appropriately entitled "Rebirth."
In 2011, at the age of 33, Gleason received a devastating diagnosis: amyotrophic lateral sclerosis (ALS) or Lou Gehrig's Disease. The prognosis for ALS is grim: patients slowly lose the ability to walk, move, and breathe, and most doctors estimate only a 2-5 year life span. Gleason, however, will not let the diagnosis dampen his spirit for life.
"I believe that because ALS research is underfunded and under-resourced, many ALS patients end up fading away quietly and dying," he writes on his website. "I did not want to fade away quietly." Together with his family and friends, he created Team Gleason, an organization dedicated to empowering patients with ALS to pursue purposeful, inspired lives after diagnosis. Since its conception, Team Gleason and the Gleason Initiative Foundation has raised millions of dollars in pursuit of ALS research, awareness, and outreach.
No White Flags
Gleason's personal motto – No White Flags – has become a personal mantra for athletes world-wide. During a three-day window in May, hundreds of runners participated in the Virtual Team Gleason Challenge. They donned their "No White Flags" t-shirts, laced up their running shoes, and signed up for local races all over the country, from 5ks to full marathons.
While the Virtual Challenge raises funds for ALS research, it also reminds the athletes to confront their own 'white flags.' "It's hard to be discouraged about anything when you see how [Steve] is living his life to the fullest," says Jackie Gleason, Steve's stepmother. "People are so inspired by him, and it causes them to rise up and do what they dream of doing."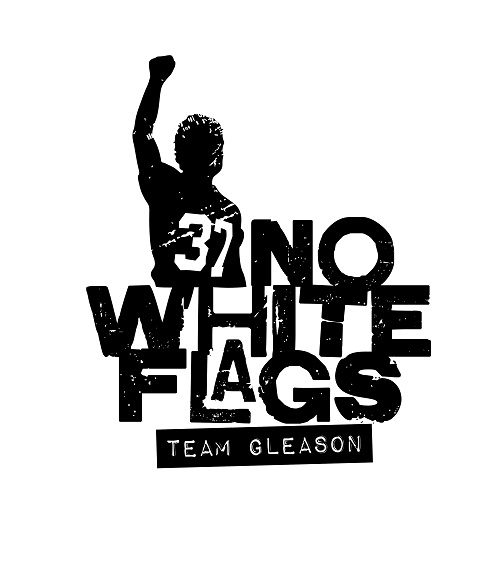 Even though New Orleans has embraced the Gleason family as their own (he was awarded the key to the city in 2011), his Inland Northwest roots are never forgotten: "He loved his time at G-Prep, he loves the outdoors," says Jackie Gleason. "The Pacific Northwest will always be an important part of his life."
Indeed, years after his stint as an All-GSL athlete, Gleason continues to inspire his childhood hometown. GleasonFest, an indie music festival, took over two blocks on Main Street last summer to raise funds for the local ALS chapters. The Team Gleason Chewelah Peak Trail Run attracted the best trail-running talent in the Inland Northwest and aims to do so again this year. And the Steve Gleason Classic Golf Tournament at the Black Rock Golf Club in Coeur d'Alene has raised tens of thousands of dollars for the Evergreen Chapter of ALS, Catholic Charities, and a scholarship at Gonzaga Prep.
Awesome Ain't Easy
One of Team Gleason's taglines is "Awesome Ain't Easy." In keeping with that motto, the Gleason Initiative Foundation has organized and documented numerous "epic life adventures" for patients with ALS. By helping provide for these adventures, whether it's a trip to the Super Bowl or cruise down the Panama Canal, Gleason hoped to empower patients and their families, raise global awareness about the disease, and ultimately find a cure.
One of the first Team Gleason adventures was a canoe trip down the Missouri River. During the four-day expedition, Gleason and Jay Rink, who also has ALS, continually inspired their travel companions with their refusal to submit to their terminal diagnosis. "To see those two on the last day of the trip opt out of the canoe to float down the Missouri River on chairs rigged with floatation devices, sipping champagne, is almost indescribable," blogged Clare Durrett, a friend who accompanied them on their float. "But in an effort to put that vision into words, I can only use one. Living."
Follow Team Gleason and the fight against ALS at www.teamgleason.org. //
Chewelah Peak Trail Run Aug. 3, 2014
On August 3, the Chewelah Peak Trail Run returns to 49 Degrees North, with 100% of all proceeds going to support Team Gleason and the Gleason Initiative Fund.
Dominic Severino, Race Director and the founder of NW Running Lab, designed the course with Steve Gleason in mind. "I wanted to make the course hard, because it mirrors everything that Steve has overcome." he explains. "The spirit of Team Gleason isn't passive. It's in your face, it's pushing your limits, and it's changing the definition of what a person with ALS is 'supposed' to do."
The 3.5 mile and half-marathon courses follow single and double-track trails over and around the mountain, with the half-marathon ascending over 1,800 feet to the Chewelah Peak summit. Keep an eye out for the local wildlife; last year a black bear camped out in the huckleberry bushes at the first water station.  Live music, cold beer, and food trucks await the athletes at the finish line celebration.
Find course maps and registration information at Cptrailrun.com.
Article by Jamie Redman