Spokane, Wash.
Everyone who lives or works in the Spokane-Coeur d'Alene metro area can help keep the Spokane River flowing. While this summer seems the exception, the last several summers in the Inland Northwest have been hotter, drier, and plagued by wildfires in ways that have many of us on the edge of our seats, dreading another "smoke season."
Drought and climate change are an inevitable force on our Spokane River and pose an increasing threat to our local ecosystems, including threatening native fish and aquatic habitats. Less water in the Spokane River in the hot and dry months also makes it more difficult and less pleasant for river recreation.
Most importantly, it threatens the contributions of cold clean water that the Rathdrum Prairie-Spokane Valley Aquifer (also referred to as Spokane Valley-Rathdrum Prairie Aquifer, depending on state agency management) makes to the Spokane River.
Thankfully, water consumers are able to help the river be more resilient when they make conscious water choices. Additionally, the City of Spokane is taking measures to maximize the power of the individual and protect this natural resource.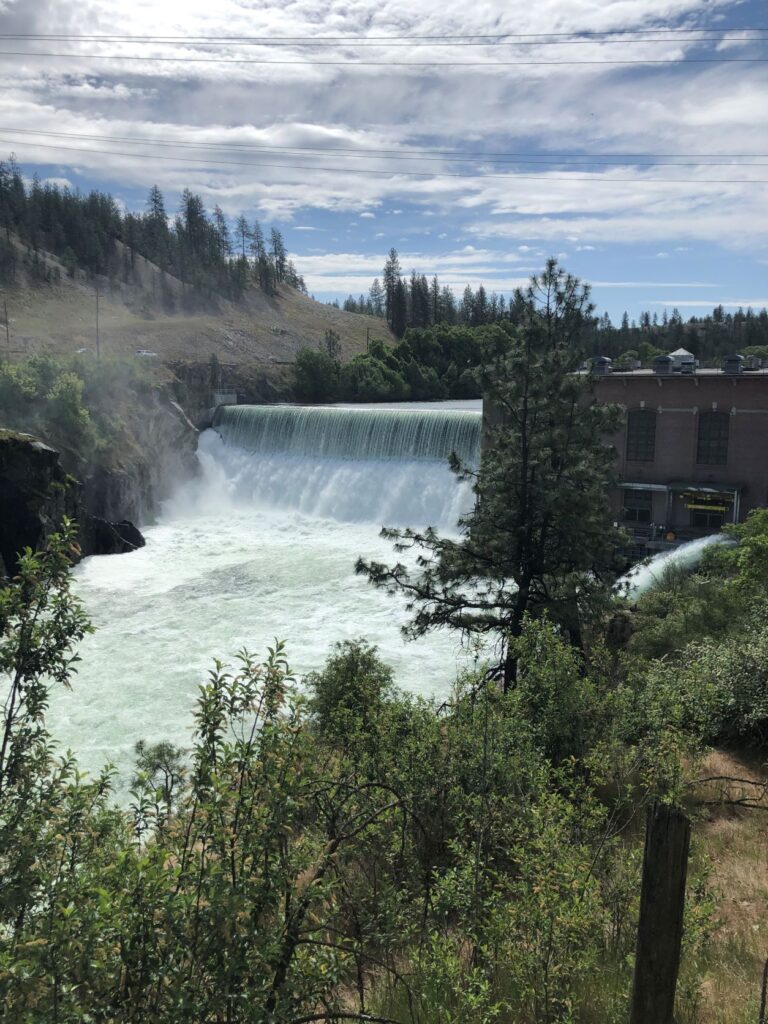 Spokane's Sustainability Action Subcommittee (SAS) created a Water Resources Collaboration Workgroup (WRCG) to examine a system that is drawing more heavily on the aquifer for municipal use and threatening the health of our river. The SAS workgroup has actively engaged with cities like Flagstaff, Arizona, which have made sweeping and successful changes to protect its water.
Because Spokane County residents are using, on average, more water than other Americans (235 gallons per day) and city residents are consuming water at levels higher than 98 percent of the country, the workgroup is seeking to implement a Water Conservation Master Plan. Part of this is to pass strong drought response plans. 
On June 6, 2022, the Spokane City Council did just this and passed ordinance C36209, which codified a water conservation and drought response plan for the City of Spokane. It took a historic override of Mayor Woodward's veto of the water conservation ordinance. The plan is based on the guidelines of the WRCG and goes after the bloated, peak demand that occurs in Spokane between June and September due to increased outdoor irrigation.
The basic components are simply measures that have worked elsewhere across the Intermountain West. For example, every year between June 1 and October 1, Spokane would institute alternating water days such that residents would water every other day, a prohibition on watering during the hot part of the day, and a suggested cap of irrigating two hours per day per residence if the Spokane River drops below a drought trigger of 1,000 cubic feet per second flow in the summer.
Then, in addition to daytime water restrictions, there would be a requirement to reduce residential irrigation to two days per week. In Spokane, these will become mandatory measures in June of 2023. 
The city could employ teams who would be responsible for addressing repeat infractions, educating the community, and, as a last resort, charging those who do not follow the measures for their wasted water.
Spokane City Council is working with the City Water Department on the procedures to be put in place to meet the requirements of the ordinance, as well as meeting the sustainability goals of reducing consumption per capita by 25 percent. 
Council Member Lori Kinnear championed the codification of SAS goals, the ordinance to protect the Spokane River flows, and moving toward efficiency in our water use. In the meantime, the City Water Department and Spokane City Parks have also been hard at work on this issue.
The city has worked hard helping residents understand the ways to be smart water consumers. Visit the Water Wise Spokane website for info on how to water smartly and save water for your river.
We know, for a start, that efficient use of irrigation water is critical to keeping water in our river during the long days of summer. It turns out that our lawns need only several minutes of water to thrive—any more time and water often drops below the roots, rendered ineffective. Assessing the needed watering time on your property is a positive for both your lawn and the Spokane River.
As the summer progresses, remember that watering in the early morning or evening will also reduce water waste from evaporation. Better yet, get creative and install dry bed landscaping or landscape with native plants this year to save water and boost local pollinator sources.
While our aquifer may seem limitless, it's not, and its flows into the Spokane River is critical. Water systems around the world have been strained and drained, leaving a water crisis looming in tandem with the other threats posed by climate change.
With the rapid growth in our region, many years of drought conditions, and outside interests seeking to buy up water rights in many places, our river and aquifer are resources we simply must all take steps to protect.
Paddling the Spokane River near downtown Spokane (top left). Photo: Shallan Knowles // Tubing the Spokane River with FLOW Adventures, downriver of Sandifur Bridge at People's Park (top right). Photo: Amy McCaffree // Spokane River Clean-Up volunteers (bottom left). Photo courtesy Spokane Riverkeeper. // Whitewater rafting at the Spokane River's Bowl and Pitcher area within Riverside State Park (bottom middle). // Photo courtesy of ROW Adventures. // Bridge at the confluence of Deep Creek and the Spokane River (bottom right).
Read more stories about the Spokane River.