Riding the chairlift for the first time as an adult arouses feelings of excitement and dread, kind of like the first day of middle school. You're psyched to be there, but you're afraid of looking stupid. And it doesn't help that everyone around you seems to have been born knowing how to do this. Although learning to ski or snowboard can be an intimidating endeavor for anyone at any age, the programs offered by our local Ski the Northwest Rockies affiliated resorts will have you feeling more at ease after just a few runs.
70 percent of the runs at Lookout Pass are beginner or intermediate oriented, which means a huge portion of the mountain is quickly accessible to newbies. It's always one of the first regional ski hills to open, so its season pass can get you more mileage. Plus, Lookout consistently has great snow—33 feet in an average year— thanks to its location at the crest of the Bitterroot Range on the Idaho/Montana state line. And it's just a 90-minute car ride from Spokane.
The vibe at Lookout is also beginner-friendly. You'll see fewer selfie sticks and gratuitous hucks. People cruising around the mountain genuinely seem to be there for the love of the snow. But you don't have to be afraid to carpool with friends who want to charge harder runs than you. Playful terrain and quality snow make Lookout a great spot for people of all abilities. There are sweet tree skiing runs and powder stashes to be found, and the resort is undergoing an expansion to add fast chairlifts and more runs in the coming years.For kids, Lookout takes the Learn to Ski concept to a whole new level. Every Saturday morning from Jan. 4 through March 7, Lookout hosts a free ski school for kids. Kids without lift tickets or season passes can still attend, but they cannot continue skiing for the day without purchasing a lift ticket or pass. Rentals are not included, but they are affordable, and you can also look for used gear at local ski swaps or Northwest Outdoors gear consignment store in Spokane.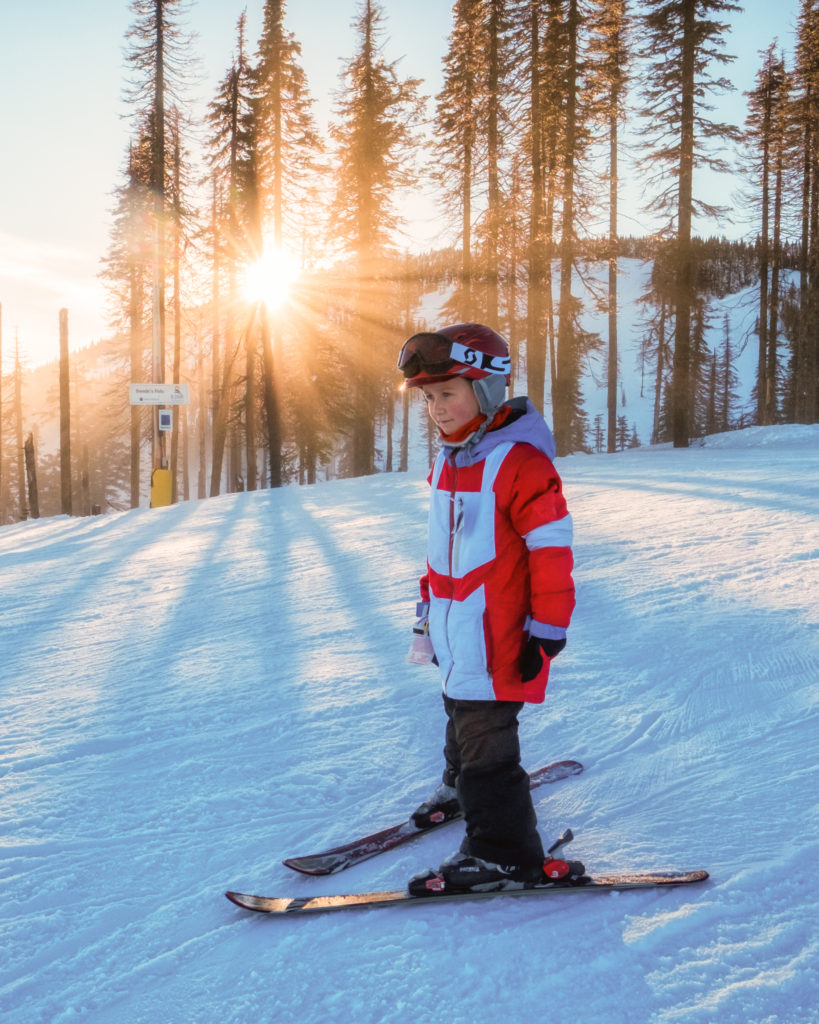 Learn To Ski Month Deals
Local resorts offer an economical way to explore a new way to get outside in the winter through their learn-to-ski-or-snowboard packages. Packages are a great option for families who want to learn how to ski or board together or for beginners who want to check out different resorts without spending a ton of money. But with many resorts offering deals on season passes once the learn to ski program is completed, it will be hard to stop at just a few lessons! Please note that most participating resorts expect guests to call ahead to schedule lessons and that most packages are only for brand-new, first-time skiers and riders of any age.
January Learn to Ski or Ride Month: In addition to $10 off their EZ Ski or Ride package, 49 is offering Mastering the Mountain clinics on the following days: Jan. 7 (co-ed) and Jan. 13 (women specific). The EZ Ski or Ride 1-2-3 program includes three days of fun, complete with lift tickets, ski or snowboard rentals, and lessons (available to ages 5+).
Lesson begins at 10 a.m. or 1 p.m. for ages 5-13. There are also lessons that begin at 10:30 a.m. or 1:30 p.m. for ages 12+. Purchase and reservations must be made 24 hours in advance. This is a special introductory program focusing on teaching a strong foundation for those who have never skied or snowboarded or those who may need to rebuild their confidence on the slopes. The first and second visit include a Chair 3 (beginner chairlift) lift ticket, and the third visit includes an all-mountain lift ticket. Cost: $189. Contact 509-935-6649, extension 610, for more info.
January Learn to Ski or Ride Month Special: Pay only $99 for the EZ Ski or Ride 1-2-3 program that includes three all-day lift tickets. Day one and two start on the Success beginner chairlift, while day three includes an all-mountain lift ticket. The package also includes rental equipment usage and lessons to help you progress quickly. Classes are available every day they are open, and reservations are required. The graduation gift for completion of the Learn to Ski or Ride in 3 Days program is a special rate on a season pass, with daily rental equipment included. This program applies only to first-time beginners. This package is for ages 13 and up, and Lookout offers other deals for kids. Cost: $129. Contact 208-744-1301, extension 15, for more info.
January Learn to Ski or Ride Month Special: Pay only $139 for the EZ Ski or Ride 1-2-3 program, which includes three lessons, three lift tickets, and three 3 rentals. Group lessons are available at 10:30 a.m. and 1 p.m. on any weekend or holiday. Learn the basics with a Beginner's Luck lift ticket (Chair 5 only) on the first lesson and progress as far as you want to on the second two lessons with an all-mountain lift ticket. Upon completion of the EZ-Ski or Ride program, you will be eligible to purchase a season pass for the remainder of the season for just $129 as a graduation gift. The cost is $159 or $139 during January's Learn to Ski Month program. Contact 509-238-2220, extension 215, for more info.
January Learn to Ski or Ride Month: For the month of January, pay just $62 (adult) or $47 (youth) for a lift ticket, lesson, and rental. Or sign up for the EZ Ski or Ride 1-2-3 program that includes three lift tickets on the Prospector lift, three rentals, and three lessons for ages 7+. Lessons are at 10:30 a.m. and 1 p.m. and are not available during the Christmas holiday period from Dec. 21, 2019 through Jan. 4, 2020. The program is open to first timers only, and first visits must occur between opening day and March 1. (The program cost is $139.) Contact 208-783-1111, extension 8220, for more info.