Four Spokane Businesses Selling Cool Things to Get Us Outside
The Inland Northwest has been home to major outdoor recreation industry businesses that reach a national and international audience for years. Companies like Mountain Gear, GSI, Omega Pacific, and NRS have been selling outdoor recreation equipment from local home bases for decades. Less known are the many other smaller outdoor recreation-based companies that have taken root here in recent years. The owners of these four businesses are just a handful of the many small companies that have found a way to turn their passion for the outdoors into a meaningful livelihood, creating jobs and stimulating the local economy in the process.  // (OTM)
Huroic Gear (Spokane)
Established in the Northwest in 2010 as Huroic Clothing Co., the brand initially aimed at making quality outdoor clothes at a reasonable price. Fast forward a few years when Isaac Crandall stepped up with a bold idea for dry bags, and the company continues to grow.
Dry bags are the one universal piece of gear that some argue is frequently overlooked. In recent years, there have been so many advancements for waterproofing gloves, boots, hats, tents, packs, as well as special waterproof treatments for ropes, sleeping bags, and down jackets, but there haven't been many upgrades in dry bags. More importantly, while the other advancements are key for keeping the user warm and dry, doesn't it make sense to keep certain imperative items like food or expensive electronics dry too?
Once you own a good Huroic dry bag, you will wonder how you got along without it. Right now, the bulk of their sales are directly from Spokane-based Huroic's website, but they're also available on Amazon. Learn more at Huroicgear.com.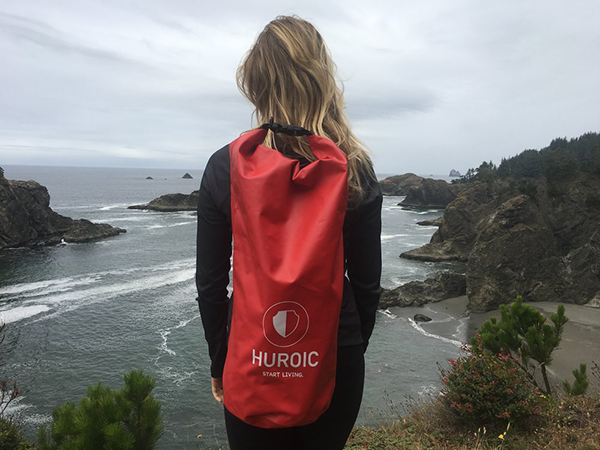 Zip Wax Anti Fog Cleaner (Spokane Valley)
The Zip Wax website shares a brilliant story about the genesis of their product. Sometime during World War II, soldiers discovered this amazing solution that kept their glasses clean and also reduced fog and mist. The clarity and anti-fog benefits were important, not only to soldiers with spectacles, but to every soldier using a scope or binoculars.
In a nutshell, Zip Wax is an amazing glass and plastic cleaner. It does not eliminate scratches but it fills them in. Zip Wax is also a great anti-fog inhibitor. Anytime you go from hot to cold or cold to hot, your lenses or goggles can fog up, but Zip Wax keeps this from happening. Even better, it's safe on all lenses including high-end camera lens, telescopes and other optics.
One of the biggest details that separate Zip Wax from any other lens cleaner is the principles of the recipe: alcohol free, ammonia free, and safe for all lenses. Even better, a little bit goes a long way. The most popular size often lasts up to three years for most users.
Zip Wax headquarters resides in Spokane Valley. The product comes in three configurations: a half ounce jar, one ounce jar, and a two ounce spray bottle. Initially the product was a great option for glass, but more and more uses are discovered every day, including ski goggles, swim goggles, sunglasses, snowmobile helmets, even bathroom mirrors. Zipwaxantifogcleaner.com.

Lyte Balance Electrolyte Concentrate
Lyte Balance overturns everything people think they know about sports drinks. It's pure electrolytes without any sweeteners, flavors, or caffeine. It's the most practical and potent way to regain electrolytes lost through sweat, without unnecessary calories. Best of all, you can add it to any other drink like water, juice, or coffee, or even a protein shake.
Senseable Supplements is a licensed Nutraceutical Manufacturer making Lyte Balance from its home base in Liberty Lake. They are a socially and environmentally conscious micro-enterprise focused on expanding good hydration. Daily use of Lyte Balance can improve electrolyte balance for optimal performance and recovery for anyone. Whereas many people used to believe that red, blue, or yellow sports drinks were the only way to properly hydrate during or after a workout, Lyte Balance opens up a whole new world of hydration improvements.
Lyte Balance is most commonly found in a 16-ounce bottle at several locations around the region. One 16-ounce bottle contains up to 64 servings. You can find it at Huckleberry's Natural Markets, Pilgrim's Market, and online at Amazon, or check out their website at Lytebalance.com.
With so many tablets and powders on the market, it can be tough to know what works best when you want to perform your best. Lyte Balance easily beats the fizzy caffeine drinks and the neon yellow power drinks because it's just pure electrolytes. Add a capful to water, juice, milk, tea, even a celebratory post-ride or run beer; this might be the best way to replace sweat.

NW Outdoors Quality Outdoor Gear Consignment Store
Mark Schneider grew up in a rural farming community where he spent his days outside either working on the farm or enjoying good ole Mother Nature. After four years in the military plus 15 years as a production manager/engineer for a few companies, he decided to shed the polos and khakis and open NW Outdoors in Spokane.
"I wanted to turn my passions into a career, to be immersed in the outdoor community and find a way to give back to an industry that has given me so much," Schneider says. "I also was a repeat customer of a consignment shop in Boise."
Since opening this past spring, NW Outdoors has become Spokane's premiere source for quality used outdoor gear and apparel. One of their mottos is "liberate your closet and put money in your wallet." In other words, quality old gear that doesn't fit, isn't used, or was upgraded long ago, can have new life in this consignment shop. Even better, people can gather new gear for a variety of outdoor pursuits without paying full retail price.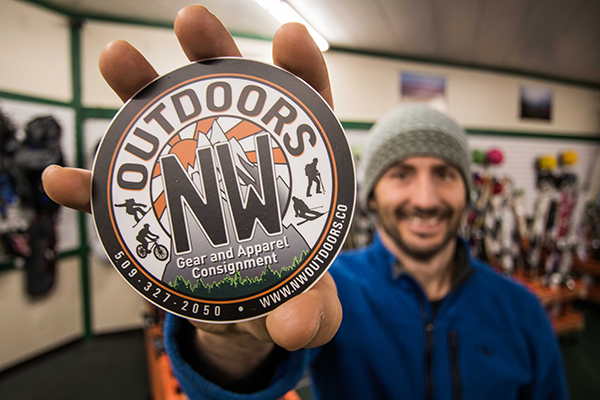 Based on the most recent sales figures, snowshoes, multi-day backpacks, full suspension mountain bikes, SUPs, and kayaks don't sit on the shelves very long. The gear in NW Outdoors is really diverse, and plenty of customers have made decent cash selling their gear on consignment.
Schneider is enthusiastic about his new home and the local outdoors community. "I love the Inland Northwest because it's the perfect mix of climate, mountains, lakes and rivers. There is a large, active, and friendly outdoors community without the overcrowding of larger cities." He also points to the fact that there seems to be a volunteer organization for every discipline. "With so many people making a daily effort to provide access to public resources, it's hard to not want to play and be active in all of them." When Schneider started looking for a location to open his business, he was excited to see that Spokane didn't have a dedicated outdoor consignment shop. "It seemed like the perfect fit for me and this business model."
Stop by the NW Outdoors shop at 3220 N Division Street in Spokane to buy or sell ski, snowboard, and snowshoe equipment, backcountry ski gear, or almost any other warm or cold season outdoor sports gear and apparel you can think of. More info at Nwoutdoors.co. //