Before I started working in restaurants again, I spent Saturday mornings running with a group. Now I work nights, wake late. I drink coffee into the afternoon and think about my friends who've put in six, twelve, twenty miles that day. I miss scampering around the pre-dawn city with my runbuds.
The miles go by over sidewalks, bridges, tracks and trails, through the easy seasons and the difficult ones. We've seen each other through divorce and death, illness and injury, marriages and babies and a boatload of PRs and BQs. No matter how long it's been since I showed up, I know I'll find my runbuds right where I left them—in their sneakers.
When I started running with the group, I wouldn't have called myself a runner. Now, I am one. You don't have to be fast or finish marathons. Just show up and run. Here are some other things my runbuds have taught me:
You can do it. It's about putting in the time and developing mental toughness. Don't wait for conditions to be perfect. Take the long view. Races will come and go. The hills are hard for everyone. Run for the smiles as well as the miles.
A week before the Lake Sammamish Half Marathon, I messaged my favorite runbud, Chris. You running Lake Sam? He replied right away. If you are. That was all I needed to get in the game. I'd missed a lot of training, but there were still things I could do to prepare.
That week, I went for a few easy runs and ate and slept well. I didn't make a list of the ways the race might go poorly. I visualized easing into the first miles, ramping up for a strong effort, and crossing the finish line. The night before, I checked the forecast, laid out my gear with my race bib on top, and turned in early.
The next morning, I woke early. The sunrise cast everything soft and frost glittered on the trees. Lake Washington was a bowl of jewels reflecting pink and gold off the bellies of seagulls. Mt. Rainier sprawled to the south and Mt. Baker saluted from the north. Ahead of me were the starting line and one hundred of the most reliable people I know.
The early miles flew as the bottleneck thinned and pace groups formed. Chris and I fell into a quick step, and I picked a few shirts to keep my eyes on. We coasted through aid stations, a minute per mile faster than usual. Chris warned that we were flying, but flying felt good, so we kept pushing.
We crushed the second 5 kilometers. I worried about keeping up the pace, but two runbuds cheering from the sidelines gave us new energy. There's no fuel like high-fives, performance goo, and adrenaline.
At mile 7, I felt myself start to shudder like a busted car. 8 through 10 were going to hurt. Chris said he was starting to feel it. I agreed. Everywhere.
We pushed on, heartened by the signs along the route. If it were easy, I would do it! Keep going! You've got this! It wasn't easy, but I was doing it. I would keep going. I had this.
At mile 9, a spectator appeared at the end of her driveway, dressed in a rainbow tutu and blasting "Your Song" by Elton John. Odd choice, but there it is. How wonderful life is now you're in the world.
I heard the song, and I couldn't hear my feet or feel my heart. I couldn't see the trail for my tears. My husband Jaylan, who'd died just months earlier, had serenaded me with "Your Song." He sang it around the house, in karaoke bars, and once, on our wedding day while I sat atop a grand piano like a starlet.
I sang it back to him as he lay in our bed on the last day of his life. How wonderful life is. You're in the world.
Then, he wasn't.
Everything hurt. My knees, my hip flexors, my heart. I began sobbing. Animalistic sounds wrenched from the deep well of my heartache.
I stumbled and righted myself. Performance goo. Sports drink. High fives. Mile 11. Almost there. I ran, choking on grief.
At the finish line, more high-fives and hugs. Chris hung a medal around my neck. We'd gotten there together, but we'd each met the challenge on our own.
I'd like to get back to running. There's still time to train for the summer races. I often think about my favorite sign from the Lake Sam course. I've taken it to heart, like a promise, like a reason.
The day will come when you are no longer able to do this. Today is not that day.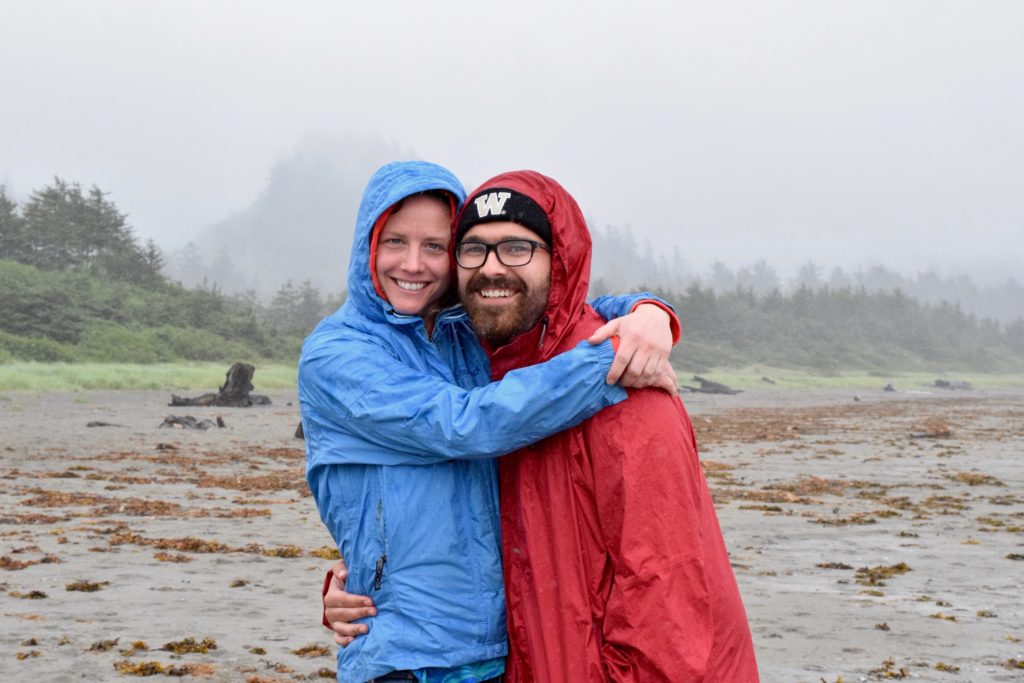 Nicole Hardina dabbles in running, climbing, and flying trapeze. She's writing "Little Washington," an exploration of Washington's 100 smallest towns, and she's working on a memoir about love and grief. Find her work at nicolehardina.com. This is her first article for Out There.