Whether snacking on the beach or cooking over a campfire, preparing and eating a meal outdoors can present some unique challenges—and rewards. Here are some tips for making your outdoor meal easy and enjoyable.
Keep It Simple
That means preparing as much ahead of time as you can, so that you can just open and eat, or place directly on the fire. Limit the foods that have to be kept cold, especially on hot days. Consider placing meat into a marinade, freezing it, then throwing it into the cooler in the morning to slowly thaw for dinner. Also, focus on foods you can eat with your hands, like chicken legs, skewers, watermelon, popcorn, and S'mores.
Pack the basics.
First and foremost for camping, remember matches, lighter fluid, and newspaper—even if you brought a camp stove. Stock up on durable, reusable dishes, and include a large lightweight pot, a skillet, aluminum foil, microfiber towels, and a portable grate. Bring water, avoid glass, and don't forget the tongs and oven mitt. Pulling a pan off an open fire bare handed is rarely a good idea.
Pack it out.
Be aware of the amount of trash you are going to generate and have a strategy to bundle it up and easily get it back to the car. If you leave your favorite camp or lakeside spot clean and tidy, it will continue to be your favorite spot. If you burn any paper towels or non-plastic food wrappers, make sure they actually burned. Take anything that is still solid with you.
Know the current burn restrictions.
Understand the rules, take them seriously, and prepare accordingly. A well-thought-out, cold meal can be just as delicious as a hot one. Be sure to know the current burn restrictions in Washington, Idaho, Montana, and Oregon before you leave home.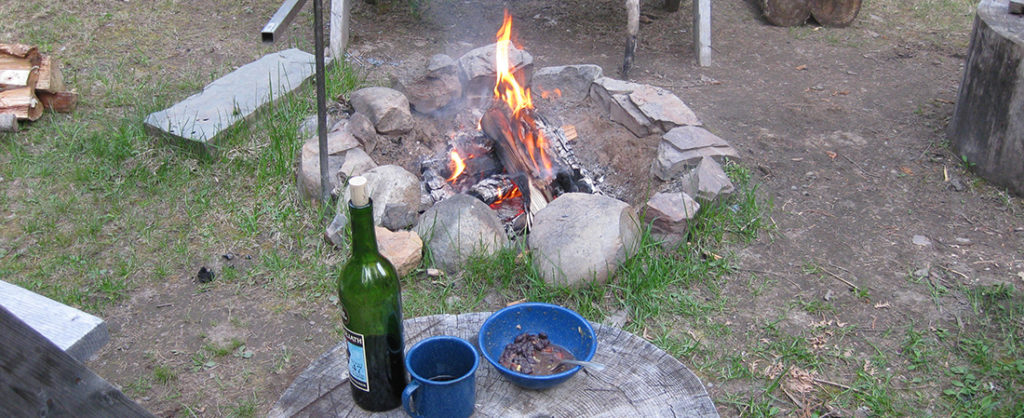 Originally published as "Outdoor Food Basics" in the June 2018 print issue. (Updated online: April 2021.)
Find more stories about camp cooking in our archives.
[Feature photo by S. Michal Bennett]