Just over a year ago, Fred Mehaffie and Ashley Malcolm opened Radio Brewing Company in Kellogg, Idaho. They met at Lost Coast Brewery in Eureka, California, where Fred had been working for 23 years, and Ashley for about 5 years. They started dating and eventually decided to branch out and do something on their own. Kellogg may seem like an odd choice for relocation, but they loved the area and wanted a location just off of a major highway for easy distribution throughout the Inland Northwest.
With a passion for old time radio, their original thought was to call their brewery "AMFM," which are also their initials. But the name was already taken, so they went with "Radio." And the name suits them.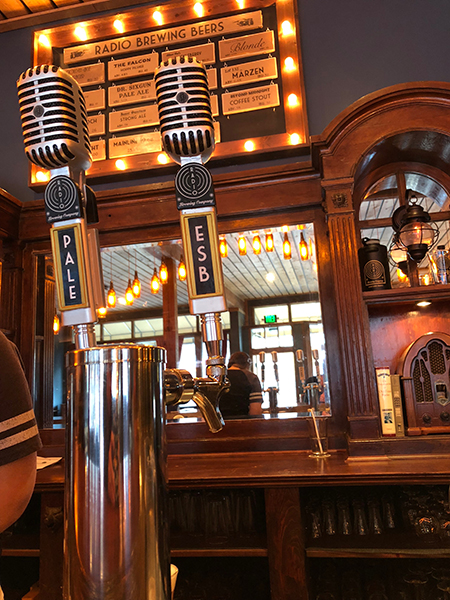 Situated in between the Elizabeth Park trailhead and the entrance to Silver Mountain's Bike Park, Radio's spacious taproom is warm with dark wood and a wide variety of antique radios. The décor and ambiance exude the coziness of a mining town saloon, with just enough sophistication to give it universal appeal. They also have a fun outdoor patio in the back with handcrafted tables and benches, and a couple rows of theatre seats.
Named for old radio shows, the beers are solid and tasty, with styles ranging from blondes and lagers to dopplebocks and porters. My favorites were The Falcon Hoppy Pilsner, X-Minus One IPA, and Beyond Midnight Coffee Stout, which has the right amount of sweetness and maltiness to compliment a scoop of ice cream.
The food is traditional pub fare with untraditional twists, and the service was attentive. The battered and fried artichoke hearts, with both soft and crunchy bits dipped in lemon aioli, quickly disappeared. The Maple Bacon Blue Cheese Burger was affordable and generously loaded. Taking a different direction, the Korean Style Tacos were filled with perfectly-cooked porter marinated skirt steak and not-too-spicy kimchi salsa. Other menu items include deviled mushrooms on toast, fish & chips, ravioli bolognese, warm quiche, and a mouthwatering selection of paninis. // (S. Michal Bennett)
[Feature photo by S. Michal Bennett.]