When a rare sunny day arrives in early spring, many a hiker pines to be outdoors; however, trails can still be snow-covered or muddy. If the mountains are your sacred spot, you're still many weeks away from snow-free hiking.
The solution? Do an outing to the Columbia Basin in Central Washington. Snow is gone much sooner than most of Eastern Washington and some locales can be as much as fifteen degrees warmer than the Spokane area.
Two hurdles may promptly pop into mind: It's a bit of a drive. Second, does sagebrushy shrub/steppe landscape really make for a good hike? Opinions vary, but based on my dozens of outings, the ratings vary from good to great. And the drive? Worth it, baby!
An open landscape is a very big plus. I've hiked long sections of thickly-timbered landscape, and not being able to see much beyond the edges of the trail grows weary after a while. A shrub/steppe landscape allows continuous, distant views in all directions. There are very large swaths of public land in sparsely populated Central Washington. You'd be hard-pressed to find a crowded trailhead. On the majority of my hikes, I do not see another hiker.
Why head to the flats if you're missing the mountains? What I find alluring are majestic coulees bound by steep basaltic walls. Big sagebrush, taller than myself. Mule deer and their distinctive bounding—all four hooves hitting the ground at once. Muleys are at home in shrub/steppe habitat. I've seen them many times, but I still stop to watch their unique way of moving.
If you're pulled off-trail by the urge to explore or check out some natural feature as I often am, the landscape is easier to negotiate than a forested one. (Though, any off-trailing merits a check for ticks this time of year.) Also, keeping your bearings is simpler since landmarks can be kept in sight. I carry small binoculars, because the long sight lines allow checking out some feature to see if it's worth exploring. Also, animals in the distance can be watched, because you're not yet close enough to be a threat. A perk of my many outings in the Basin is a couple serendipitous incidents in which I came very close to wildlife because of a quirk in the landscape, and the animal didn't perceive me when I happened upon it. These have become very memorable moments for me.
My intrigue of the landscape has grown over time. Shaped by the great Missoula Floods of the last ice age, I've often stood at viewpoints imagining the rushing waters tearing apart the landscape with giant icebergs and huge, tumbling boulders pushed by the torrent. I experience awe every time I imagine the scene.
There are several websites for hikers to get information about hiking areas. I've found one of the best for Washington hiking is WTA.org. Washington Trails Association is a non-profit that assists government agencies in building and maintaining trails throughout the state. The organization has been around since 1966 and has a great website that gives hike descriptions, directions to trailheads, and trip reports by hikers that cover thousands of hikes. Just google the name of the below hikes, and from the results click on the WTA.org website. The Grant County Tourism Commission also recently published a book of 26 hikes within the region, available as an online version.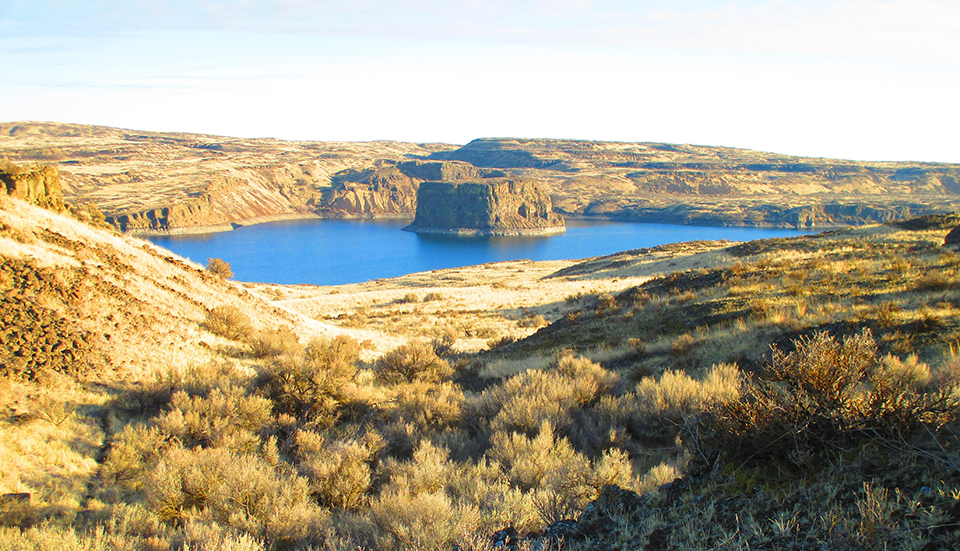 Big Bend Wildlife Area
About 14 miles northeast of Grand Coulee Dam, this area is former private ranch land that has been acquired by the Washington Department of Fish and Wildlife. Bound on the north by the Columbia River, dirt roads leading to the few old, abandoned homes serve as trails. I've seen plenty of mule deer and coyotes on this diverse landscape that has grassland, forest, basaltic mesas and rugged granitic slopes at the lower elevations. Going off-trail is fun and easy. It's so big, at over 35 square miles, there's lots to explore. Keep in mind hunting is allowed, including a spring turkey season. Discover Pass required.
Billy Clapp Lake
This manmade reservoir is surrounded by the Billy Clapp Wildlife Preserve (no hunting allowed), and has lots of beautiful coulees to explore. It's about 17 miles east of Soap Lake, off State Highway 28. There's a well-established trail that starts at the parking area at Pinto Dam at the south end of the reservoir, but after a mile or so it fragments and, soon after, deer trails or going cross country are your only options. I've found that exploring the coulees here is a lot of fun. In little time I can change my perspective by hiking from a coulee floor to the top for an overview. The large, main coulee has been filled by the lake. The smaller, side coulees take less time to get up, down or around. I like to hike the length of the lake to Summer Falls State Park at the north end, a round-trip of 9-10 miles. Discover Pass required.
Saddle Mountain East
A 30-mile long basaltic ridge that runs from just west of Othello to the Columbia River, the Saddle Mountains have a high point of only 2,693 feet; however, this is well above the surrounding area, so being able to see distant landmarks is easy. The trailhead and some of the ridge is within the Hanford Reach National Monument. The rest is BLM land with a few pockets of private land. There are no maintained trails, but cross-country hiking is permitted. This dry area of the basin has no trees, and vegetation is sparse except on north-facing slopes. I've hiked in both directions from the trailhead, and the only trail, an informal one that heads east where there are connecting ridges to explore, disappears after less than a mile. Going west, you can hike on a dirt road that runs to Wahatis Peak, the tower-studded summit in the distance that is the Saddle Mountain's high point. I prefer following the top of the ridge. The going is easy, it's a fun exploration, and you may find petrified wood in a few places.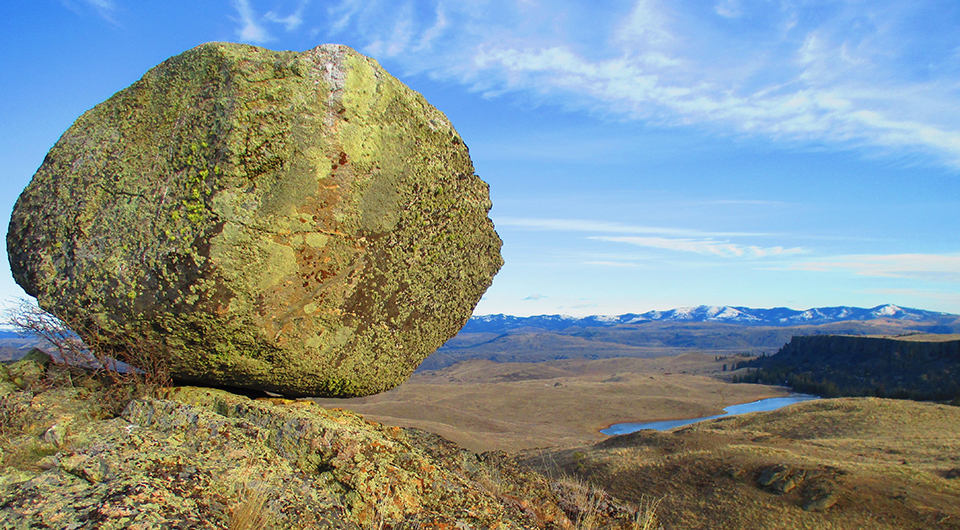 Umatilla Rock
At Sun Lakes/Dry Falls State Park just south of Coulee City, a well-defined trail takes you on an easy, 3-mile hike around a tower of basalt sitting at the bottom of Dry Falls, a gigantic, former waterfall that was formed in a relatively short time by the Missoula Floods. You may find competition for the limited parking at the trailhead. Westside hikers make their way here, too. The landscape is rather stunning, and there's a network of connecting trails for further exploration. One goes to nearby Deep Lake, and hiking the shore of this long, narrow lake is a fun expedition that turns into mostly cross-country hiking. The Caribou Trail takes you to the top of a mesa, and, if you're up for it, a miles-long, off-trail ramble along the edge of a coulee. Discover Pass required.
Escure Ranch
A former sheep ranch, now BLM land, about 25 miles south of Sprague, WA, this is the closest area to Spokane. Covering about 20 square miles, Towell Falls on Rock Creek, a 6.5-mile round trip, is a popular destination. An old ranch road mostly follows the creek to the falls. By May, this area has turned very green, and the coulee through which Rock Creek flows is a sight sensory pleasure.
Badger Mountain
Sitting on the outskirts of Richland, this 3-mile round trip hike to the top of a prominent hill may not be worthy of a day trip from Spokane, but if you're spending time in the Tri-Cities, it's a great, nearby outing. I use to spend a couple nights a month in the Tri-Cities for work and hiked up so many times I was asked to stop because of the deep rut I created. There are multiple routes with wide, well-maintained trails, so it'll be quite evident my creation of a deep rut is a fabrication. It's a 1,200-foot elevation gain to reach the top, but taking in the 360-degree view will give you plenty of time to rest. Being so close to town, this area is well used, so expect company on the trails.
While there are many joys to be experienced hiking in Washington's Columbia Basin, one downside is cheatgrass, a very common, invasive weed that grows profusely in parts of the Basin. By late spring when the seed heads mature, the pointed seeds easily latch onto socks, dig in, and are irritating and difficult to pull out. Wearing low-rise ankle gaiters, designed to keep stuff out of shoes and socks, is a good idea.
Shrub/steppe habitat also has its share of ticks, but no worse than other ecosystems, in my judgement. Usually easy to find before getting under your skin, a couple vulnerable places to check when showering after your hike is the scalp and crotch. The Basin is also a good place to carry water while hiking, as natural water features can be limited and the area is relatively treeless.
          Cheatgrass and ticks aside, hiking the Columbia Basin is an underrated treat. There are spots, impressive and beautiful, that may cause a spontaneous outbreak of applause and shouts of "Beauty! Beauty!" I do this regularly, but to avoid embarrassment, make sure, as I always do, that no one's around.
James P. Johnson's book "Spokane and Coeur d'Alene Freshwater Shark Attacks," came out March 2022. He wrote about close encounters with bears in the September 2022 issue of Out There.