Sponsored Article
Situated at the edge of the Palouse and the Columbia River Plateau, Spokane boasts an ideal landscape for road biking, with expansive flat terrain and a myriad of mellow hills—and plenty of not-so-mellow ones if you're looking to test your V02 max. From bustling, paved bike paths to rolling Palouse backroads, we've highlighted three classic road rides in the region. Feel free to begin and end your ride at the nearest Wheel Sport location!
SOUTH SPOKANE—VALLEY CHAPEL LOOP
The wind-swept wheat fields of the Palouse are a classic road biking destination, and the Valley Chapel Loop is a high-speed highlight reel of the region's charm: endless rolling hills, picturesque clapboard farmhouses, and even a whitewashed cemetery. Start from Wheel Sport South 3020 S Grand Blvd. and ride south to 57th Avenue in the Moran Prairie area. Continue south on the wide-shouldered, well-paved Palouse Highway. Turn right on Valley Chapel Road and descend into the Latah Creek valley. A thigh-cramping half-mile climb 10 miles in deposits riders into quintessential Palouse prairie. At 21 miles, turn onto Highway 27, and at 29 miles turn left on to the Palouse Highway for a fast return trip of long, low-angle climbs and descents. The communities of Rockford (mile 21), Freeman (mile 27), and Valleyford (mile 30) make well-spaced rest stops—welcome breaks from the ever-present wind.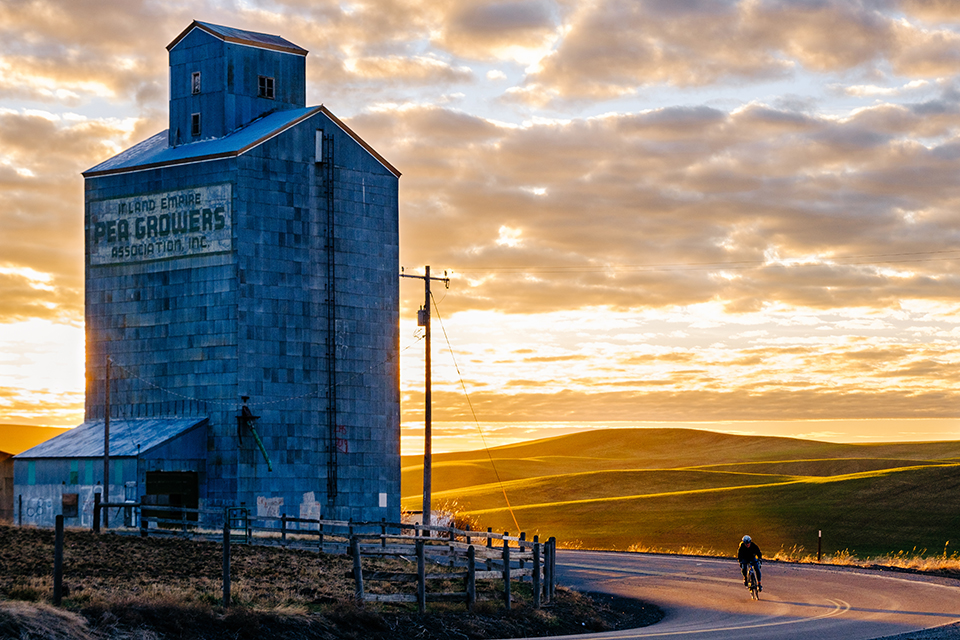 SPOKANE VALLEY—SALTESE FLATS LOOP
Although only 11 miles, the Saltese Flats Loop packs a lot of scenery into a small footprint—all the more impressive considering its location in the heart of the growing Liberty Lake community. Start your ride at Wheel Sport in Spokane Valley at 606 N Sullivan Rd. for added miles, or from the Saltese Flats Wetland Area trailhead on South Henry Road. Continue pedaling south between the tall grasses of Saltese Flats and the small foothills of Saltese Uplands Conservation Area. Bounded by two key pieces of county open space, riders have a good chance of seeing wildlife, and, as on the trails of Saltese Uplands, an excellent chance of an amazing sunset. After circling Saltese Flats, head north on Barker Road and then east on 8th Avenue to connect back to South Henry Road. Gravel riders can add some bonus mileage on the paths that crisscross Saltese Flats; meanwhile, skinny-tire riders can take backroads to Liberty Lake, or, for an epic ride, Highway 27 south to Mica.
NORTH SPOKANE—CENTENNIAL TRAIL
Wide, well-paved and mostly level, the nearly 40-mile Washington portion of the Spokane River Centennial Trail is the centerpiece of Spokane road cycling, with something for two-wheeled enthusiasts of all kinds, from triathletes to trailer-towing families. Perhaps no section showcases the magnificence of the trail than the northern section running through 14,000-acre Riverside State Park, which is a short road ride away from Wheel Sport North at 9501 N Newport Highway. From any of the trailheads north of TJ Meenach Bridge, cyclists can cruise past basalt buttes and tall ponderosas, usually within sight—and earshot—of the Spokane River. The Nine Mile Falls Dam at Charles Road makes a logical turnaround point, but those looking to develop a bond with their granny gear can continue up Charles Road for one of the steepest climbs in the county.
Bike Recommendation: Specialized Diverge STR
With the all-new Diverge STR, Specialized has just raised the bar for drop-bar, gravel-gobbling bikes. The secret: tunable front and rear Future Shock technology that suspends the rider–rather than the bike–for an efficient ride with less fatigue, all with the nimble feel and light weight of a rigid frame. And it all comes together in a package that will catch a lot of looks–and that's all that will be catching this machine.
This post is sponsored by Wheel Sport